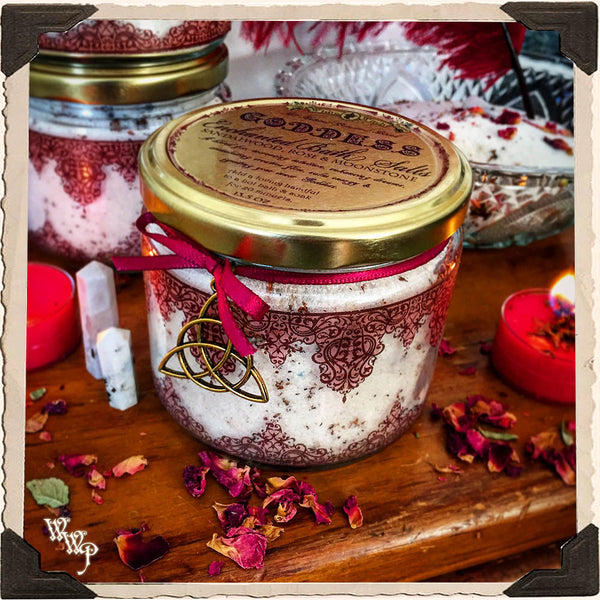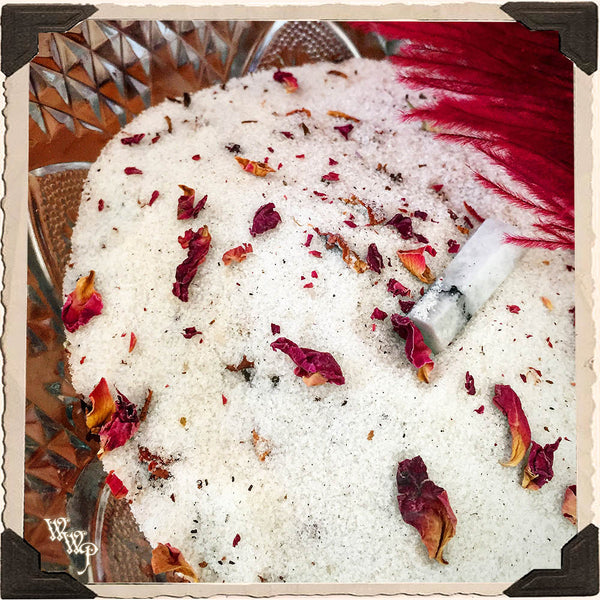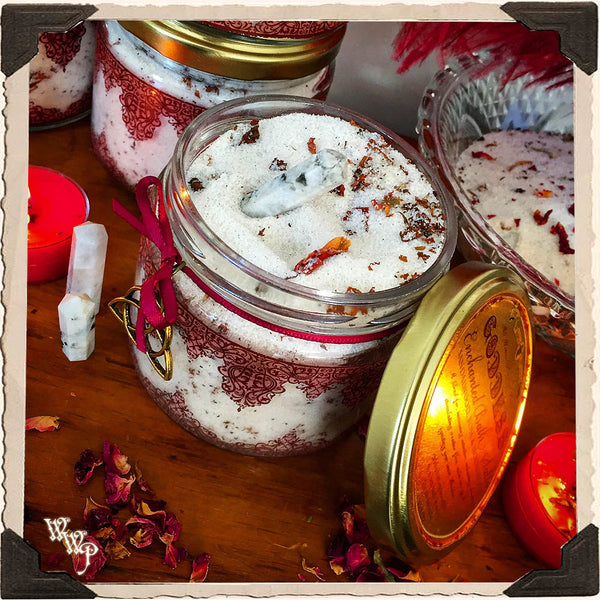 GODDESS BATH SALTS. All Natural. For Increasing Intuition, Enhancing Dreams & Creativity.
With Salts of the Dead Sea, this botanical blend of essential oils & herbs bring a feminine calming energy. The scent of Sandalwood & Rose, blessed by the energies of Rainbow Moonstone, conjure up an emotion that is gentle & tranquil, much like the light of a full moon, it inspires healing & creative flow. It pushes one to dig deeper into their Divine intuition, bringing about messages & guidance into one's dreams, as the energy of The Goddess is channeled.  Sandalwood purifies energy, while Roses fill this new energy with pure Love & trust. Moonstone works to soften rigidness, linking us to the powers of Mother Moon & all the magick she has to offer.    
 Why Salt? Salt is one of the purest substances that comes from earth. It offers healing and protective properties and can clear the energy in any room. Salt is often used to remove or keep away any negative energy within or around your aura or home and it is said that laying down iron & salt at the entrances of your home will keep out the bad vibes or negative baggage from guests who enter. For centuries Black Salt has often been used for Hex or Curse breaking, because Salt is a powerful absorber of psychic energy & can help against possible psychic attacks, which usually occur when spirits chord themselves to a person.
Almost a pound of Crystal Blessed, alchemy Bath Salts come in a glass jar with gold metal screw-on lid  & decorative ribbon with triquetra charm (13.5 oz.) . The all natural herbal & essential oil scented salt blend is ready to use in any hot bath for pre- meditation or ritual work to help set the mood & enchant your spirit. A pencil point crystal of Moonstone is added into each jar to keep the magickal workings strong. Just add a loving handful of salt into each bath & soak for 20 minuets. As the bath salts dissolve & leave you feeling spiritually cleansed, recharged & magickal in so many ways. (Allows approx. 3- 4 baths)
Goddess Blessings,
~ Jenna 
Free of Harsh Chemicals & Animal Testing. Created for use on body. Not meant for consumption. Keep away from small children & pets. RECYCLE : Use this fun glass jar after to store herbs, craft supplies, burn candles in, etc. Be creative ! 
All Sales Final * 
More goodies & accessories available in my shop!