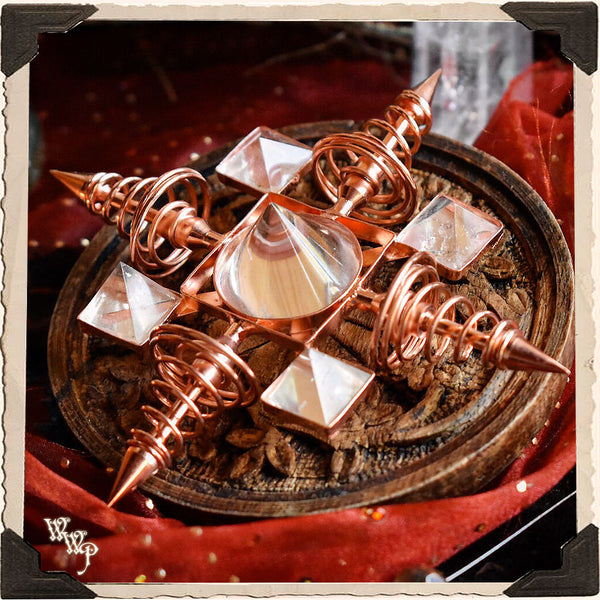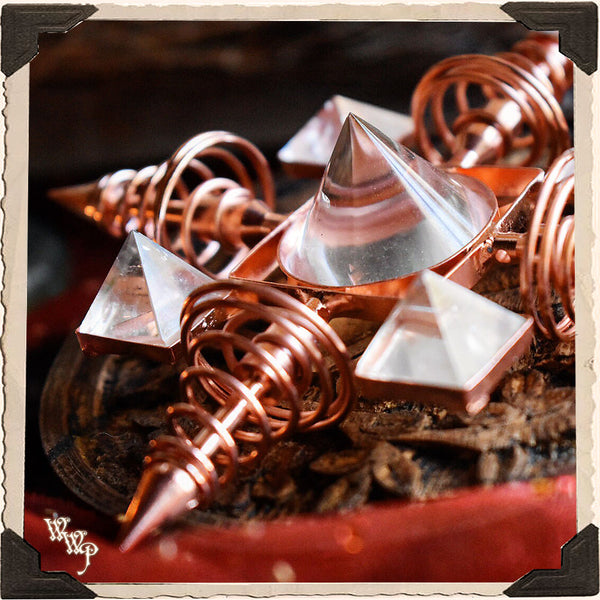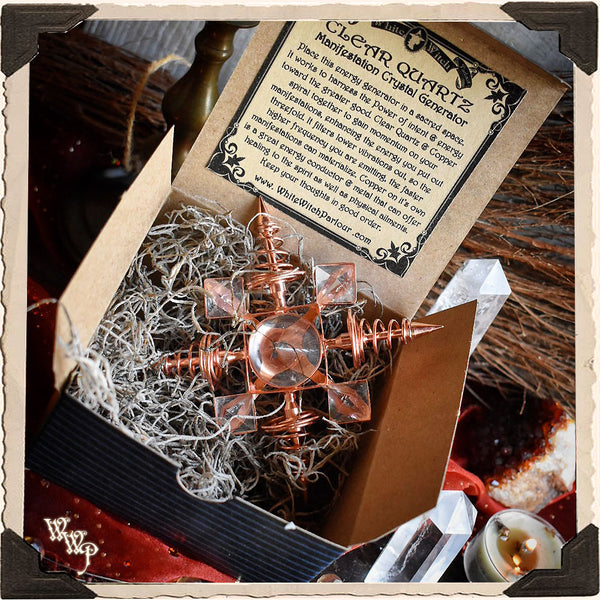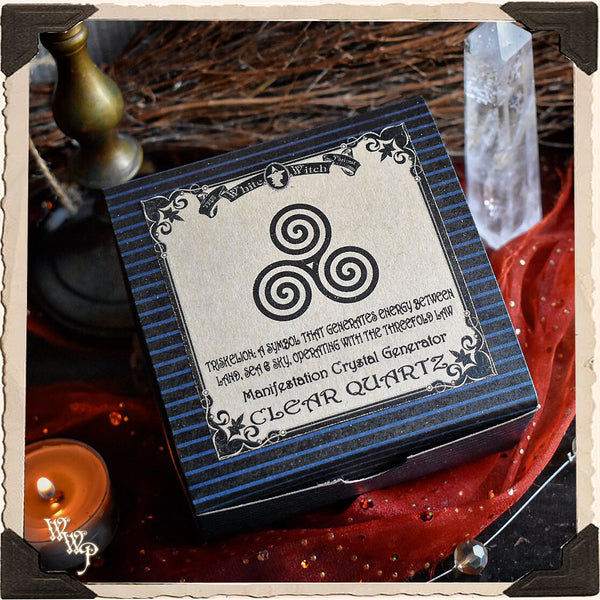 COPPER & QUARTZ CRYSTAL ENERGY GENERATOR. For Reiki Healing & Manifestation.
This power combo works to harness the power of intent & energy toward the greater good. Clear Quartz & Copper spiral together to gain momentum on your manifestations, enhancing the energy you put out threefold. It filters lower vibrations out, so the higher frequency you are emitting, the faster your manifestations can materialize. Copper on it's own is a great energy conductor & metal that can offer healing to the spirit as well as physical ailments. 
... Keep you thoughts in good order when this generator is in use. ;) 
A powerful conductor of energy, it is said that a crystal generator can put out physical heat or crack weaker surrounding crystals. With this much power, an energy generator can work wonders with healing, amplifying manifestations & raising the vibrations of one's aura or sacred space.
Copper is considered a mineral of energy and mental agility. Copper is used in traditional folk remedy and crystal healing lore to bring in additional energies for all types of healing, treatment of arthritis, relieving pain of broken bones, sexual instability, and low energy. In legend, copper is said to be the metal of the God Hermes, who facilitates that mental agility, and quick wit. 
The Pyramid is an ancient symbol, much like a funnel, it acts as a channel, pulling in the energy, wisdom & magic from the 'heavens,' and funneling it down here to Earth. The top of the pyramid is the connection to the Divine, helping to enrich ceremonies & rituals being performed on Earth. It is a connection to the higher realms, the stars, the planets & the Universe, allowing us to "download" sacred wisdom from the spirits above. Due to it's shape, Pyramids also allow us to 'shed' any excess energy that has become spiritual baggage, so we may become purified or cleansed. Crystals in the shape of a pyramid, allow energy to become channeled more directly & it's shape is also said to greatly reduce stress & diminish electromagnetic smog.
Clear Quartz aids those in searching, to gain self awareness and an understanding of our earthly experience. They bring balance & healing to the soul; freeing it to enter the psychic realms. Quartz is a master generator & enhances clarity, protection, intuition, ancient wisdom & harmony. It helps with concentration, and increases awareness, inspiration, and creativity. It purifies the spiritual, mental, and physical planes & can also bring an aura of protection. Known as the master healer, it has the power to regulate energy. Clear quartz can act as a stand in for just about any other crystal or help to tie in the vibrations of a mix of crystals. A valuable stone on it's own for everything that it offers, Clear Quartz will help to disperse toxins and negativity in the environment and redirect it to the highest good.
Each quartz & copper generator measures approx. 1.2" at largest point of base center & stands approx. 1.2" high, holding a copper spiraled point at each of it's four sides. Surrounding the Quartz crystal cone in the center are four mini quartz pyramids in each direction. Each Generator measures approx. 4.5" x 4.5" It comes on a bed of Spanish moss, in a keepsake box, ready to gift to a loved one or yourself.

Because crystal generators absorb & emit so much of the natural energy, it's a good practice to smudge this stone regularly.

Brightest Blessings of light & positive energy,
~ Jenna

* Please note that size, shape & coloring of each stone generator may vary slightly, as this is piece is crafted from natural stones of Mother Earth. Each enchanted generator chooses it's new home.

All sales are final. *
---