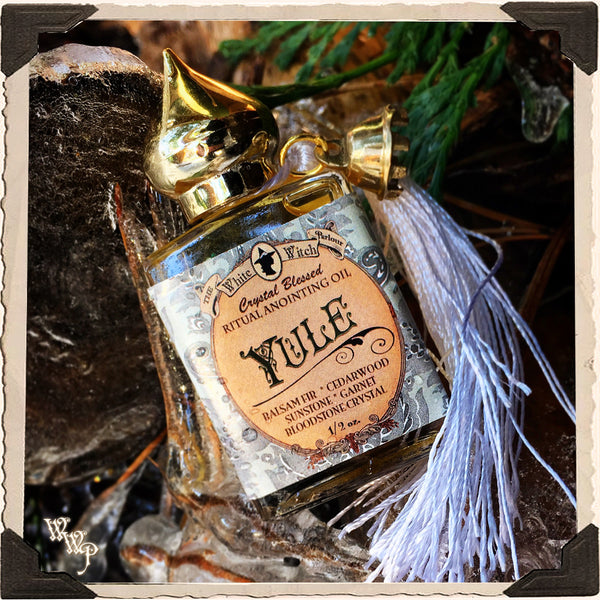 YULE Alchemy RITUAL OIL. Winter Solstice. Scent of Balsam Fir Pine & Cedarwood. Blessed by Sunstone, Garnet & Bloodstone.
Use this magickal blend during the Winter Solstice. The Yule season is full of magick & wonder, much of it focusing on rebirth and renewal. This is a time of new beginnings with your magical workings and personal manifestations. Yule celebrations take place on the eve of the winter solstice, around December 21. It's a time when amazing thing happens in the sky; The earth's axis tilts away from the sun in the Northern Hemisphere, and the sun reaches at its greatest distance from the equatorial plane. As a festival of the Sun, the most important part of any Yule celebration is the return of light. 

This fresh & enchanting blend of Balsam Fir Pine & Cedarwood made from an elaborate mix of fragrance & essential oils, is blessed with the warm-hearted energies of Garnet, Bloodstone & Sunstone crystals. Balsam Fir works to purify the energy of any space, so that cheer & happiness can rise to the surface. It works off energies of the heart chakra to calm emotions & allow love in, abundantly. Though the dark & cold of the winter months can bring our spirits down, Cedarwood activates the soul with illumination & spiritual well-being. It acts as a powerful tool for enlightenment & keeping our flame glowing bright during this darkness. Garnet & Bloodstone crystals team together to heal the Heart & Root Chakras, keeping one grounded & connected to the flow of mother earth, to better accept the journey for what it is. Sunstone is a bright & sunny crystal to help keep us in balance with the warmth & light of the sun & all the life that it gives. Sunstone enchants us with laughter & excitement, reminding us that any thing is possible!

This Crystal Blessed Ritual alchemy oil comes in a 1/2 oz. glass perfume bottle with gold decorative, Victorian style screw-cap, matching tassel & gold / brass bell (The ringing of a bell raises the vibrations & calls upon the higher frequency spirits & angels to bring guidance & protection.) Crystal chip stones of Bloodstone , Garnet & Sunstone are left in each bottle to keep the magickal workings strong. Each bottle comes in a gold gift box on Spanish moss nesting.
 
A beautiful, hand-crafted Potion blend of both all natural essential oils & high grade fragrance oils, blessed with the energies of the associated crystals in an all natural Sweet Almond Oil Carrier. Free of Harsh Chemicals & Animal Testing. Created for use on Skin, Aroma Lamps, Bath Oil or an Anointing Ritual Oil. Not meant for consumption. Keep away from small children & pets.

Yuletide Blessings,
~ Jenna
*All sales are final.
More candles & accessories available in my shop!