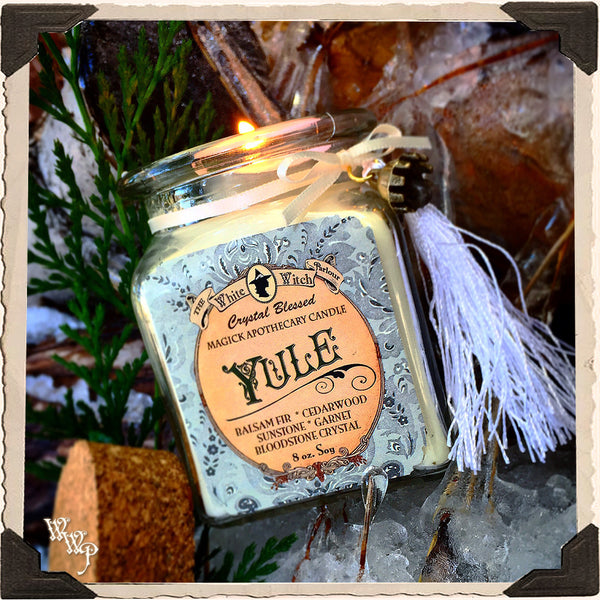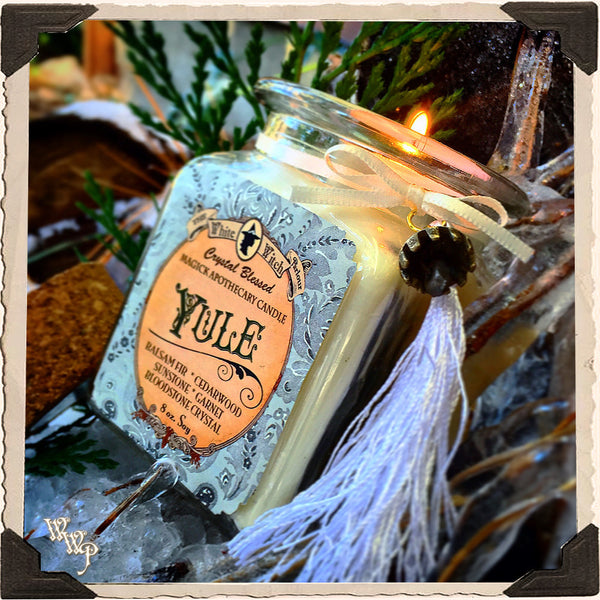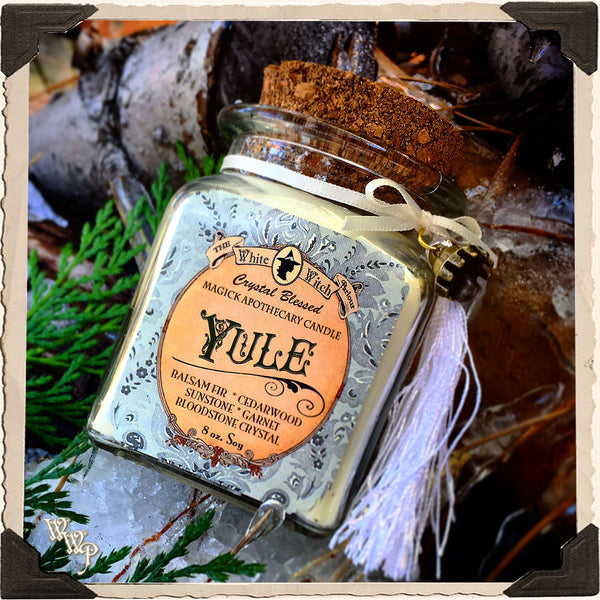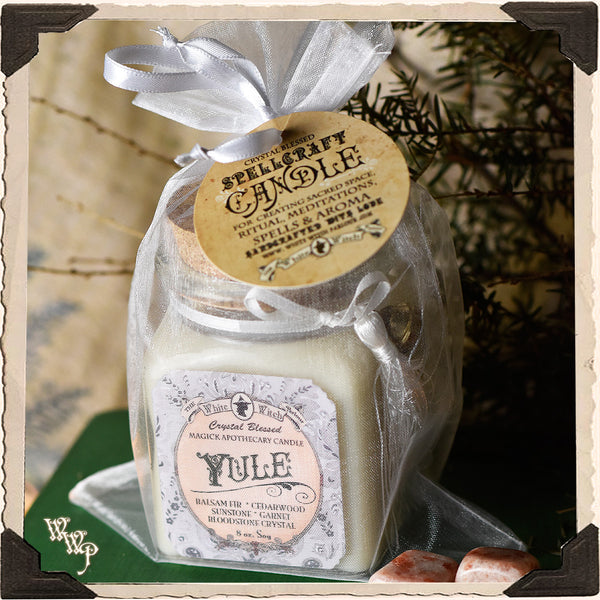 YULE APOTHECARY CANDLE 8oz. Winter Solstice. Scent of Balsam Fir Pine & Cedarwood. Blessed by Sunstone, Garnet & Bloodstone.
Use this magickal blend during the Winter Solstice. The Yule season is full of magick & wonder, much of it focusing on rebirth and renewal. This is a time of new beginnings with your magical workings and personal manifestations. Yule celebrations take place on the eve of the winter solstice, around December 21. It's a time when amazing thing happens in the sky; The earth's axis tilts away from the sun in the Northern Hemisphere, and the sun reaches at its greatest distance from the equatorial plane. As a festival of the Sun, the most important part of any Yule celebration is the return of light. 

This fresh & enchanting blend of Balsam Fir Pine & Cedarwood made from an elaborate mix of fragrance & essential oils, is blessed with the warm-hearted energies of Garnet, Bloodstone & Sunstone crystals. Balsam Fir works to purify the energy of any space, so that cheer & happiness can rise to the surface. It works off energies of the heart chakra to calm emotions & allow love in, abundantly. Though the dark & cold of the winter months can bring our spirits down, Cedarwood activates the soul with illumination & spiritual well-being. It acts as a powerful tool for enlightenment & keeping our flame glowing bright during this darkness. Garnet & Bloodstone crystals team together to heal the Heart & Root Chakras, keeping one grounded & connected to the flow of mother earth, to better accept the journey for what it is. Sunstone is a bright & sunny crystal to help keep us in balance with the warmth & light of the sun & all the life that it gives. Sunstone enchants us with laughter & excitement, reminding us that any thing is possible!

Candle Apothecary at its finest. In a beautiful 8oz. glass corked jar, with up to a 60 hour burn from a paper-core wick; this hand-poured soy Yule Candle is perfect for any altar, big or small. It comes in a beautiful white Organza bag with hangtag, ready to gift to yourself or a loved one. This powerful candle can aid in welcoming warmth & cheer, dispelling any negative energy & allowing for a beautiful glow from the heart. I have also sprinkled blessed chip stones of Sunstone, Garnet & Bloodstone in each candle to keep the spiritual vibrations high & in good trust, as well as protected by the ringing of the bell charm tied to each one. Whether you decide to use this candle all month long or specifically for Winter meditation, it can enhance the magick for whatever ritual or ceremony you may choose to embark on. The brightest of blessings to you and and your loved one's this Winter season as we look forward the wonders of the year to come!

Yuletide Blessings,
~ Jenna

A beautiful, hand-crafted blend of both all natural essential oils & high grade fragrance oils, blessed with the energies of the associated crystals in an all natural organic soy wax. Free of Harsh Chemicals & Animal Testing. Store in cool dry place, keep from heat or direct sunlight. Never leave a lit candle unattended or near flammable items such as curtains. Always think of safety when using open flame * RECYCLE! when you are finished using this candle, you can remove the label and remaining wax under warm water and reuse the jar for other crafty magickal projects or storing herbs. :)
*All sales are final.
More candles & accessories available in my shop!