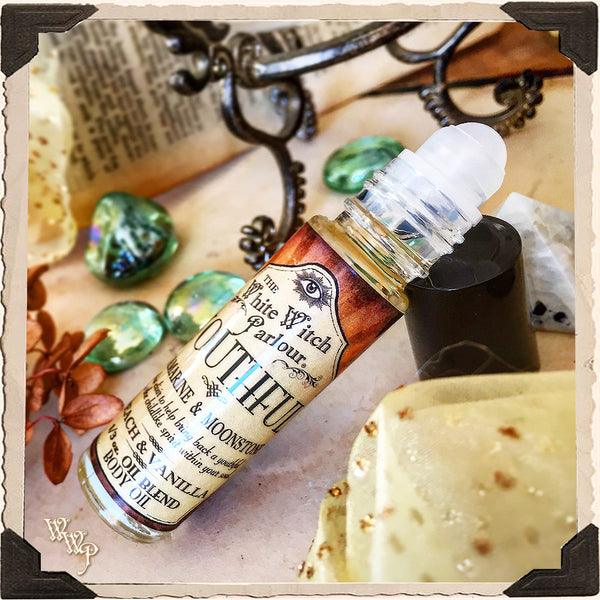 YOUTHFUL Elixir 1/3oz. BODY OIL Rollon. Peach & Vanilla. Blessed by Aquamarine & Moonstone.
As we grow older, we are often taught that it is inappropriate to "act" immature. We are told we must "grow up," "take responsibility," and overall become more serious in life. However, this is not the only option to lead a successful & abundant life. In fact, some of the happiest people in the world are those who do not take life so seriously, they find the joy in the little things, the positives out of a negative & the laughter in hard times. These are people who have maintained the essence of their childlike spirit, and often with it their own 'elixir of life;' keeping a forever youthful glow to their aura. This energy is highly admirable, as it is so easy to become caught up in a mundane & 'serious' world. In the end, it is the eyes, in which you choose to see your surroundings, that will create the atmosphere you choose to have as your reality. 
This playful, warm & inviting scent works to bring the bright smiles & silly laughter back into your life. Inspiring creativity & natural intuition, Vanilla warms the heart, bringing comfort & sweet memories back into one's energy. The familiar scent of Peaches, allow's flashbacks of a warm summer's eve, swimming, relaxing & playing without a care in the world. Mixed with Aquamarine, a stone of hope, good health & youth, you may find yourself embarking on new adventures as you reconnect with a younger spirited you. Moonstone helps to bring balance to this blend, allowing you to still take care of matters, but leaving the worries behind. Moonstone softens our ego, allowing our feminine nature to shine through, in full youth & true beauty.
 
My prayer for use:
" With my youth in full swing, I am rejuvenated with new wings. Lifting me into energy newly found, I find a playful glow within & around. "
Each Body oil comes in a glass 1/3oz. bottle with easy roll-on applicator & black cap, containing chip stones of Moonstone & Aquamarine crystals.
Blessings on your youthful journey,
~ Jenna
All Sales Final*
A beautiful, hand-crafted Potion blend of both all natural essential oils & high grade fragrance oils, blessed with the energies of the associated crystals in an all natural Sweet Almond Oil Carrier. Free of Harsh Chemicals & Animal Testing. Created for use on Skin, Aroma Lamps, Bath Oil or an Anointing Ritual Oil. Not meant for consumption. Keep away from small children & pets.
Vegan Friendly! Free of Harsh Chemicals & Animal Testing.

Sample sizes & more oils available in my shop!