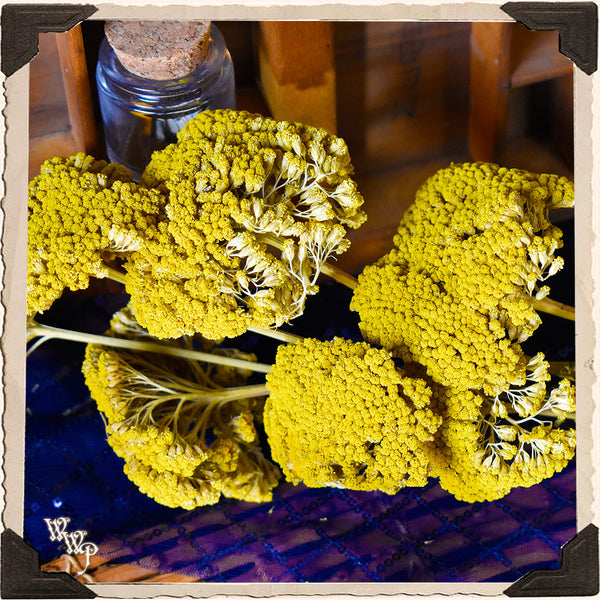 DISCONTINUED: YELLOW YARROW DRIED BOTANICAL. Decorative Herb For Courage, Healing & Love.
Regular price
$26.00
Sale price
$21.99
---
Meant to spice up the Witchy aesthetic or an Herbalist vibe within your sacred space, these beautiful bundles of yellow Yarrow, come dried, full of vibrant color, ready for you to hang near a hearth or place on an altar. Perfect for Harvest decor, these all natural, decorative bundles measure approx. 12-18" long, with about 4oz. of dried flowers & each bundle has approx. 12-15 stems.

Botanical Name: Achillea Millefolium

Magickal uses: Courage, Healing Love, Psychic Powers, Wedding, Attracting Friendships

ELEMENTS: Water
PLANETS: Venus
CHAKRAS : Solar Plexus (3rd)
Magickal Tip: Hang dried Yarrow over the bed to increase marital bliss and Compassion for at least 7 years+

Holistic & Medicinal: Nosebleeds & circulatory

Magickal Blessings,
~ Jenna 
* All Sales Final.  Herbs & information provided is not meant to treat or diagnose any disease or ailment. Please seek medical attention if needed & always do research before consuming herbs or resins. Many contain natural high medicinal properties, which may be toxic to pets, small children & Women who are nursing or pregnant.
More Apothecary Jars, Burners & Accessories available in my shop!