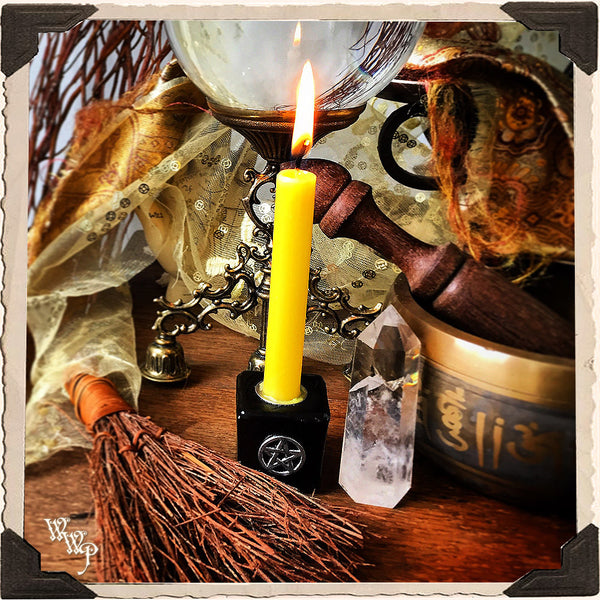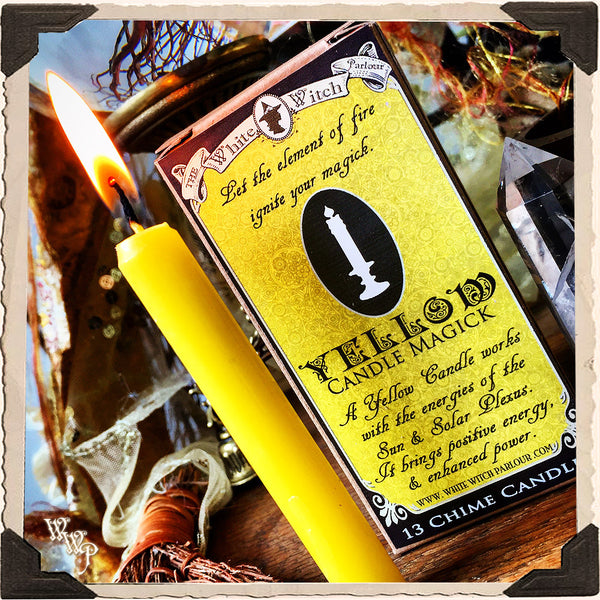 YELLOW SPELL CANDLES. 13 Pack - Unscented. Mini Taper Candle Magick for Sun Energy & Solar Plexus.
Color is powerful & can creates doorways to heal our own chakras, inspiring new life for each new intent. Yellow Vibrates to the energy of the Sun & Solar Plexus. It awakens our Chi & core energy, bringing power, courage & leadership, with a positive vibes that shines bright. It is the 'roar' from within, that drives you day to day, the ego, which dictates your personality & will power. Yellow enchants us with new life, growth & illumination, it creates happiness & cheer to help us keep our chin up even on the darkest days. Yellow works with the element of Fire, bringing prosperity, warmth & light. Keep these keywords in mind when working with this beautiful color energy.     
These mini taper candles are perfect for rituals, spells & enchanting decor! Each pack comes with 13 oder-less & smokeless candles. Each individually wrapped candle measures approx. 4" high by 1/2" wide with clean burning wax that can last 1-2 hours. Dripless & lead free cotton wicks, help create an atmosphere through the vibration of color. It is popular to inscribe your own blessing on these candles for a spell or anoint / dress the candle with your oil of choice. 
These candles can be used with antique mini candle holders, chime candle holders, or even placed in a bowl of sand.  Spell Candle holders are available in my shop!
Blessings of Love & Light,
~ Jenna  

**All sales are final. ** 
*Buyers: Store in cool dry place, keep from heat or direct sunlight. Never leave a lit candle unattended or near flammable items such as curtains. Always think of safety when using open flame*