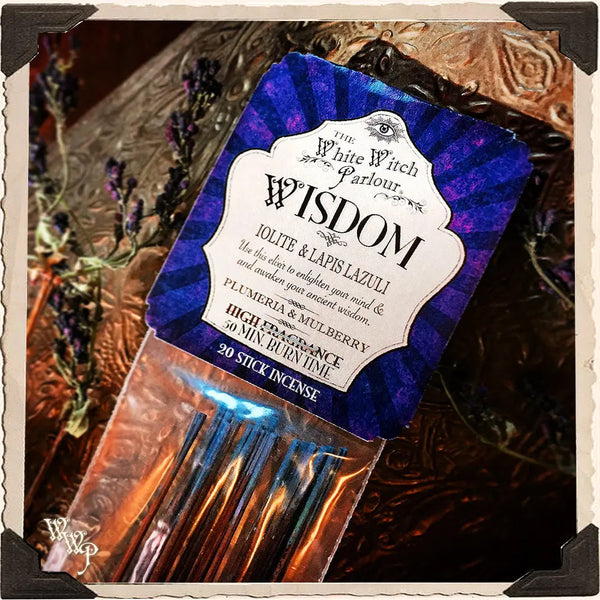 WISDOM Elixir INCENSE. 20 Stick Pack. For Meditation, Channeling, Soul Growth.
On a trip to New England, I was inspired with this old energy that was surrounding me. Not stagnant or negative energy, but energy that held such history & ancient wisdom. Wisdom that was once tried to be silenced, but somehow had bounced back & was completely flourishing & rejuvenated through new generations. I knew at this time I had to make a potion blend that I myself could use to revisit this vibration, because I almost didn't want to let it go when the time came to leave the trip.

This one is a special blend to me, upon closing your eyes & gently breathing in, you can become whisked away to what seems like a whole new dimension & energy that already lives within your soul, something familiar. This blend is pure magick; It's dark, mysterious & tends to change scent, depending on how you are working with it. It really can help you dig deeper into your soul's history & ancient practices.

I created this blend of Plumeria & Mulberry after a deep meditation, while recalling my trip & the energy I felt. Funny enough, In the Buddhist culture, the Plumeria represents immortality, because even when it is uprooted, the blossoms will continue to bloom, this is an enchanted tree that can live hundreds of years & remains sacred among many different cultures. The Mulberry is closely tied to the energies Women & their powers of divination, knowledge, wisdom & will power. Also resonating with great protection & strength, the mulberry bush has been included in the famous nursery rhyme, which was originally created over 400 years ago by female prisoner's who would go round the Mulberry bush for exercise. So many symbolic connections to be made from this mental image. ;) Blended with the awakening & enlightening energies of Iolite & Lapis Lazuli, this is a mix to help increase your intuitive visions, recollections from the long ago & stirring ups of that sacred knowledge within you.

My prayer for use:
" To see things clearly, I close my eyes, truth flowing to my soul, dissolving all lies.
I recall ancient practices & with them their toll, but now live life fully, born again to claim my roll. "

These wonderful handmade alchemy incense sticks burn for approximately 50- 60 minutes each and are made up of pressed charcoal sticks, crystal energies, fragrance oils & essential oils. There are 20 magickal sticks in each pack, that yield beautiful and lingering aroma wherever they are burned. These powerful incense can aid wonderful cheer, dispelling any negative energy & allowing for a more connected approach to your practices. They are blessed with chip stones of Iolite & Lapis Lazuli.

May you reconnect with your Ancient Wisdom,
~ Jenna

~~~~~~~~~~~~~~~~~~~~~~~~~~

All Sales Final*
Not Meant for consumption.
Keep out of heat and direct sunlight.

Incense accessories available in my shop!