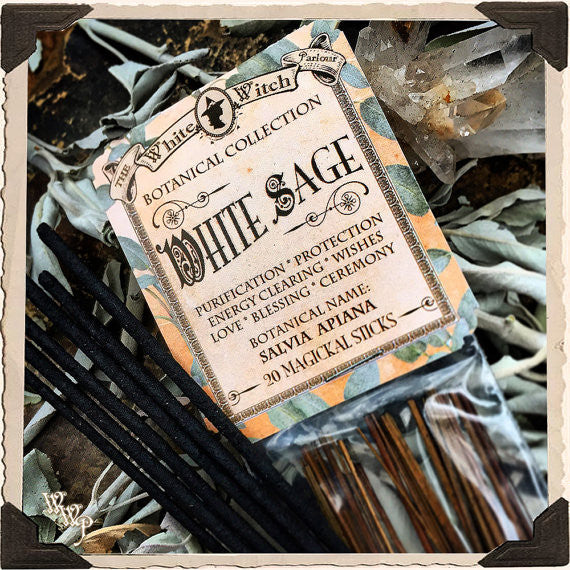 WHITE SAGE INCENSE. 20 Stick Pack. For Wishes, Energy Clearing & Ceremony Work.
Single Note Botanical White Sage Incense can be used to spiritually cleanse spaces, houses, rooms or environments of any kinds of subtle, old energies and prepare the space with fresh intent. It can also be used to cleanse the aura of a person from stagnant old energies to prepare for ceremony or spiritual work. For centuries White Sage has been used in ceremony to encourage psychic detox, raising one's energy levels and enhancing manifestation & purification on many levels. It works to diminish any turmoil in one's life, as they prepare to embark on new ventures & positive vibrations.

These enchanting handmade botanical incense sticks burn for approximately 50 - 60 minutes and are made up of blend of essential oil & fragrance on pressed charcoal & blessed with the energies of Clear Quartz to help enhance the natural properties. There are 20 magickal sticks in each pack, that yield beautiful and lingering aromas, wherever they are burned.

Planet: Jupiter
Element: Air

Magickal uses: Ward off evil , repel enemies, negative energy or spirits, Spiritual / aura healing, physical healing, Purification, protection, cleansing, removes negative psychic energy, consecration, longevity, emotional / chakra balance & centering, concentration, clearing spirits, creating sacred space, circle casting, money, prosperity, immortality, wishes, general healing & wisdom

Magickal Blessings,
~ Jenna
*All sales are final. 
Incense accessories available in my shop!