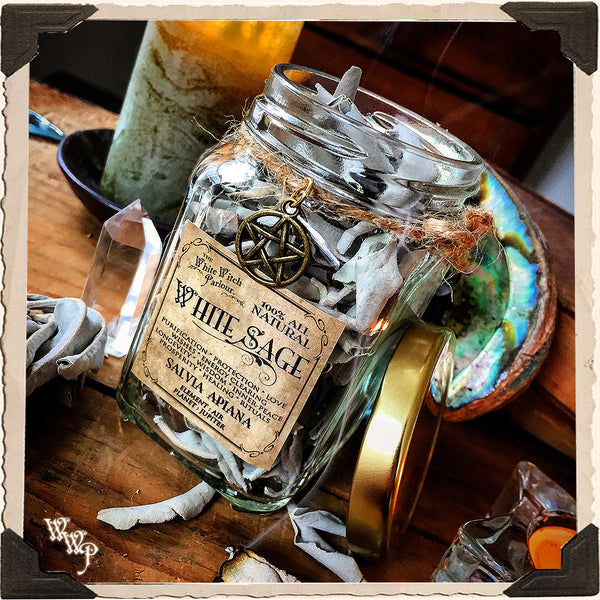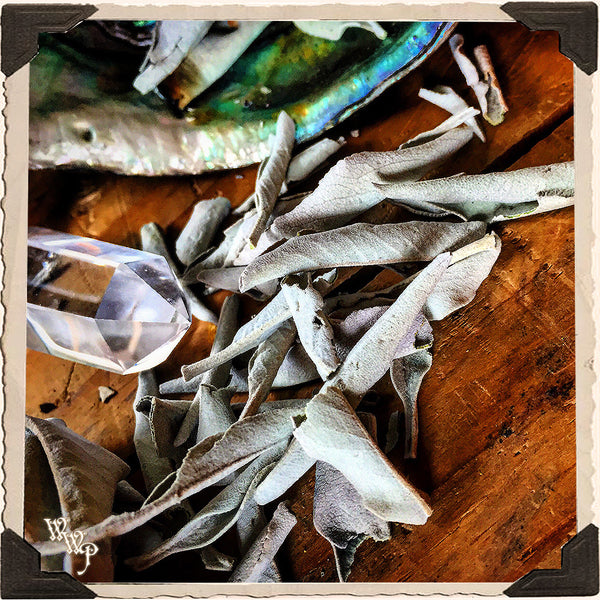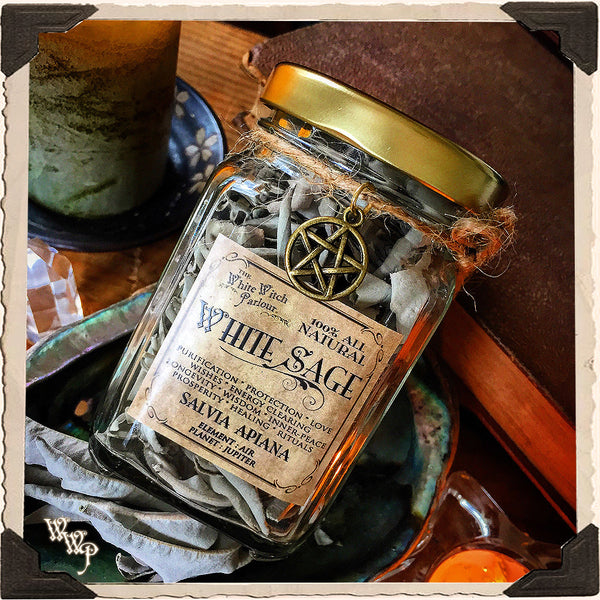 WHITE SAGE APOTHECARY. Dried Herbs. For Purification, Wishes & Ceremony.
White Sage can be used to spiritually cleanse spaces, houses, rooms or environments of any kinds of subtle, old energies and prepare the space with fresh intent. It can also be used to cleanse the aura of a person from stagnant old energies to prepare for ceremony or spiritual work. For centuries White Sage has been used in ceremony to encourage psychic detox, raising one's energy levels and enhancing manifestation & purification on many levels. It works to diminish any turmoil in one's life, as they prepare to embark on new ventures & positive vibrations.
Botanical Name: 
Salvia Apiana 
Element Correspondences: Jupiter
Planetary Correspondences: Air
Zodiac Correspondences: Aries & Sagittarius
Magickal Uses:
Ward Off Evil, Repel Enemies & Negative Energy or Spirits, Spiritual Aura Healing, Physical Healing, Purification, Protection, Cleansing, Removes Negative Psychic Energy, Consecration, Longevity, Emotional Chakra Balance & Centering, Concentration, Clearing Spirits, Creating Sacred Space, Circle Casting, Money, Prosperity, Immortality, Wishes, Manifestation, General Healing & Wisdom.
Chakras:   Crown (7th)
Holistic Uses:  Traditionally used as a ceremonial smudge, when burned as incense it can be used as an insect repellant. A Sage Tincture can be used to help straighten hair as a final rinse. Very small portions can be added to tea to 'detox' the mind.

Each glass apothecary herbal jar contains approx. 1 oz. of All Natural White Sage leaves, topped with a gold screw on lid, informative label & rustic pentacle accents. The pentacle represents the elements ( Earth, Air, Fire, Water & Spirit ) encompassed in a ring of unity, serving as a symbol of protection & connection. There is enough herbs in one jar to last for many uses. Store in cool dry place when not in use. Each square Herbal Jar measures approx. 4" high x 2.5" wide. There are several uses for dried botanical herbs, such as adding to or making magickal sachets or Witch bottles, creating tinctures or perfume oils, creating herbal capsules, tea mixtures, powder incense, bath and body scrubs, soaps & lotions, & so much more!
Magickal Blessings,
~ Jenna
* All Sales Final.  Herbs & information provided is not meant to treat or diagnose any disease or ailment. Please seek medical attention if needed & always do research before consuming herbs or resins. Many contain natural high medicinal properties, which may be toxic to pets, small children & Women who are nursing or pregnant.
More Apothecary Jars, Burners & Accessories available in my shop!