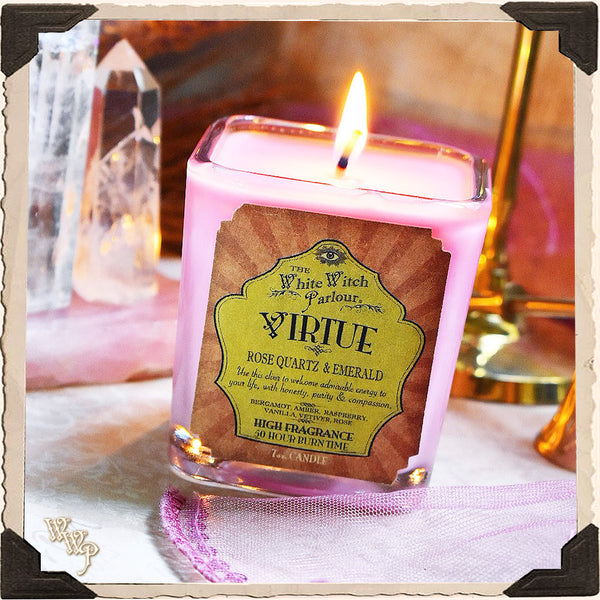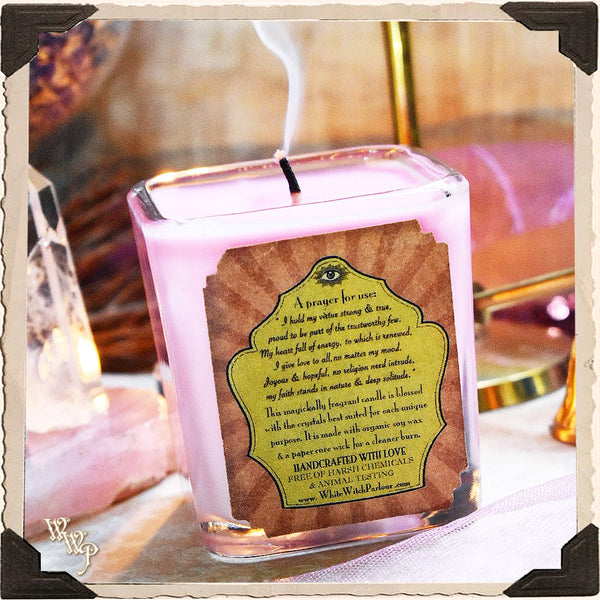 VIRTUE Elixir Apothecary CANDLE 7oz. For Beauty, Good Faith & Gentleness.
I created this blend, simply because it is so easy to get caught up in the 'adult' world of responsibilities, anger, stress, worry & fear. Day after day, we can tend to fall further & further from our childhood dreams & our childlike eyes that are able to see the beauty & innocence in all things. If you watch the daily news, you see the ugly realities in our world & begin to focus your thoughts & energies on those issues, rather than staying in a positive energy & focusing it on love, promoting good faith, love, compassion & trust. This is the kind of healing the world needs & if you can impact at least one other person in a positive way, you have fulfilled you duty. This is the energy, that day by day, we can work on spreading, so that the awareness of peace & gentleness can begin to change the world. This is what inspired my 'Virtue' Elixir. :)
 
A fresh, innocent & beautiful blend of Bergamot, Vetiver, Amber, Rose, Raspberry & Vanilla, Blessed with the heart opening energies of Rose Quartz & Emerald. Together these enchanting ingredients work to open your eyes to the unseen beauties in the world around you, so that you can better appreciate them & share them with those you love. Rose increases the vibration of Love, while Vanilla brings comfort & warmth. Amber raises the vibration of healing & combined with Raspberry increases the innocence of the mind & can inspire imagination. Bergamot & Vetiver welcome purification & cleansing to the body & spirit, it renews one's energy & helps to keep one emotionally calm & centered. Blessed with Rose Quartz & Emerald crystals, this blend creates a new found passion for universal Love & oneness, teaching the user about the great strength within gentleness.

My prayer for use:
" I hold my Virtue strong & true, proud to be part of the trustworthy few. My heart full of energy, to which is renewed, I give love to all, no matter my mood. Joyous & hopeful, no religion need intrude, my faith stands in nature & deep solitude."
A magickal hand-poured 7oz. candle can be used for spells or just the aromatherapy that it offers. This decorative jar candle is made up of organic soy wax, non-toxic paper-core wick, fragrance / essential oil blend & is charged with the associated crystal chip gemstones, hand-ground into a powder & mixed into the wax. The magickal aura around each candle is powerful on its own, creating a shift in energy of any room it is left in. This beautiful candle offers a high scent throw & many smiles :) It holds an average burn time of 50+ hours & comes in a pink organza bag with hangtag, ready to gift to a friend or yourself.

May you find your inner psychic,
~ Jenna


All Sales Final*
*All sales are final.
Store in cool dry place, keep from heat or direct sunlight. Never leave a lit candle unattended or near flammable items such as curtains. Always think of safety when using open flame *

Vegan Friendly! Free of Harsh Chemicals & Animal Testing.

Check out more candles & accessories in my shop!