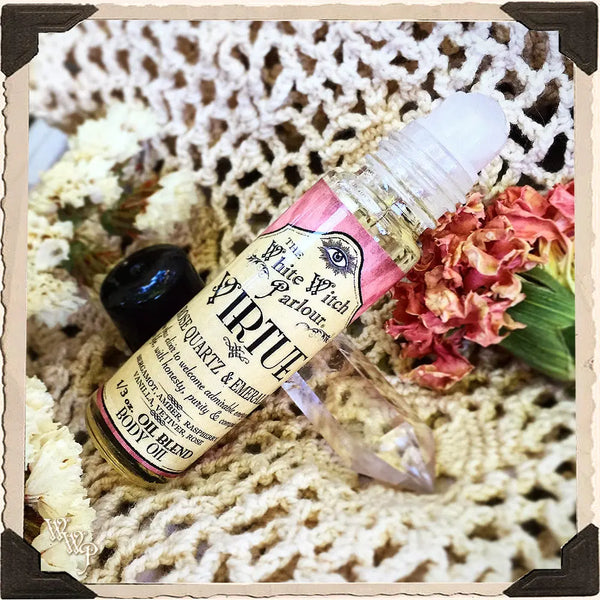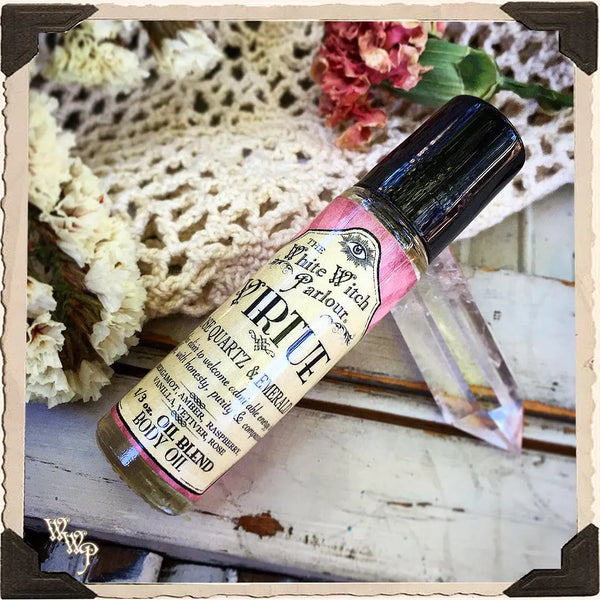 VIRTUE Elixir 1/3oz Body Oil Rollon. For Beauty, Good Faith & Gentleness.
I created this blend, simply because it is so easy to get caught up in the 'adult' world of responsibilities, anger, stress, worry & fear. Day after day, we can tend to fall further & further from our childhood dreams & our childlike eyes that are able to see the beauty & innocence in all things. If you watch the daily news, you see the ugly realities in our world & begin to focus your thoughts & energies on those issues, rather than staying in a positive energy & focusing it on love, promoting good faith, love, compassion & trust. This is the kind of healing the world needs & if you can impact at least one other person in a positive way, you have fulfilled you duty. This is the energy, that day by day, we can work on spreading, so that the awareness of peace & gentleness can begin to change the world. This is what inspired my 'Virtue' Elixir. :) 
A fresh, innocent & beautiful blend of Bergamot, Vetiver, Amber, Rose, Raspberry & Vanilla, Blessed with the heart opening energies of Rose Quartz & Emerald. Together these enchanting ingredients work to open your eyes to the unseen beauties in the world around you, so that you can better appreciate them & share them with those you love.  Rose increases the vibration of Love, while Vanilla brings comfort & warmth. Amber raises the vibration of healing & combined with Raspberry increases the innocence of the mind & can inspire imagination. Bergamot & Vetiver welcome purification & cleansing to the body & spirit, it renews one's energy & helps to keep one emotionally calm & centered. Blessed with Rose Quartz & Emerald crystals, this blend creates a new found passion for universal Love & oneness, teaching the user about the great strength within gentleness.  
My prayer for use:
" I hold my Virtue strong & true, proud to be part of the trustworthy few. My heart full of energy, to which is renewed, I give love to all, no matter my mood. Joyous & hopeful, no religion need intrude, my faith stands in nature & deep solitude." 
Each Body oil comes in a glass 1/3oz. bottle with easy roll-on applicator containing chip stones of Rose Quartz & Emerald gemstones. Samples do not contain crystals & are for scent testing only. 
A beautiful, hand-crafted Potion blend of both all natural essential oils & high grade fragrance oils, blessed with the energies of the associated crystals in an all natural Sweet Almond Oil Carrier. Free of Harsh Chemicals & Animal Testing. Created for use on Skin, Aroma Lamps, Bath Oil or an Anointing Ritual Oil. Not meant for consumption. Keep away from small children & pets.
Abundant Blessings from the heart,
Together we can heal our world! xo
~ Jenna 

* All sales final