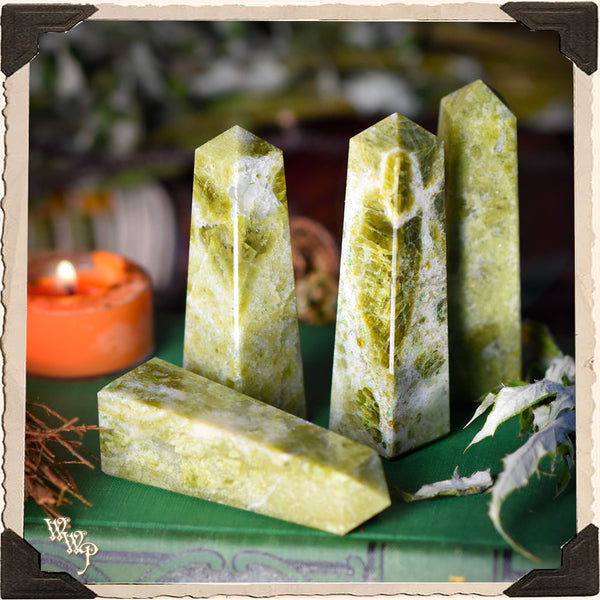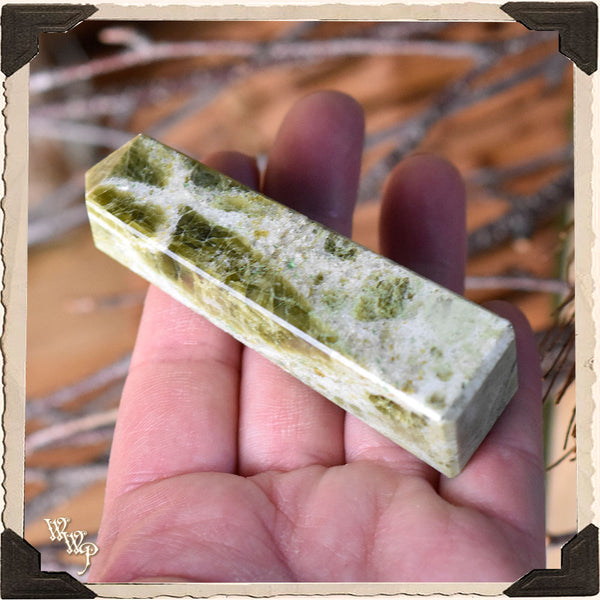 VESUVIANITE (IDOCRASE) CRYSTAL OBELISK . For Anxiety, Cooperation & Balance
A stone known for healing & alleviating anxieties, Vesuvianite inspires cooperation between business partners, friendship & marriages. It helps to clear repetitive patterns, so that you can start anew, as it works to bring balance to the physical & emotional energy bodies. Vesuvianite is also known as Idocrase, which is said to help dissolve anger & heal the heart chakra. It helps to release feelings of imprisonment & leads one towards new paths of higher awareness.

ZODIAC: Sagittarius / Capricorn

PLANET : Earth
CHAKRA:  Heart (4th)

HOLISTIC: repairs tooth enamel & strengthens bones.


Each stone Obelisk tower measures approx. 3.5" - 4" tall x 1" wide at the base and each special stone tower chooses its new home, as you will receive 1 (ONE) piece per order. Please note that these natural formations vary is shape & size. Each stone comes with a beautiful organza bag, on a bed of Spanish moss & information card. Before use of your new crystals, it is always a good idea to consecrate each stone for it's intended purpose. You can do so, by smudging (with sage) each stone to clear any energies it has absorbed and putting your intention forth on each stone, resetting & programming it for how it will help you.
 
Blessings of Love & Light,
~ Jenna 


More crystals available in my shop!
Shapes, sizes & color will vary, as this is a natural gift from Mother Earth.
*All Sales Final