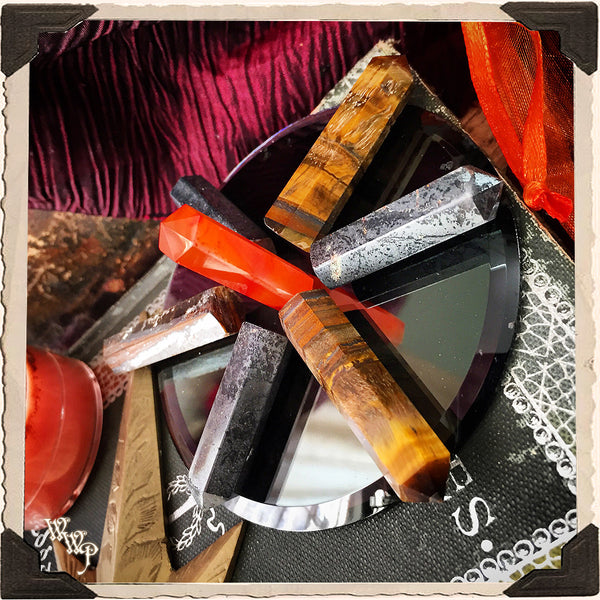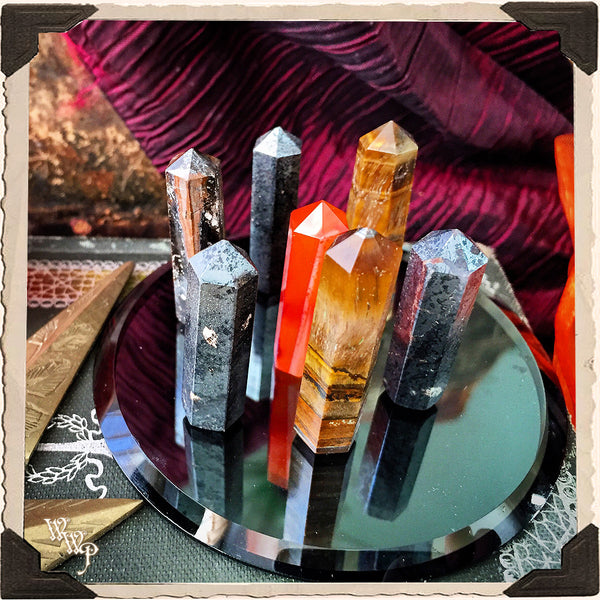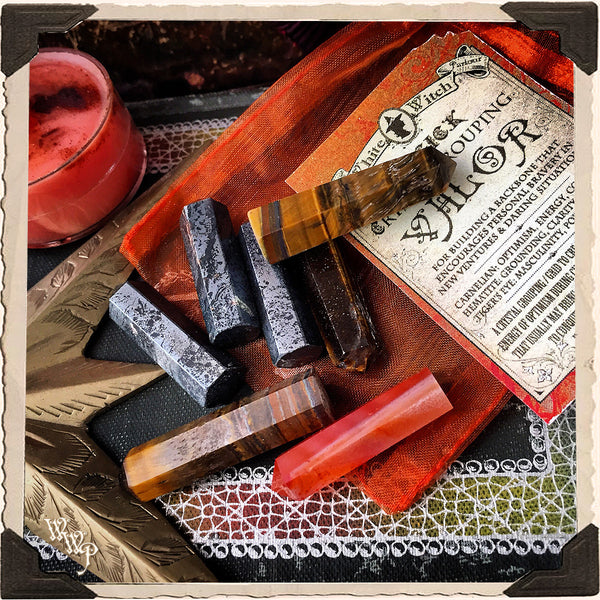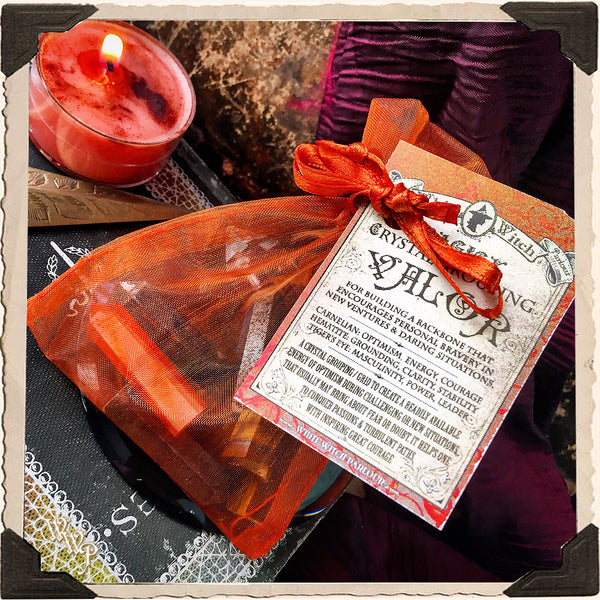 VALOR Crystal Grid Set. For Bravery, Optimism, Leadership & Strength.
This energy grid was created with great leadership skills in mind. Not everyone is born with that natural ability to encourage or lead others, so this grid can hep draw in the masculine energy & power to create a strong backbone, building levels of personal bravery in times of new ventures or daring situations. It emits that energy of optimism, energy & courage onto the Solar Plexus Chakra, allowing one to find stability & clarity in their actions. The energy of this grid manifests a will to conquer fear & doubt, while inspiring great courage to pursue passions & take on turbulent times while continuing to stand tall & proud. 
Carnelian shines with a joyous & cheerful energy. It manifests positive energy all around & works with nurturing the Sacral Chakra, thus healing 'the womb' of our soul & aiding in abundant fertility on all paths of one's life. Tied to the Sun's energy, it creates warmth, life & Illumination. It also serves as a reminder of the hot glowing light of our daily sunset & the changing of the season's, which allows for change in the cycle of life. All things come to an end, & with death always comes new life, making Carnelian a special stone to carry during a time of change. It enhances Clarity during troubled situations & the energy to one's get through them with a smile upon the face. It protects against jealousy, rage & anger, while breathing in a new energy of motivation & courage. It emits great Life Force energy & awakens one to their highest good, teaching them leadership skills & confidence along the way.
A stone that carries a great energy of power & strength, Golden Tiger's Eye offers stability, teaching one how to lead from a steady heart & clear mind, building courage, trust & confidence in the self. It issues a great renewal of energy & power for the Root, Sacral & Solar Plexus Chakras, bringing grounding & activating true focus & drive. It stabilizes the emotions & helps to bring forth a beautiful confidence from the spirit, making the user like a magnet for compassion & courage to others. Tiger's Eye was often used as an ancient talisman, as it combines the elements of both the Sun & Earth, which creates a great channel for spiritual illumination. With the stability of this stone's energy, the user often will notice an increase in good fortune, positive financial flow & great opportunities, as it tends to help the user calmly reflect on situations & find the best outcome without becoming irrational. Tiger's eye can also help reduce stress or addictions that can make one become dependent over time, making it a powerful stone of independence and conquering one's goals. 
Hematite is a very strong, sturdy, heavy & shiny stone when tumbled. These traits can reflect greatly in the user, offering a protective shield to the user, building emotional stability, courage, strength, a deeper connection to earth, aiding in intense grounding & welcoming a heightened energy of mental clarity, especially during troubled times. Hematite is a powerful stone to use after an intense mediation, ceremony or ritual, to help bring the user "back down to earth," rather than being left with a vibrational high, which may later impact the quality of physical work & thoughts. A vibrational high, is li8ke being drunk off the universe, making one drift in & out of physical consciousness & able to focus on the matter at hand. When one is awakening, this "spacey mind," can often become a problem or danger, Hematite helps to ground one's energy, bringing their vibrational thoughts back to a balanced state here on the physical realm. This grounding energy helps in the ability to focus & generate a tremendous willpower to achieve great things. Hematite utilizes the magnetic qualities of our yin-yang energies to balance the meridians within the body and to provide a stable equilibrium between the ethereal nervous system and the physical nervous system. It focuses energy and emotions for balance between the body, mind and spirit. It recycles energies, throwing out negative energies & only transmitting the positive ones, especially energies from others, making it an enchanting stone for Empaths.
Each stone measures approx. 1.5" inches tall, and each special set chooses its new home. The set includes 7 single point terminated stones, 6 for gridding & one master stone in a beautiful keepsake organza bag & a handy information card. Since stones can vary so much in size and shape, each set has been handpicked so that there is some similarities amongst the stones. Each stone has been kissed with loving energy & blessed by my angels. Before use of your new crystal grid set, it is always a good idea to consecrate each stone or set for it's intended purpose. You can do so, by smudging (with sage) each stone, by passing it through the smoke of the sage then putting your intention onto each stone, resetting & programming it for how it will help you. In a calm & meditative state, simply hold the stone direct your love & desires into it, as you become in tune with each one. 

* Size & shape of stones will vary as these are a natural product of mother earth. You will receive a set similar to the one in the photo*

Brightest Blessings of Love & Light,
~ Jenna
* All sales final
More crystals & sets available in my shop!