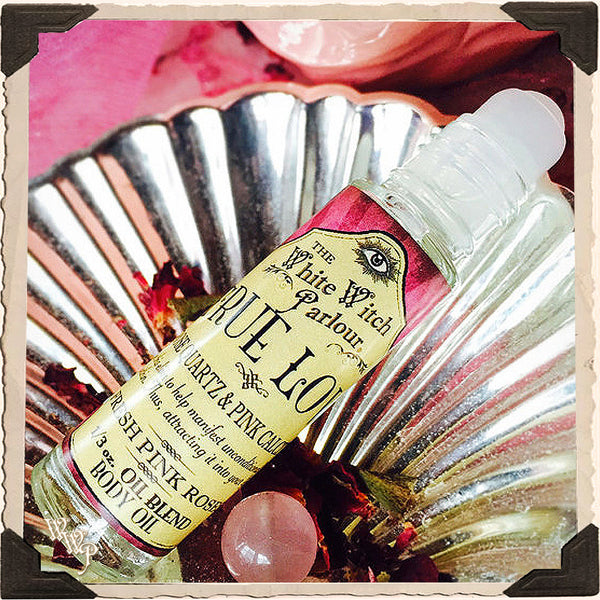 TRUE LOVE Elixir 1/3oz. Body Oil Rollon. For Heart, Self Love & Trust.
Love is the purest vibration we can experience. When we welcome love into our every essence, we glow with happiness & compassion for all beings including ourselves. This is the key to attracting love on all levels amongst your beautiful life. The symbol of a rose is a symbol of love, friendship & kindness, which is why this special elixir holds such a perfected scent of fresh pink roses. Pink roses in magick hold the innocence and purity of True Love, no seduction, lust or romance, just energies of pure love that radiate from the heart. When the heart is enlightened with this vibration, the whole of the physical & spiritual body begins to heal and glow to the tune of a perfect frequency. With the energy of Rose Quartz and Pink Calcite restoring trust and harmony in relationships they help to encourage unconditional love within. Rose Quartz purifies and opens the heart at all levels to promote love, self-love, friendship, deep inner healing and feelings of peace. Calming and reassuring, it helps to comfort in times of grief, as it dispels negativity and protects against environmental pollution, replacing it with loving vibes. It encourages self-forgiveness and acceptance invoking self-trust and self-worth. Pink Calcite has a gentle but powerful energy, it is a calming stone that eases and heals the heart chakra, offering hope for the best as it heals inner child hurts and past abuse by filling one with a sense of motherly love. This nurturing stone helps us take care of ourselves & enables us to accept love in the purest form. By the use of this Elixir blend, True Love can work to bring happiness in the smallest things back into your life, triggering a great change for the better!
My prayer for use:
" I understand my heart is key & true love starts with love for me. I attract the love I feel I deserve, so I seek a connection I can forever preserve."
Each Body oil comes in a glass 1/3oz. bottle with easy roll-on applicator containing chip stones of the associated crystals. 


This is a beautiful, hand-crafted Potion blend of both all natural essential oils & high grade fragrance oils, blessed with the energies of the associated crystals in an all natural Sweet Almond Oil Carrier. Free of Harsh Chemicals & Animal Testing. Created for use on Skin, Aroma Lamps, Bath Oil or an Anointing Ritual Oil. Not meant for consumption. Keep away from small children & pets.
Blessings of divine love,
~ Jenna

*All sales are final.

Check out more candles & accessories in my shop!