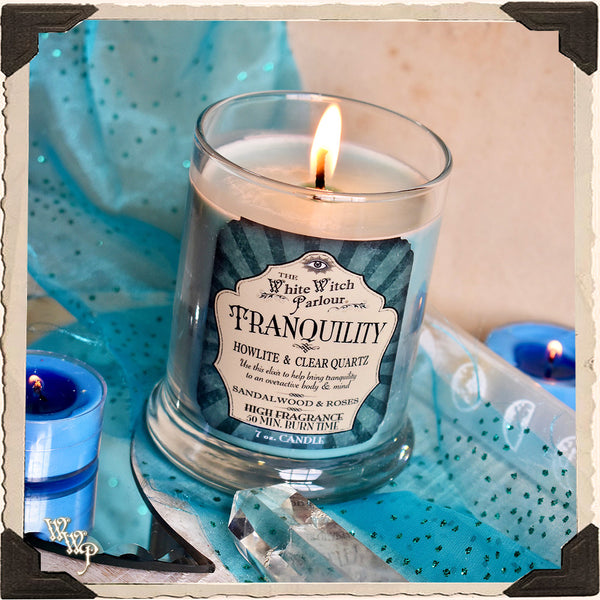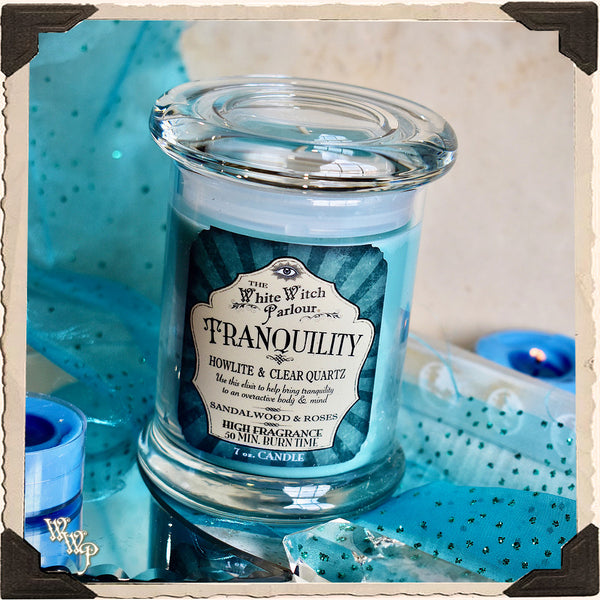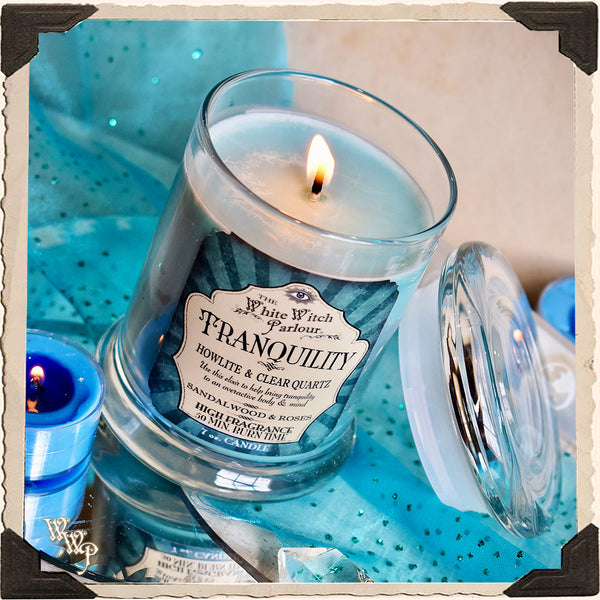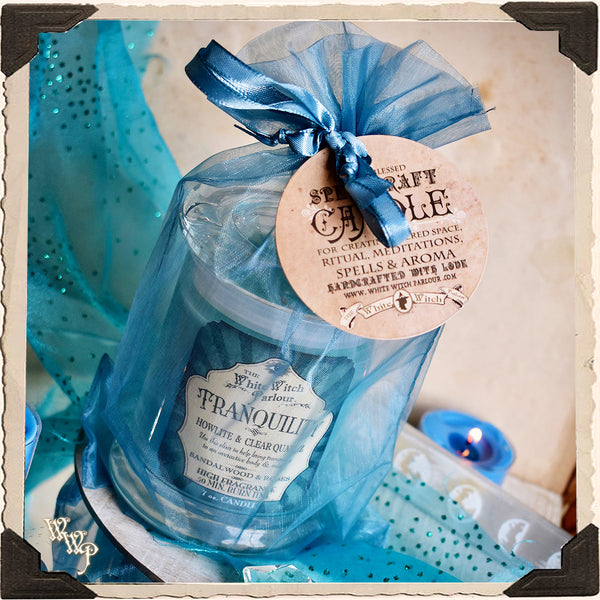 TRANQUILITY Elixir Apothecary CANDLE 7oz. For Peace, Calmness & Enlightenment.
Soft, sweet & innocent, this beautiful blend both uplifts the spirit & creates a flowing energy of tranquility, to quiet & calm the mind. Perfect for meditation or Full Moon rituals, This Tranquil blend of Sandalwood, Roses, Clear Quartz & Howlite crystals inspire a full body energy cleanse, filling your vibrations with pure love & light. Sandalwood has been in use for at least 4,000 years in magick & spiritual growth. It is one of the most calming natural scents and therefore is one of the preferred ones for meditation, as it pulls us closer to the divine & we release all ego. Mixed with Roses, Clear Quartz & Howlite stone, it promotes unconditional self love, calms the mind, enhances mental clarity, and aids in the opening of the Third Eye. Friendship, gentleness, & thankfulness become a key energy to this enchanting blend, helping you to awaken to your highest good.

My prayer for use:
" I ask for tranquility of mind, body & soul, Give me stability & help me feel whole. My mind now silent, quiet & still, I give thanks for calming energy as a wish you fulfill."
A magickal hand-poured 7oz. candle can be used for spells or just the aromatherapy that it offers. This decorative jar candle is made up of organic soy wax, non-toxic paper-core wick, fragrance / essential oil blend & is charged with the associated crystal chip gemstones mixed into the wax. The magickal aura around each candle is powerful on its own, creating a shift in energy of any room it is left in. This beautiful candle offers a high scent throw & many smiles :) It holds an average burn time of 50+ hours. It comes in a reusable glass apothecary jar with lid, packaged in a beautiful color matching organza bag & hangtag ready to gift to a friend or yourself. 
Blessings on your travels to enlightenment,
~ Jenna
*All sales are final.
Store in cool dry place, keep from heat or direct sunlight. Never leave a lit candle unattended or near flammable items such as curtains. Always think of safety when using open flame * 
Check out more candles & accessories in my shop!