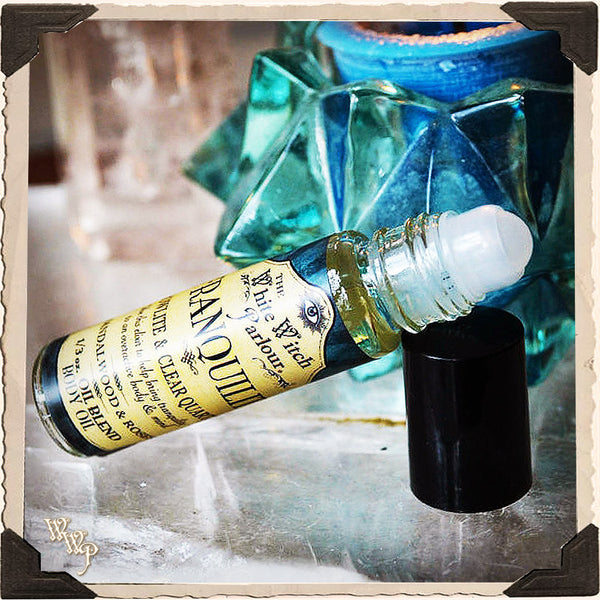 TRANQUILITY Elixir 1/3oz. BODY OIL Rollon. Scent of Sandalwood and Roses. Blessed by Howlite and Clear Quartz Crystals.
Soft, sweet & innocent, this beautiful blend both uplifts the spirit & creates a flowing energy of tranquility, to quiet & calm the mind. Perfect for meditation or Full Moon rituals, This Tranquil blend of Sandalwood, Roses, Clear Quartz & Howlite crystals inspire a full body energy cleanse, filling your vibrations with pure love & light. Sandalwood has been in use for at least 4,000 years in magick & spiritual growth. It is one of the most calming natural scents and therefore is one of the preferred ones for meditation, as it pulls us closer to the divine & we release all ego. Mixed with Roses, Clear Quartz & Howlite stone, it promotes unconditional self love, calms the mind, enhances mental clarity, and aids in the opening of the Third Eye. Friendship, gentleness, & thankfulness become a key energy to this enchanting blend, helping you to awaken to your highest good. 

My prayer for use:
" I ask for tranquility of mind, body & soul, Give me stability & help me feel whole. My mind now silent, quiet & still, I give thanks for calming energy as a wish you fulfill."
Each Body oil comes in a glass 1/3oz. bottle with easy roll-on applicator containing chip stones of Clear Quartz & Howlite gemstones. 
A beautiful, hand-crafted Potion blend of both all natural essential oils & high grade fragrance oils, blessed with the energies of the associated crystals in an all natural Sweet Almond Oil Carrier. Free of Harsh Chemicals & Animal Testing. Created for use on Skin, Aroma Lamps, Bath Oil or an Anointing Ritual Oil. Not meant for consumption. Keep away from small children & pets.

Blessings on your travels to enlightenment,
~ Jenna

*All sales are final.
Check out more oils in my shop!