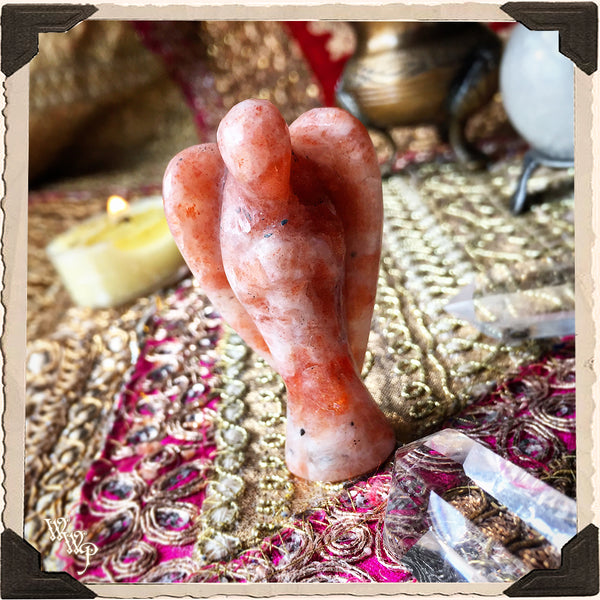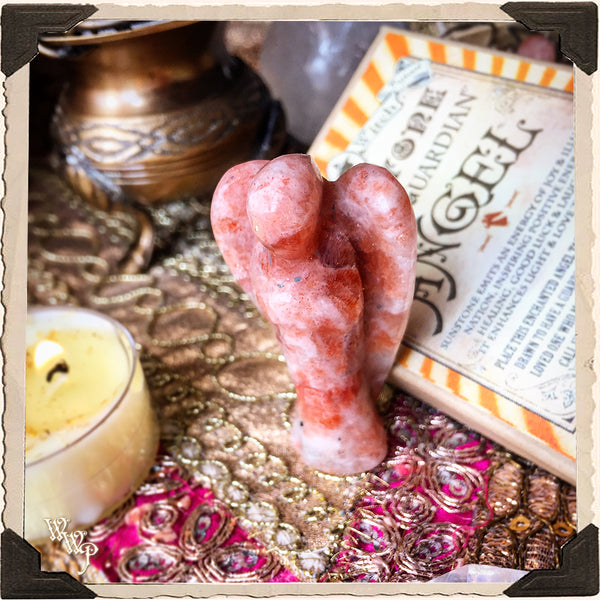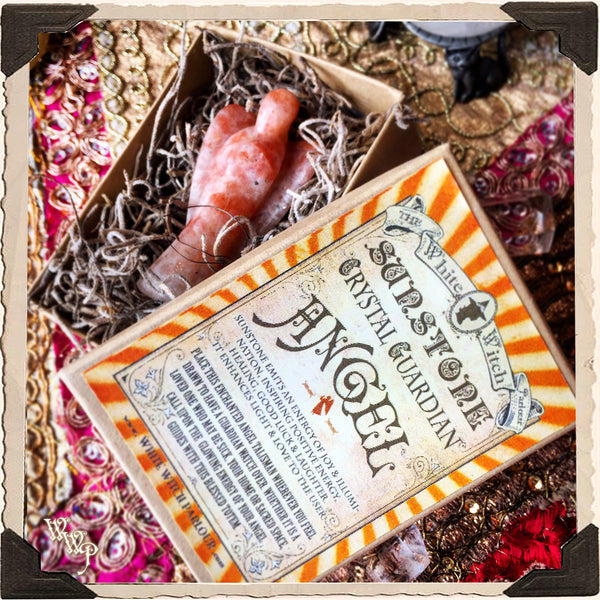 SUNSTONE CRYSTAL GUARDIAN ANGEL. For Joy, Light Energy, Healing & Happiness.
Regular price
$25.00
Sale price
$19.00
---
Sunstone is a stone of light & illumination. It harvests the Masculine energy & power of the Sun, bringing joy, comfort & warmth to the spirit. Sunstone works to heal the Root, Sacral & Solar Plexus Chakras, allowing for stability, drive, nurturing healing & abundant energy. It holds the energy of Fire & the Sun God, Ra, expanding leadership skills, personal power & openness to blessings. It is a joyful stone that sparkles like the Sun & teaches one to find their originality & independence, as it attracts prosperity & success in one's own talents. It can provide emotional strength & drives out the fear of darkness. Allow Sunstone to illuminate your life with healing & joyful prosperity. 
Free will allows us to create our own path, but that does not mean there are not other protective energies guiding you & watching over you. These Angel totems remind us that we are never alone, even in our darkest moments. Angels come to us in so many ways, usually when we need help the most. They can be in the form of a stranger, a loved one, an animal or pet and so much more. The high vibrations of love & light surrounds us always, we sometimes are just facing away from it, so we cannot see it. Blessings are everywhere, in all things, good & bad. Angelic energy can come in & out of your life & sometimes you serve an an Angel to someone else.
This piece makes for a special gift of comforting to someone who is hurting from a loss or obstacle in life. It can also be a wonderful center piece to a prayer circle or healing altar. Anoint this sweet angel with the appropriate oils for your prayers or spells to amplify your blessings.

This beautiful Sunstone Carved Angel measures approx. 2" - 2.5".  Each special Angel comes in a gift box on a bed of Spanish moss, with information card ready to gift. 

* Please note that size, shape & coloring of each stone may vary, as this is a natural gift from Mother Earth. Each Angel chooses it's new home :)
Angel Blessings,  
~ Jenna
 
*All Sales Final