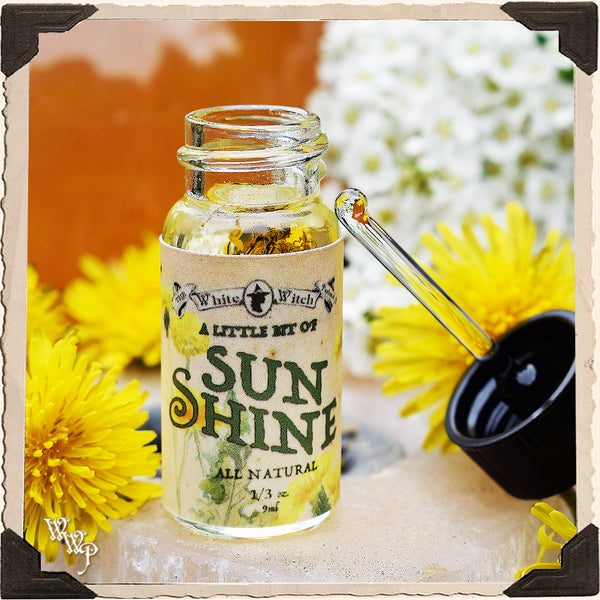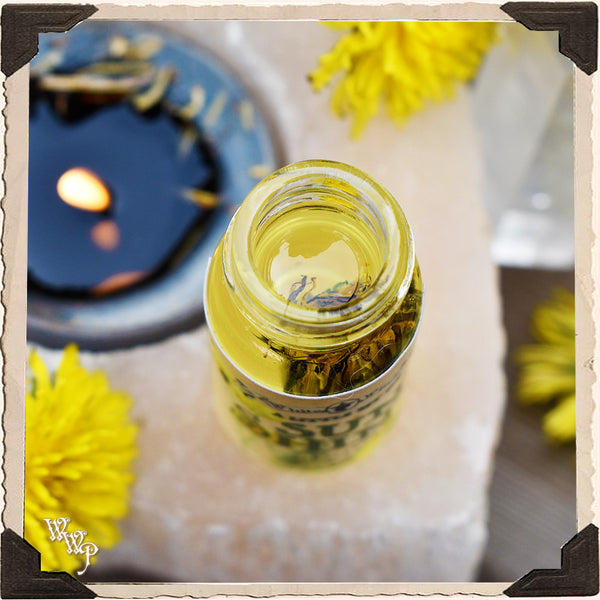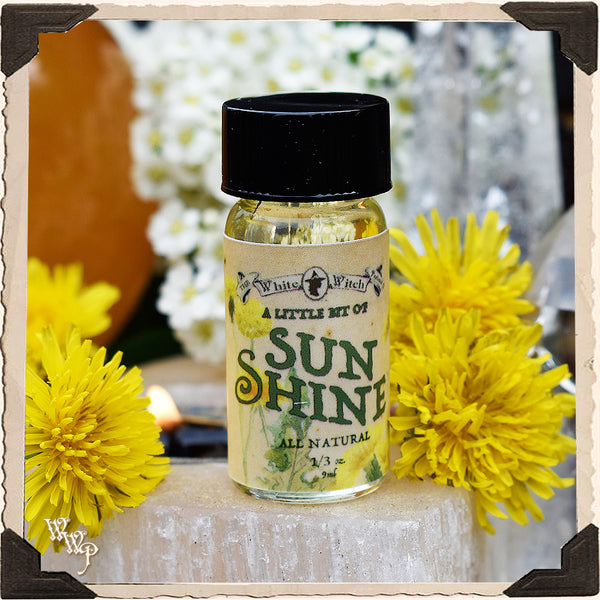 A LITTLE BIT OF SUNSHINE All Natural Dandelion Oil. For Sun Energy, Joy & Vibrancy.
A Fun & whimsical blend with a zest of Lemon, charged by the power of Clear Quartz & infused with the magick of Dandelion! It's a little bit of happiness in a bottle & of course, "A Little Bit of Sun Shine! " This Solar (Sun) charged potion can be used as a powerful 'lift me up,' energy in the form of a body oil, bath oil, aroma lamp oil or to anoint your candles & crystals with! Inspired by my Son, who has been very aware of the Dandelion magick this year & has shown me so much more of what this special plant has to offer. ( Fun Tip: If you sit in a sunny spot of a dandelion patch, with your arms elevated slightly & a Dandelion in each hand, facing one another, while meditating, you might just experience a boost of joyous playful & sun soaked energy! ) Either way you choose to use this all natural potion, you might find it hard to suppress a smile!  ;D I think this might also be a good oil to have on hand to help beat the winter blues.
Offering up a pure radiant energy, from soaking in the rays of the Sun & it's resiliancy to grow in a vast amount of conditions, Dandelion is a powerful plant that can help heal on a multitude of levels. It offers up a wish at the end of it's life & while it's in bloom, it's vibrant yellow color helps to activate the Solar Plexus Charka, to bring cheer & joy to one's self esteem, health, aura & magick. It harvests the energy of the Sun, making it powerful in Solar magick or meditations. It can be used to make high vibe herbal infusions, teas, medicinal foods & more. As a symbol of abundance, when in bloom it honors the Sun, a masucline energy, & when it's time has passed, it's energy drifts with the Moon, a feminine energy, making Dandelions & wonderful energy to work with to welcome duality & balance.

Lemon welcomes positivity & cheer, it works with an energy that helps to cleanse & renew, as well as amplify energy. Ever feel lethargic? Drink some Lemon Water! Lemon is a harvest of the Sun, it encourages new goals & momentum in life, as it recharges the spirit.

Clear Quartz aids those in searching, to gain self awareness and an understanding of our earthly experience. They bring balance & healing to the soul; freeing it to enter the psychic realms. Quartz is a master generator & enhances clarity, protection, intuition, ancient wisdom & harmony. It helps with concentration, and increases awareness, inspiration, and creativity. It purifies the spiritual, mental, and physical planes & can also bring an aura of protection. Known as the master healer, it has the power to regulate energy. Clear quartz can act as a stand in for just about any other crystal or help to tie in the vibrations of a mix of crystals.
Each glass apothecary potion bottle contains approx. 1/3 oz. of All Natural Lemon Scented, Dandelion infused Oil, topped with a black screw on lid & glass wand. A small piece of Clear Quartz sits in each bottle to keep the magickal workings strong & it comes in a Sunflower/ Sweet Almond Carrier blended Oil. 
~ Jenna 
Herbs & information provided is not meant to treat or diagnose any disease or ailment. Please seek medical attention if needed & always do research before consuming herbs or resins. Many contain natural high medicinal properties, which may be toxic to pets, small children & Women who are nursing or pregnant.
A beautiful, hand-crafted Potion blend of all natural essential oils blessed with the energies of the associated crystals in an all natural Oil Carrier. Free of Harsh Chemicals & Animal Testing. Created for use on Skin, Aroma Lamps, Bath Oil or an Anointing Ritual Oil. Not meant for consumption. Keep away from small children & pets. If irritation on skin occurs, discontinue use immediately.  Keep out of heat or direct sunlight, to prolong the shelf-life of the oil. Not meant to treat or diagnose any ailment or medical issue.

**All sales are final. **

More Accessories in my shop!