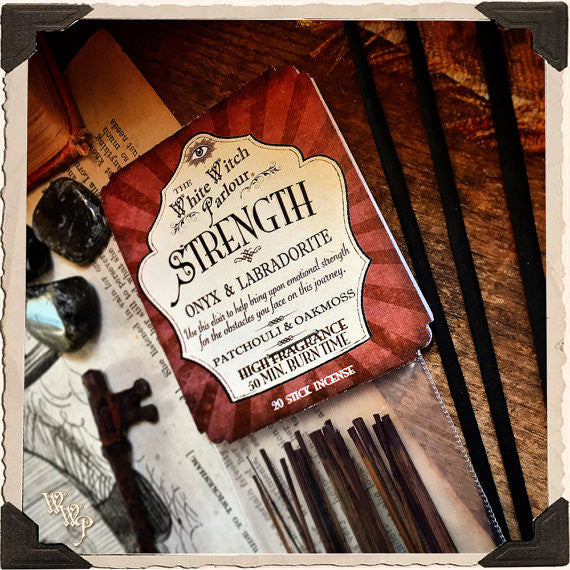 STRENGTH Elixir INCENSE. 20 Stick Pack. Patchouli & Oak Moss. Blessed with Labradorite & Onyx Crystals.
Strength, true strength comes from within. The ability to let the negative roll right off of you & hold your tongue, instead of lashing out. Under emotional circumstances that takes great tolerance & a strength which can be guided by the divine to help you here in the physical. Whether you are in need of just daily strength to get you through with balanced emotions, or an aid to help you build courage through turbulent times, emotionally or physically, this is a blend that inspires all of the above.
For centuries Oak Moss has served as a powerful tool as a bringer of luck, money, protection and strength. Patchouli, also associated with money drawing & protection, also works to help the user release unwanted energies, heightening manifestation powers, with it banishing the darkness that may be surrounding one's life. Together, Oak Moss & Patchouli welcome immense grounding, to help one stabilize the emotions, which may be the reason for creating such an unpleasant experience in this lifetime. Charged & blessed with the clairvoyant enhancing Labradorite & the protection of Black Onyx, this blend creates a strong foundation, so that one can "see" beyond their problems & better understand the 'big picture,' as well as how to get there. No longer drowning in a sea of water, but instead safely floating by raft to more stable ground. Never let your emotions get the better of you, when everything seems to be falling apart, perhaps things are just moving, for better things to fall into place.
 
My prayer for use:
" In this moment, strength I need find, to inspire a healthier & happier mind. I call to my angels for guide & support, so that I can grow stronger instead of falling short."


These wonderful handmade alchemy incense sticks burn for approximately 50- 60 minutes each and are made up of pressed charcoal sticks, crystal energies, fragrance oils & essential oils. There are 20 magickal sticks in each pack, that yield beautiful and lingering aroma wherever they are burned. These powerful incense can aid wonderful cheer, dispelling any negative energy & allowing for a more connected approach to your practices. They are blessed with chip stones of Labradorite & Onyx crystals.
May strength always find you,
~ Jenna
All Sales Final*
Not Meant for consumption. 
More Oils & Candles available in my shop!