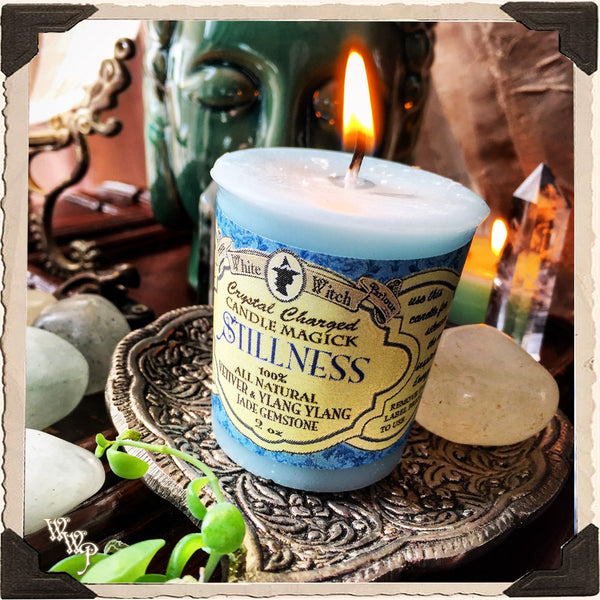 STILLNESS VOTIVE CANDLE. For Silencing the Mind & Inspiring Divine Energy.
 If we take a moment to find stillness, we can become clear & insightful to the current situations or opportunities that lay in our path. If we allow stillness of the mind to last long enough, we can move beyond these mundane issues & awaken to a higher knowledge, becoming a conduit to Divine Energy & enlightenment. It is of our highest intrest to learn such a valuable tool, such as silencing the mind, because when the mind is silent, we can better understand our emotions & how the affect the body & soul. Our ego can soften and we can "hear" the true energy that is speaking. This blend was created to help you find this stillness, in meditations. Vetiver & Ylang Ylang oils, blessed by Jade Crystals, create a soft & subtle scent, vibrating with a gentle energy, to help calm anxieties, allowing you to 'find your center.' 
Jade is a protective stone & brings harmony, long believed to attract good luck and good friendships. Jade helps one to release negative thoughts, while soothing the mind into inspiring ideas and releasing the worry of obstacles. Vetiver welcomes purification & cleansing to the body & spirit, it renews one's energy & helps to keep one emotionally calm & centered. Ylang Ylang, ties in the energies of spiritual cleansing, helping one to better visualize or obtain prophetic dreams & visions. It calms the emotions & promotes healing to the body, mind & spirit.
You can use this 2oz. enchanted Votive candle for spells, rituals, meditations or just the aromatherapy that it offers. This Votive is made up of hand ground Resins, scented with essential oil & charged with the associated crystal gemstone. The magickal aura around each votive is powerful on its own, creating a shift in energy of any room it is left in. It comes in a glass votive holder with cork top, this candle will burn for about 15+ hours. A paper core wick is used, for a clean burn, as oppose to the often used toxic zinc core wicks. Made with organic Wax. 

In Love & Light,
~ Jenna

**All sales are final. ** 
*Buyers: Store in cool dry place, keep from heat or direct sunlight. Never leave a lit candle unattended or near flammable items such as curtains. Always think of safety when using open flame* 
More Candles & Accessories in my shop!