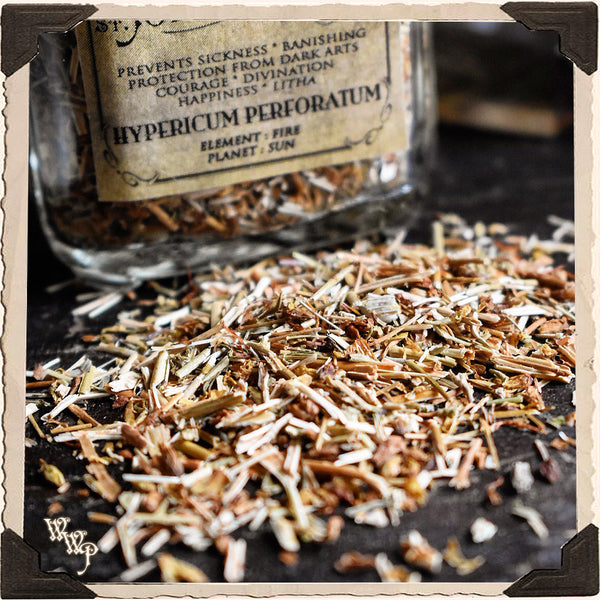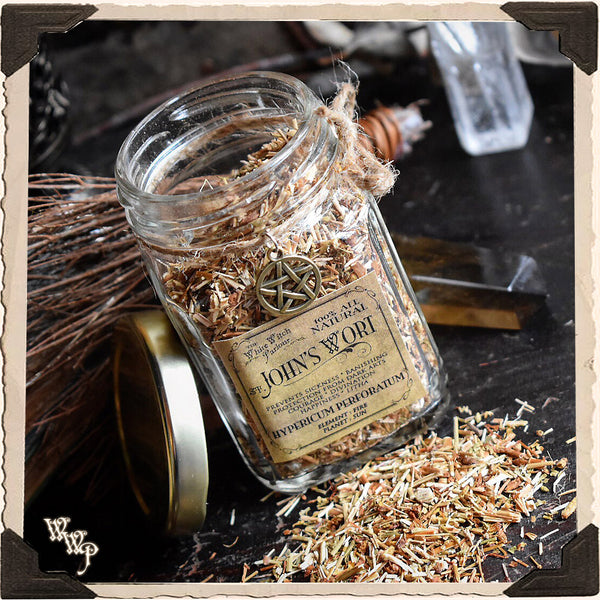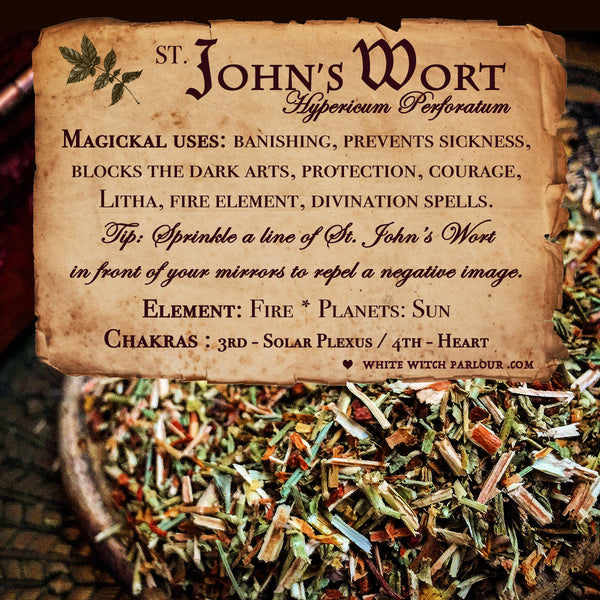 ST. JOHN'S WORT APOTHECARY. Dried Herbs. For Protection, Sun Energy, Depression & Happiness.
Ties to the magick & energy of the Sun, in association with celebrations of 'Litha' or the Summer Solstice, St. John's Wort is an herb to dispel negativity, rid of depression & bring cheer & happiness to one's life. This positive sun filled energy, works to block against dark arts or negative energy, inspiring healing & banishing sickness.  It recharges the Solar Plexus, driving courage to an individual & balancing a healthy ego. 
Botanical Name: Hypericum Perforatum
Magickal uses: banishing, preventing sickness, blocking the dark arts, protection spells & negativity, courage, Litha, happiness, divination.
ELEMENT: Fire 
PLANETS: Sun
CHAKRAS : 3rd- Solar Plexus Chakra, 4th- Heart Chakra
Magickal Tip: Sprinkle St. John's Wort by your mirrors to repel a negative self image.
Holistic & Medicinal: As a tea or pill, it can aid in depression, loss of apatite, anxiety & helps to balance mood swings from PMS & Menopause. If made into an Antibacterial tincture, St. John's Wort applied to a cotton ball, may help with inflammation from Eczema, hemorrhoids & offer relief from burns.
How to use it: Commonly used in capsule form or as a hot tea.
Each glass apothecary herbal jar contains approx. 1.8 oz. of All Natural St. John's Wort, topped with a gold screw on lid, informative label & rustic pentacle accents. The pentacle represents the elements ( Earth, Air, Fire, Water & Spirit ) encompassed in a ring of unity, serving as a symbol of protection & connection. There is enough herbs in one jar to last for many uses. Store in cool dry place when not in use. Each square Herbal Jar measures approx. 4" high x 2.5" wide. There are several uses for dried botanical herbs, such as adding to or making magickal sachets or Witch bottles, creating tinctures or perfume oils, creating herbal capsules, tea mixtures, powder incense, bath and body scrubs, soaps & lotions, & so much more!
Magickal Blessings,
~ Jenna 
* All Sales Final.  Herbs & information provided is not meant to treat or diagnose any disease or ailment. Please seek medical attention if needed & always do research before consuming herbs or resins. Many contain natural high medicinal properties, which may be toxic to pets, small children & Women who are nursing or pregnant.
More Apothecary Jars, Burners & Accessories available in my shop!