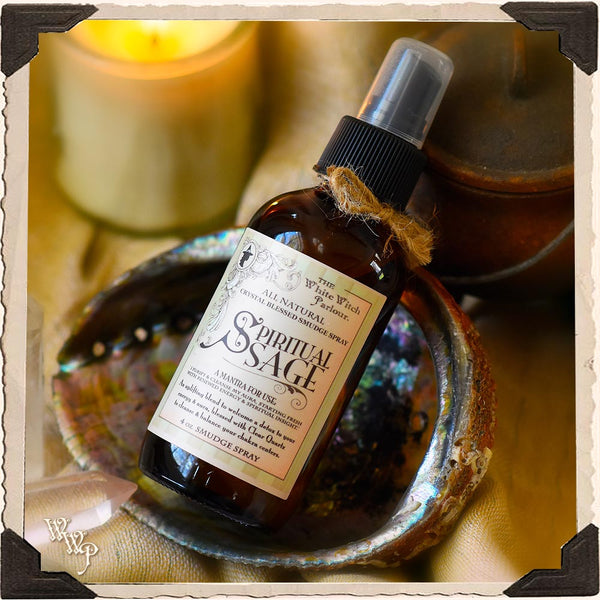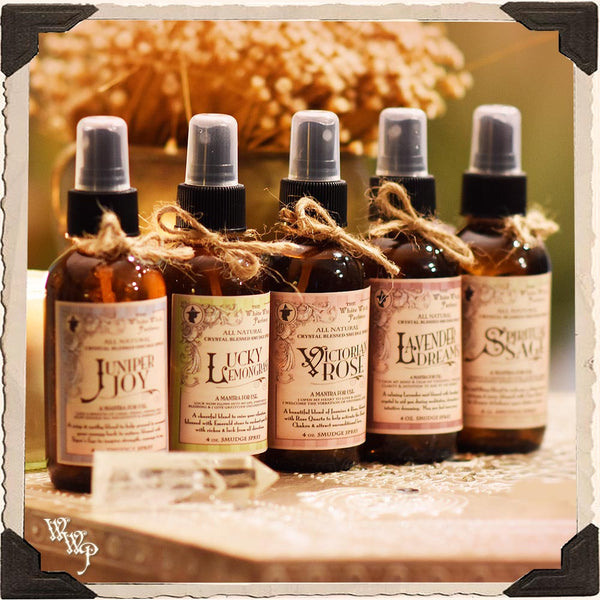 SPIRITUAL SAGE 4oz. All Natural Ritual Smudge Spray. For Energy Purification & Spellwork.
Sage is a traditional medicine plant of the Native American peoples, used for healing and ceremony. It is used for cleansing and purification, and to open people up to a greater connection with the sacred. It is thought to banish negative energy, not only on the physical level, but also emotionally, mentally and spiritually. It has a very aromatic, sharp and stimulating smell, and its action works on all the senses. However, it is honored in Native American tradition to be sacred herb used for sending prayer and working with the power of spirit.
White Sage is used to cleanse spaces, houses, rooms or environments of any kinds of subtle, old energies and prepare the space with fresh intent. It is also used to cleanse the aura of a person from stuck old energies to prepare for ceremony or spiritual work. It is also cleansing and healing when used as a tea. White Sage is also used for cleansing objects for use in ceremony or when calling or looking inward for higher guidance. It is very good for cleansing crystals, removing old energy & making way for the new. So try giving your home or self a little smudge bath daily or weekly, to cast new energy upon your life!
This Smudge Spray comes in a beautiful 4 oz. Glass Amber Apothecary Bottle filled with an All Natural essential oils, diluted with natural Witch Hazel & distilled aqua, making it ready to spritz on the body, ritual linens, or sacred space areas as an anointing tool for your magickal workings. Each amber bottle with decorative jute ribbo & contains the crystal chip stones of Clear Quartz to keep the magickal workings strong. Just shake & spray, wherever you desire to welcome peace, love & calming energy!
May the energy around you be purified & blessed,
~ Jenna
** All sales are final. **  
Not meant for consumption.