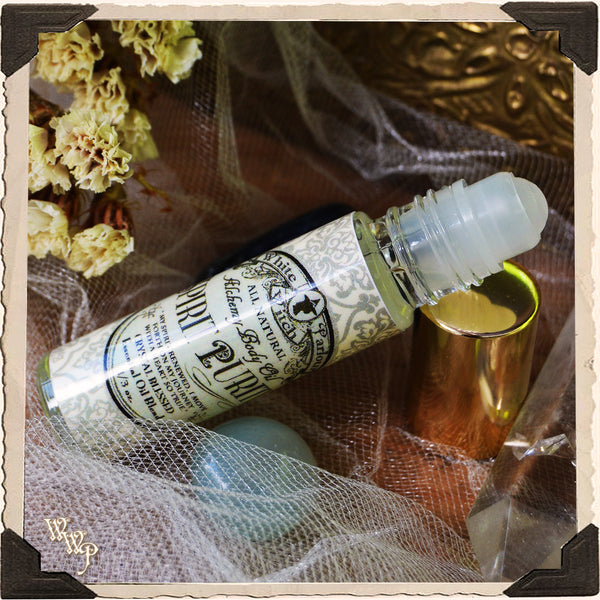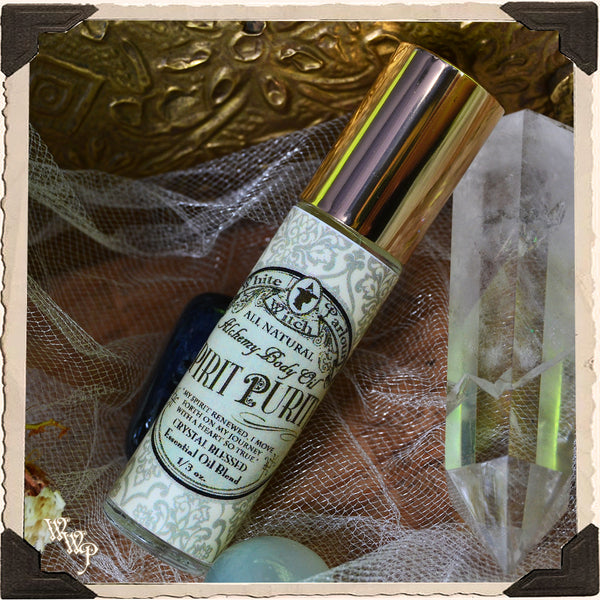 SPIRIT PURITY 1/3oz. Alchemy Oil. All Natural Potion. Cedar Wood, Blood Orange & Lavender. Blessed with Aquamarine & Iolite.
When you begin to awaken in your life to something more beautiful & meaningful, you realize how mundane the mundane can actually be. Your spirit & soul begin a detox process of all the low vibrations that surround you & you subconsciously begin to push these negativities away, purifying the very essence of the True you. This magickal blend was created as a powerful tool to help keep the purity of your spirit, no matter the situation. It raises your vibrations to welcome a peace like never before. It helps problems and issues to roll-off & fall far away from emotional attachment, keeping your aura strong and healthy, with a hint of a permanent smile on your face.

Blessed by Aquamarine crystal to help you go with the flow and keep the peace within, mixed with Iolite, which assists one in letting go of past deep seeded emotional issues. Together these stones bring a magick that uncovers the lost parts of oneself helping to advance the spiritual journey. Combined, these stones bring forth a vividness to inner visions and guidance along one's personal journey, gently pushing away resistance and limitations that the mind can create. Put into a blend of Cedarwood for grounding purification & higher awareness, with Lavender for a calming and loving essence, heightening the power of the mind's eye & Blood Orange to lift the spirits & radiate positivity. This powerful alchemy blend will help set the spirit free & pass on all self judgment, vibrating in only love, stability & compassion.

This potion comes in a 1/3 oz. glass apothecary bottle with roll-on applicator and gold screw top lid. The all natural essential oil blend is diluted with natural Sweet Almond Oil, and is ready to wear as a body oil. The associated crystal chip stones are left in each bottle to keep the magickal workings strong.

May you find higher awareness & compassion for all things ! !
In Love & Light,
~ Jenna

Sample sizes available in my shop!

All Sales Final
Not Meant for consumption.
Keep out of heat and direct sunlight.
Not recommended for women who are pregnant / nursing, small children or animals, due to the natural yet medicinal nature of essential oils.