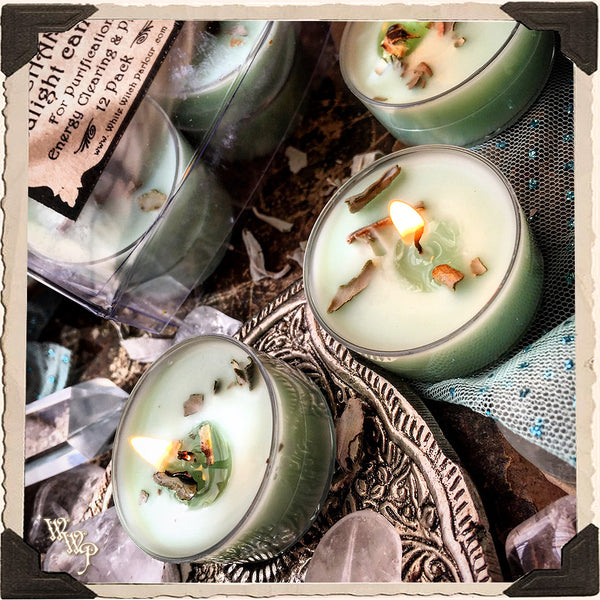 SERENITY TEALIGHT CANDLES. 12 Pack. For Purification, Energy Clearing & Peace.
I created this blend because everyone needs a moment of Serenity. A time to set aside the troubles & just embrace the beauty of life, by honoring breath & feeling at peace. If these moments were achieved daily by each individual, the world would be a gentler place. So by working with these actions, you as an individual are doing your part to soften this world & create an energy of tranquility & light. It is the conscious act of purification that can help you grow spiritually. Catch your wrongs & make them right, find comfort in understanding & embracing your own serenity. Then share this energy with everyone around you. 
Lime offers a revitalizing energy, bringing protection to one's space, helping to align one into a space of harmony. It can help one to begin the motions of 'moving forward' with a new outlook & burst of excitement. 
Vanilla enhances cheer & positivity, allowing your innocent eyes to once again open. It
 helps to calm and soothe the heart and mind, bringing you into a comfortable space, rather than a place of fear.  
For centuries White Sage has been used in ceremony to encourage psychic detox, raising one's energy levels and enhancing manifestation & purification on many levels. It works to diminish any turmoil in one's life, as they prepare to embark on new ventures & positive vibrations.
A tranquil blend of hand-poured 1/2 oz. Tealight candles with an approx. burn time of 4 hours each. With 12 candles per pack, you are sure to get lots of magickal use out of these special candles. This alluring blend of essential oils, high grade fragrance oils & enchanted herbs, find way into a hand poured batch of Soy wax, leaving each candle to ignite new magick & beautiful scent. 
 May you find peace & enlightenment,
~ Jenna
*All sales are final.
Store in cool dry place, keep from heat or direct sunlight. Never leave a lit candle unattended or near flammable items such as curtains. Always think of safety when using open flame *
*Free of Harsh Chemicals & Animal Testing.
Check out more candles & accessories in my shop!