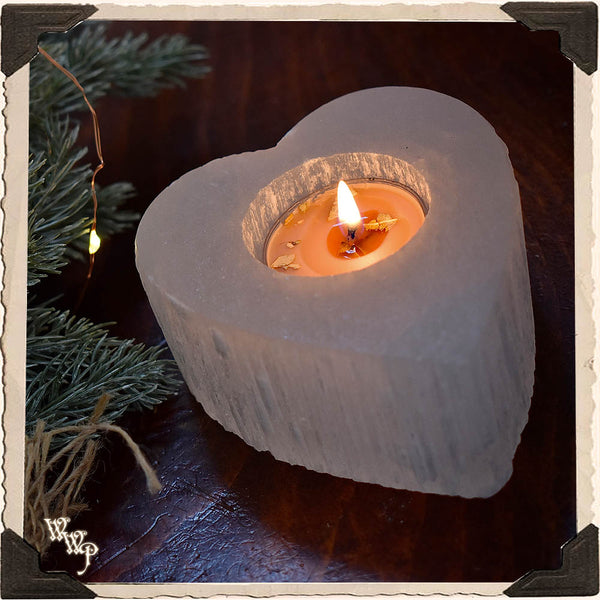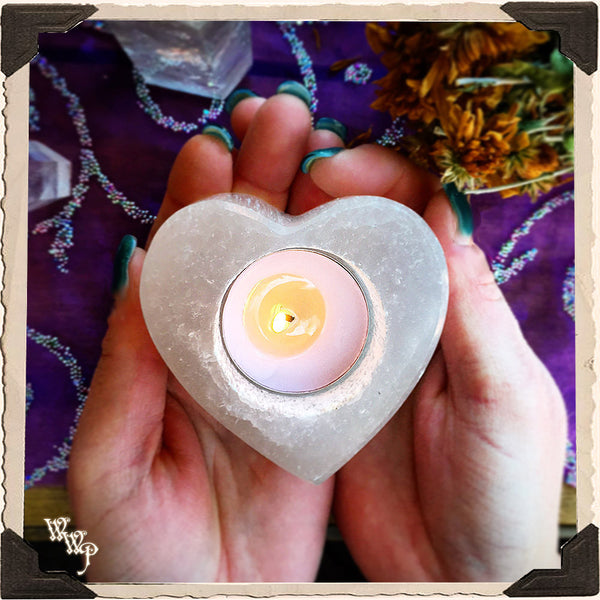 SELENITE HEART Crystal Tealight Candle holder. For Full Moon Magick, Goddess & Cleansing Energy.
Selenite opens, aligns & clears the aura bodies. It transmits light, energy & information & is often used as a stone for channeling angelic realms, when seeking higher guidance & love energies. Spiritually cleansing & self- cleansing, this stone can clear the energy of a person, place & other crystals. It is a great altar piece as it is continually clearing low vibrational energies, working in pure love & light. It increases overall clarity and worldly awareness, as it shifts your thoughts to a higher frequency. It activates & clears the chakras, bringing them back into proper alignment and brings peace & calm to a space, making for great meditative & spiritual work. In the shape of a sphere, Selenite mimics our beautiful moon, bringing healing energies & heightened intuitive work during meditation. Selenite is a definite must for any crystal collector.

Chakras: All

Each carved heart tealight candle holder measures approx. 2" deep & 3" high X 3" wide at longest points, as each special heart chooses its new home, as you will receive 1 (one) piece per order. Each heart comes with a beautiful ivory organza bag with unscented Tealight candle.

More crystals available in my shop!

Blessings of Love & Light, 
~ Jenna

Selenite Hearts vary slightly as this is a natural gift from Mother Earth.
All Sales Final *