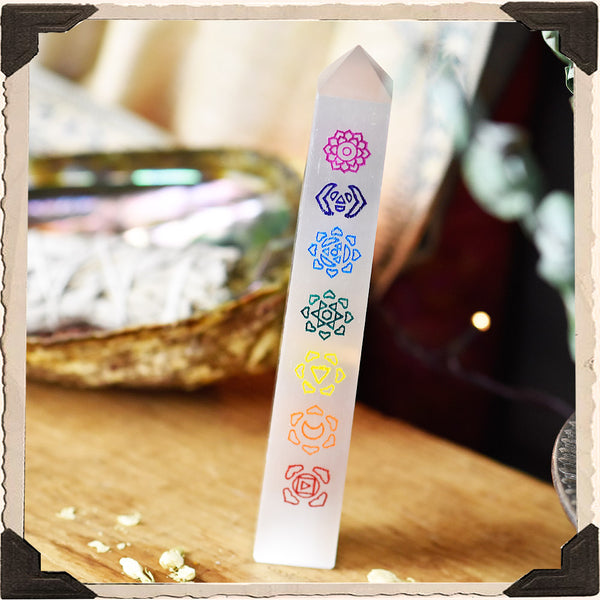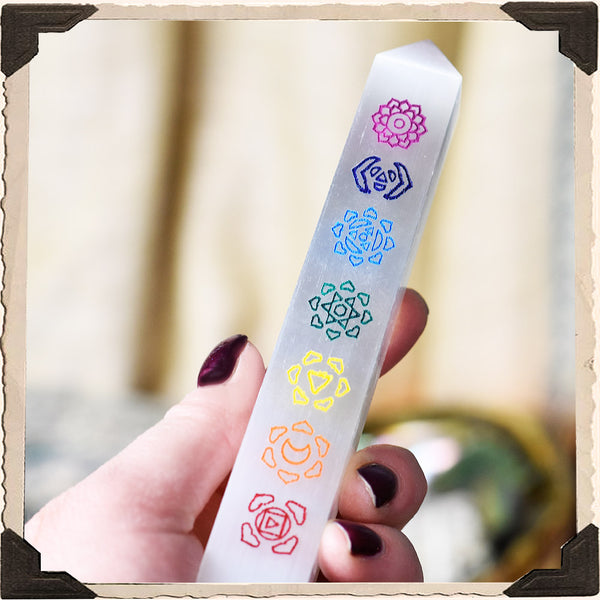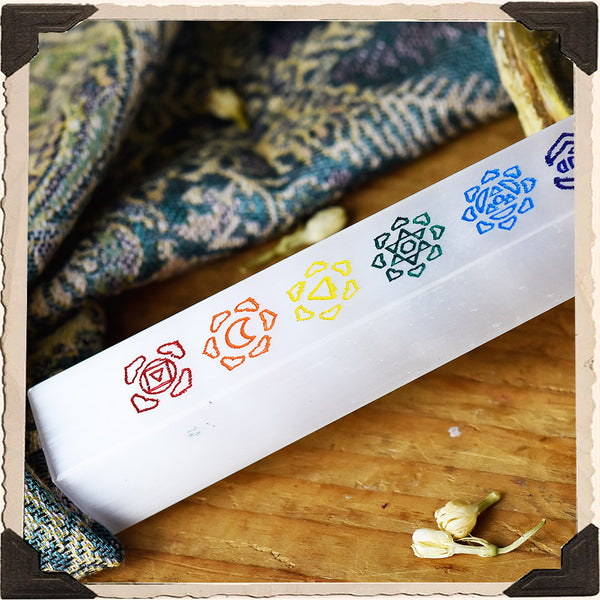 DISCONTINUED: SELENITE CHAKRA TOWER. For Spiritual Healing & Chakra Alignment.
Regular price
$38.00
Sale price
$33.99
---
Selenite opens, aligns & clears the aura bodies. It transmits light, energy & information & is often used as a stone for channeling angelic realms, when seeking higher guidance & love energies. Spiritually cleansing & self- cleansing, this stone can clear the energy of a person, place & other crystals. It is a great altar piece as it is continually clearing low vibrational energies, working in pure love & light. It increases overall clarity and worldly awareness, as it shifts your thoughts to a higher frequency. It activates & clears the chakras, bringing them back into proper alignment and brings peace & calm to a space, making for great meditative & spiritual work. In the shape of a sphere, Selenite mimics our beautiful moon, bringing healing energies & heightened intuitive work during meditation. Selenite is a definite must for any crystal collector.

Red  = Root Chakra
Orange / Light Red= Sacral Chakra
Yellow  = Solar Plexus
Green = Heart Chakra
Blue = Throat Chakra
Indigo = Third Eye Chakra
Purple = Crown Chakra 

This beautiful 6.5"- 7" tall Selenite tower has all 7 chakra symboles engraved into it & colored. Serving as a reminder to always be a beacon of light & check in often with your energy centers to stay in alignment. It can be used as a reiki healing wand, or just an amplifier of light & cleansing energy in a space. It is fragile & should not go near water. It comes bubble wrapped for secure shipping. 
* Please note that size, shape & coloring of each wand may vary, as this is a natural gift from Mother Earth. Each piece chooses it's new home :)

Blessings of Healing Light,
~ Jenna 

All sales are final. **