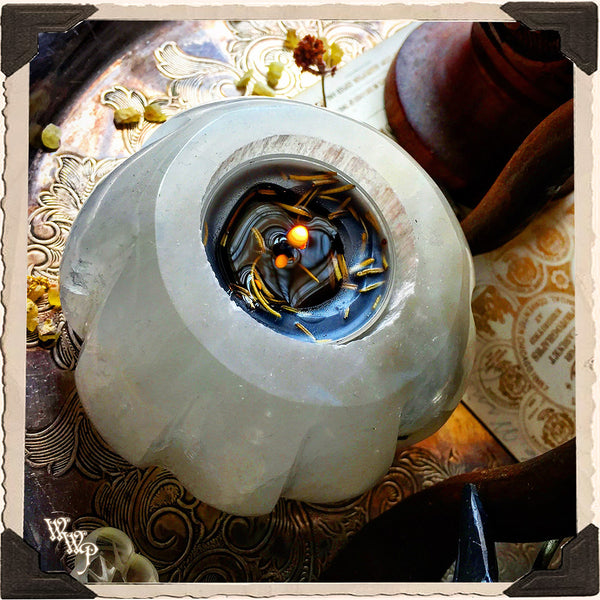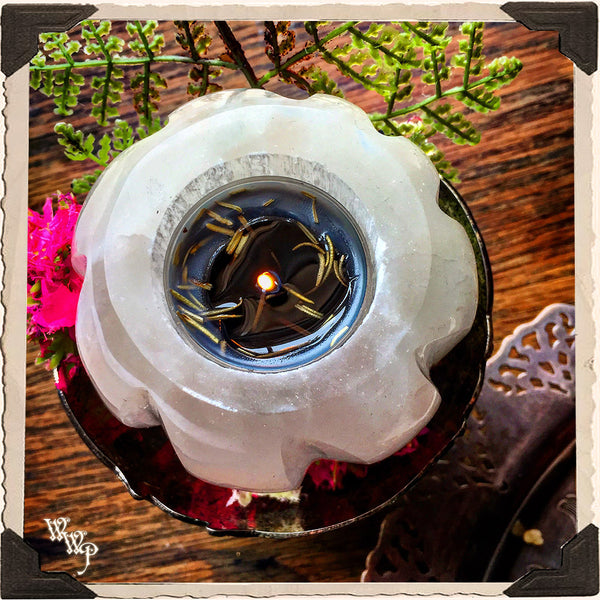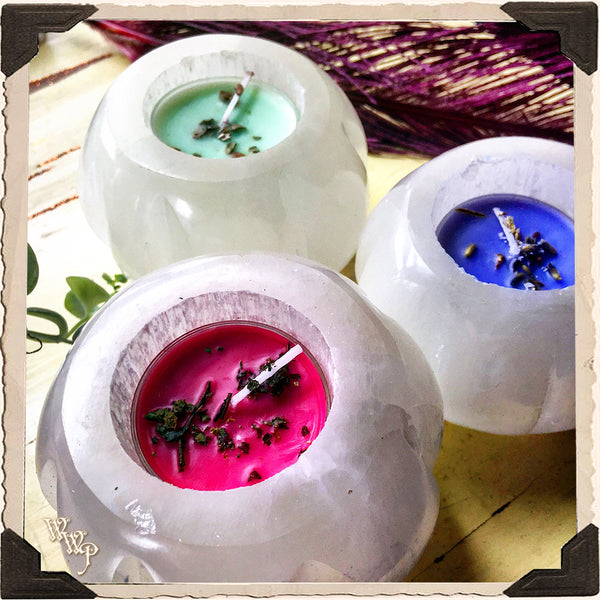 SELENITE CANDLE TEALIGHT HOLDER. For Full Moon Magick, Goddess & Cleansing Energy
Selenite opens, aligns & clears the aura bodies. It transmits light, energy & information & is often used as a stone for channeling angelic realms, when seeking higher guidance & love energies. Spiritually cleansing & self- cleansing, this stone can clear the energy of a person, place & other crystals. It is a great altar piece as it is continually clearing low vibrational energies, working in pure love & light. It increases overall clarity and worldly awareness, as it shifts your thoughts to a higher frequency. It activates & clears the chakras, bringing them back into proper alignment and brings peace & calm to a space, making for great meditative & spiritual work. In the shape of a sphere, Selenite mimics our beautiful moon, bringing healing energies & heightened intuitive work during meditation. Selenite is a definite must for any crystal collector.   
ZODIAC: Taurus
CHAKRA: Selenite Clears all Chakras. ( Crown )
HOLISTIC: Relieves tension & stress. It helps with light sensitivity & promotes youthful looking skin.
* Selenite is fragile & can crack or scratch easily.
* Keep Selenite away from water. 
Each crystal candle holder chooses its new home & comes with a beautiful  organza bag, on a bed of spanish moss, with information card & an enchanted tealight candle to start the magic.  Each round candle holder measures 3" - 3.5" across at the widest point & stands approx. 2" tall.

Blessings of Love & Light,   
~ Jenna 

All Sales Final *
* Size & shape of stones will vary slightly as these are a natural product of mother earth, carved with love. You will receive a candle holder similar to the one in the photo.