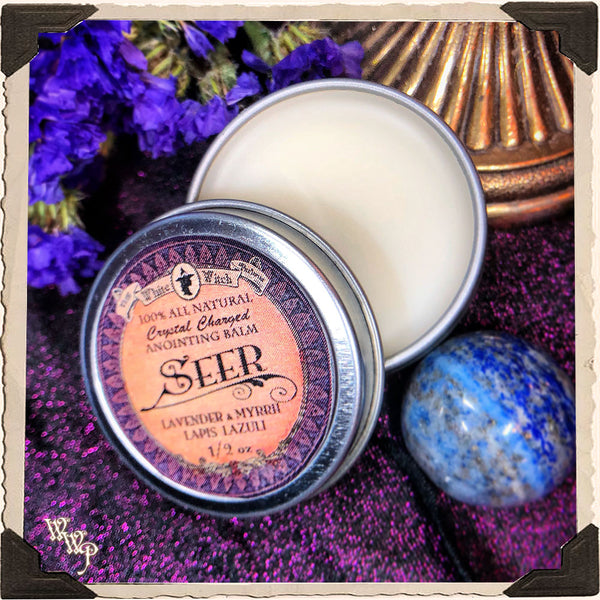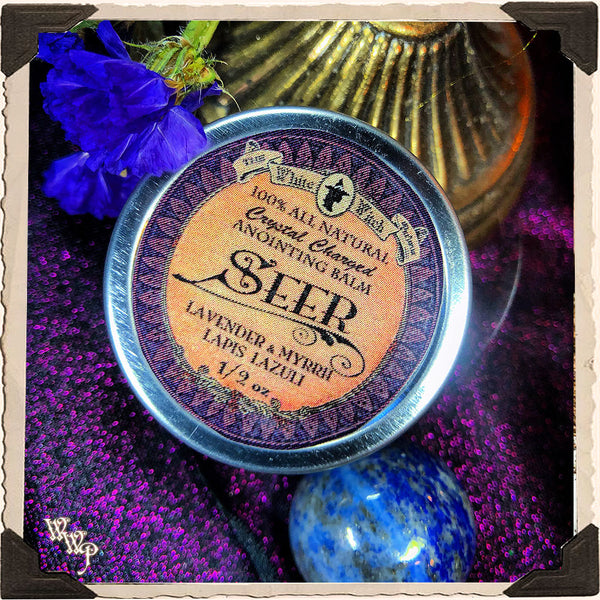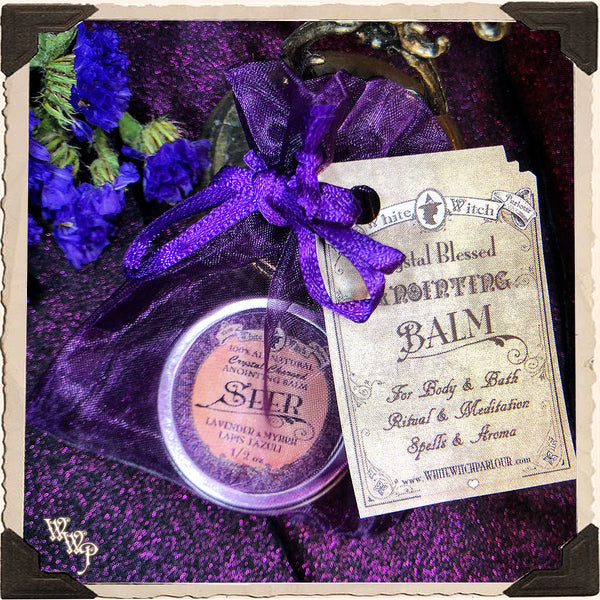 'SEER' 1/2oz. SOLID PERFUME. All Natural Anointing Balm. For Psychic Awareness & Insight.
In a calming & powerful blend, 'Seer' helps to heighten intuition and clarity, bringing forth new knowledge & visions from beyond. This all natural blend of Lavender & Myrrh will aid your mind into a calm and quite place, so that you may better tap into your clairvoyant qualities & raise your vibrations to a higher consciousness. Blessed with the energies of a piece of Lapis Lazuli chip stone left in each 1/2 oz. container, you will connect to universal wisdom & truths. Lapis Lazuli, once a stone of royalty, activates the Third Eye & Throat chakra centers, allowing you to better express yourself through spirit, creating a harmonious flow between the spirit world and you. Use this balm as a spiritual catalyst during meditation or divinatory work to assist in recovering memories of those past lives, foresee future destiny's & help regain lost knowledge from ancient civilizations. The gift of inner vision & spiritual power await you.
Each enchanting Solid Perfume Balm comes in a decorative purple organza bag with hang-tag, ready to use or gift to a loved one.
In Love & Light,
~ Jenna
* INGREDIENTS Contain: Essential Oils (Myrrh & Lavender), soybean oil, sunflower oil, jojoba oil, cocoa butter, Shea butter, vitamin e, aloe Vera, hemp oil, avocado oil, Beeswax. - not recommended for use by children or women who are pregnant /nursing. Not meant for consumption. *
*All sales are final. * 
Not Meant for consumption.
Keep out of heat and direct sunlight.