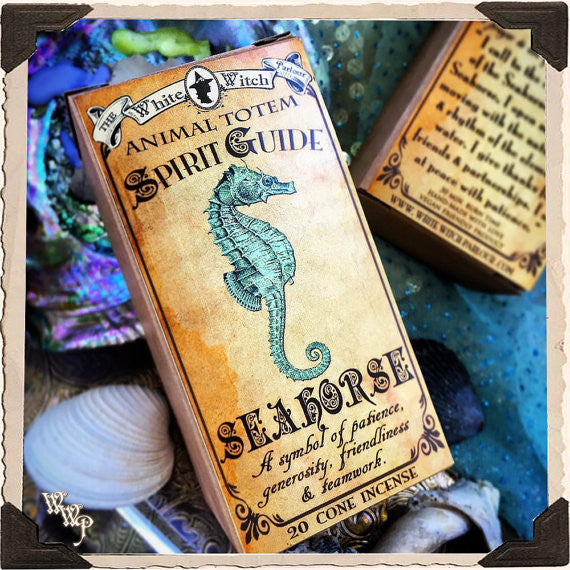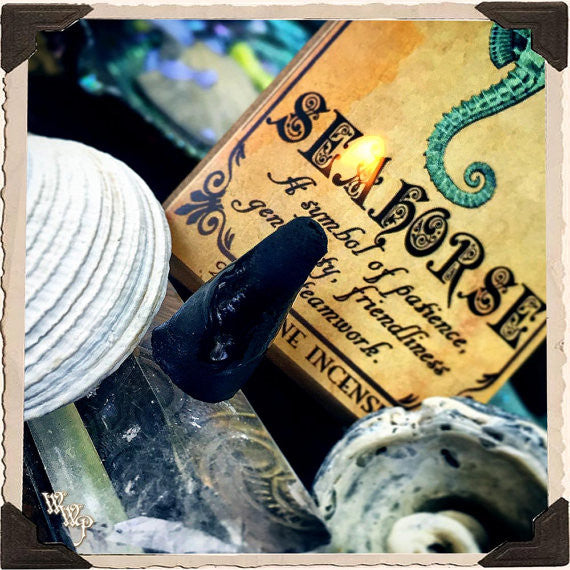 SEAHORSE Animal Totem Cone INCENSE. Aquamarine & Moonstone. For Patience, Generosity & Friendship.
The Patience of this unique little creature holds great value, as the Seahorse teaches us to continuously go with the flow, as resistance only cause distress & hardships. Always swimming upright, they can maintain their balance no matter the current they face. Their beautiful spiraled tail, mirrors the symbol of life force energy, which is always growing & ever expanding. Never in a rush, the Sea Horse always takes things easy, moving only about 5 feet an hour, but still experiencing everything around them with high perception. With it's admirable patience, comes it's abundant generosity & emotional flexibility, as the male happens to carry the eggs of it's offspring until they emerge as new babies, giving the female a break & creating a balance within nature. The seahorse was an attribute of the Sea God Neptune/Poseidon, and to many Ancient Greeks & Romans was viewed as a symbol of great strength & power. For centuries the Sea Horse has held it's symbolic energy as one of luck, calmness, care-free life, protection & a new light to the way we view the world around us.

Calling upon the spirit of the Seahorse, I have been drawn to bless this special blend with the energies of Aquamarine & Moonstone, bringing a new calming energy to the heart space. Mixed with Tea Tree, Citronella & Peppermint essential oils, this 'mermaid' blend, encourages one to clear their mind of the daily distractions, welcoming in new clarity. It can uplift & gently heal the spirit, clearing out old energies & making way for new abundance. Through healing the Heart Chakra, one can open to more positive friendships & a new found love in sharing with others. Washing away any anxiety or depression, it can recharge the soul with loving enlightenment.

These enchanting handmade botanical incense cones burn for approximately 30 minutes each and are made up of blend of all natural essential oil on pressed charcoal & blessed with the energies of Aquamarine & Moonstone to help enhance the natural properties. There are 20 magickal cones in each box, that yield beautiful, holistically healing aromas, wherever they are burned.
Each package of incense also includes a beautiful little prayer to the spirit of the Seahorse, to be said aloud or in silence for each Cone that is lit. This wonderful blend gives off a scent of a warm summer evening under an ocean mist.

How to use Charcoal Cone Incense:
* Holding the wider end of the cone, light the tip over an open flame, set down on a fire proof dish or incense burner, allow the flame to fully light the core of the incense cone.
* Once the flame has moved to about the midpoint of the cone, gently blow the flame out, which should now show a white charcoal tip & a red glowing center.
* Allow the cone's smoke to drift through the air in a well ventilated room, that has a continuous flow or slight breeze moving through.
* When the smoke seems to subside after about 20 min. Take some fire proof tongs or a metal spoon and gently pat down the 'burnt' ashes of the cone tip, to allow fresh air to better penetrate the core of the cone, creating another 10 min+ of incense smoke & enchanting aroma.

* VEGAN Friendly Product ~ Handmade with Love & Essential Oils *

*Always use safety with fire & open flame, do not leave unattended.
Not meant for consumption * keep from small children & pets.

Magickal Blessings,
~ Jenna

** All sales are final. **

Incense accessories available in my shop!