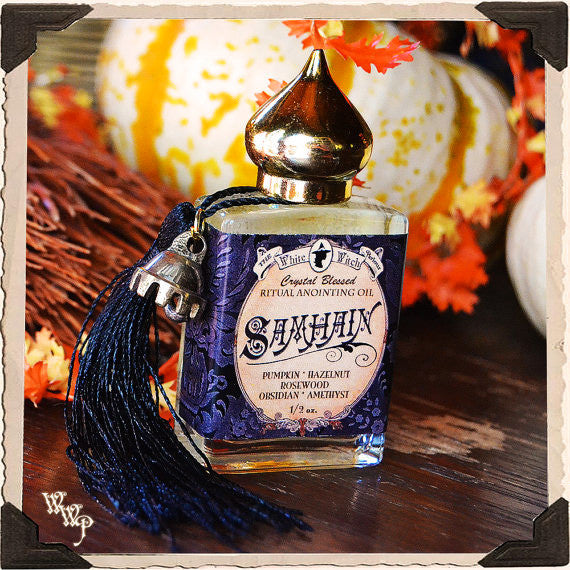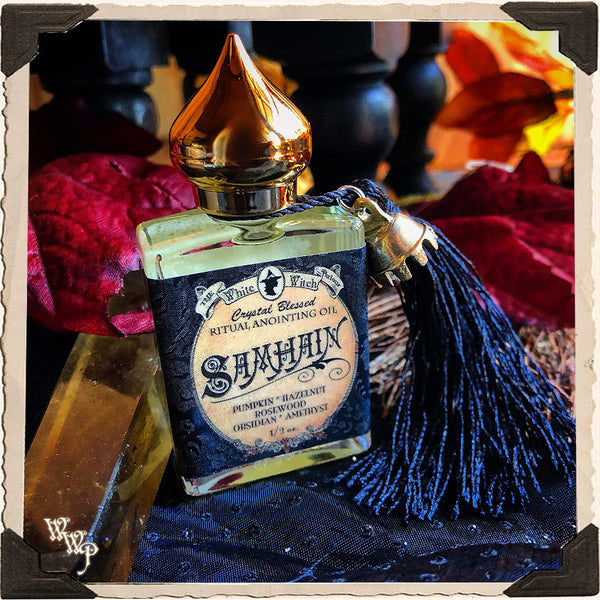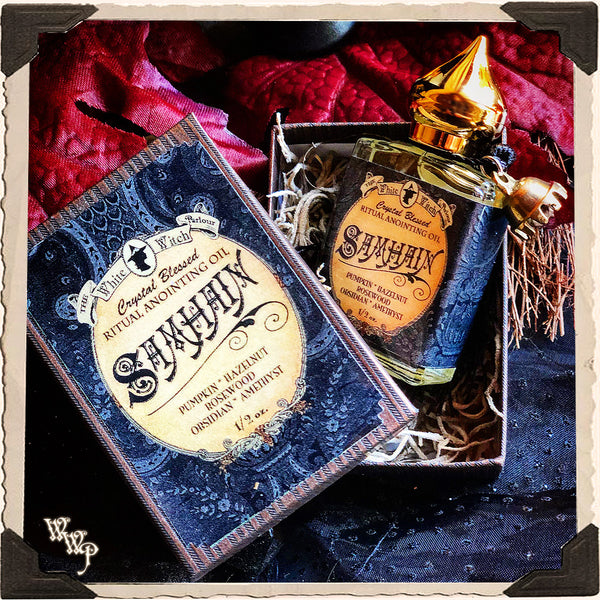 SAMHAIN Alchemy RITUAL OIL. For Halloween, Autumn, Sabbat & Ceremony.
Samhain (pronounced SaH-Win) is an old Gaelic tradition that marks the end of the harvest season & the halfway point between the Autumn Equinox & 'Darker half' of the year. Traditionally held on Oct. 31st, rituals of Divination to contact the dead & practices of door-to-door Guising were celebrated as a custom to help protect & bless one's soul from any lurking evil. Samhain is a time of reflection and change, celebrated as the Witch's New Year, this is an important month for the remembrance of ancestors, seance work & manifestation of your future. Protection during this time is of importance, as the veil between the spirit world & ours is at it's thinnest. With psychic awareness at a heightened level, Magickal powers grow stronger as well. It is wise to take care of how you process your thoughts & actions during the month of Samhain.  

The mystical scent blended from fragrance & essential oils of Pumpkin, Hazelnut & Rosewood can aid in offering you luck, protection & wishes manifesting during Autumn bliss. Pumpkin offers healing and divination properties, but has also been used as a tool to attract money. Blended with Hazelnut & Rosewood, the scent can work to awaken the subconscious & bring a warm guided spiritual awakening & easily open the door to the spirit world. Amethyst promotes increased vivid dreams with clearer messages & helps to relieve depression that may be blocking your third eye from opening. Amethyst can promote a calm & serene energy, to work better & more in depth within the spiritual planes. Black Obsidian releases imbalances and negative energies, creating a shield of protection against any lurking spirits of lower vibrations, to help bring about a safe communication with lost loved one's during All Hallow's Eve. This powerful candle can aid in protection during a thin veil between the worlds and boost your divination & clairvoyant qualities, while dispelling any negative energies or low vibrational spirits, so that you may safely and comfortably connect to those who have walked before you this Samhain.
This Crystal Blessed Ritual alchemy oil comes in a 1/2 oz. glass perfume bottle with gold decorative, Victorian style screw-cap, matching tassel & gold / brass bell (The ringing of a bell raises the vibrations & calls upon the higher frequency spirits & angels to bring guidance & protection.) The all natural essential oil & fragrance oil blend is diluted with all natural, Sweet Almond Oil & is ready to wear as a body oil, use in a magickal bath, aroma lamp or candle anointing for seasonal ritual work. Crystal chip stones of Amethyst & Obsidian are left in each bottle to keep the magickal workings strong. Each bottle comes in a decorative gift box on a bed on Spanish moss. 
Samhain Blessings, 
~ Jenna  
*All sales are final.
More oils & accessories available in my shop!