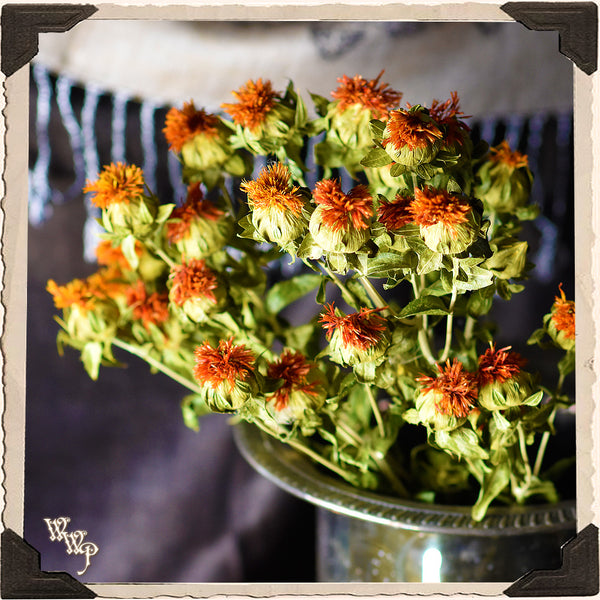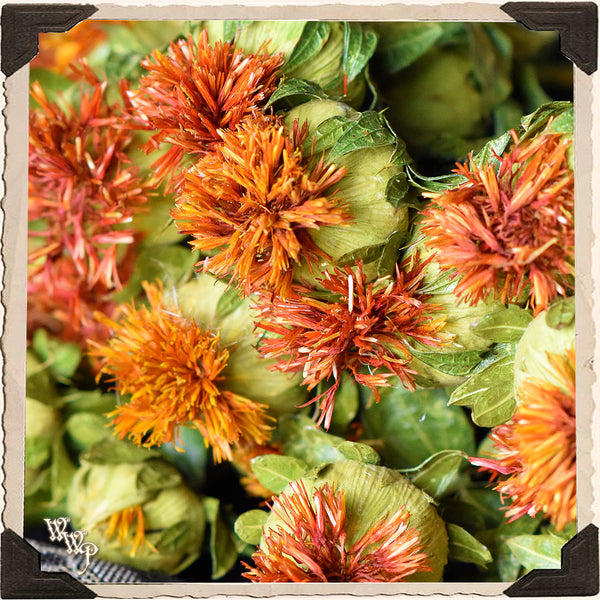 DISCONTINUED: SAFFLOWER DRIED BOTANICAL. Decorative Herb For Dominance, Power & Spell Breaking
Regular price
$28.00
Sale price
$23.99
---
Meant to spice up the Witchy aesthetic or an Herbalist vibe within your sacred space, these beautiful bundles of fiery Red /Orange Dried Safflower bunches, come full of vibrant color, ready for you to hang near a hearth or place on an altar. Perfect for seasonal decor, these all natural, decorative bundles measure approx. 15-18" long, with about 5oz. of dried flowers & each bundle has approx. 21 stems.

Botanical Name: Carthamus Tinctorius

Magickal uses: Dominance, Power,  Spell Breaking, Advancing Psychic Powers, Passion, Growth, Passion, Intention Driven Ego, Inspiration

ELEMENTS: Fire
PLANETS: Mars
CHAKRAS : Root (1st) & Solar Plexus (3rd)
Magickal Tip: Set Safflower in a central frequented area in your home or workspace, to inspire passion, drive & a fire within your intentions daily.

Holistic & Medicinal: Menstruation & Rashes

* Please handle with CAUTION as there are prickly thorns on the leaves.

Magickal Blessings,
~ Jenna 
* All Sales Final.  Herbs & information provided is not meant to treat or diagnose any disease or ailment. Please seek medical attention if needed & always do research before consuming herbs or resins. Many contain natural high medicinal properties, which may be toxic to pets, small children & Women who are nursing or pregnant.
More Apothecary Jars, Burners & Accessories available in my shop!