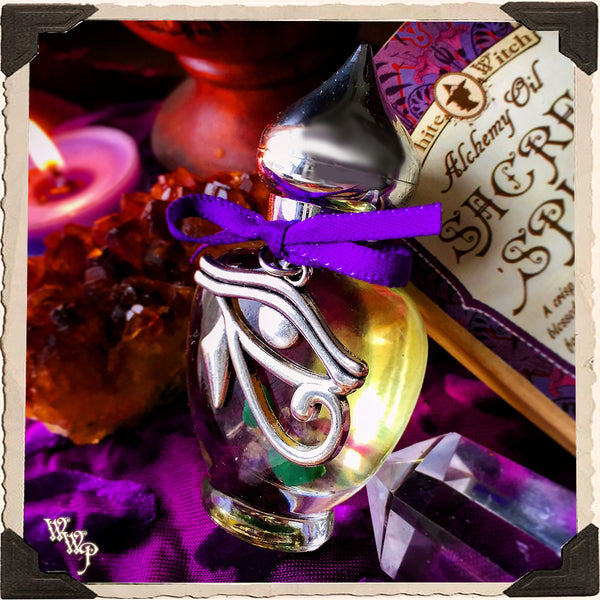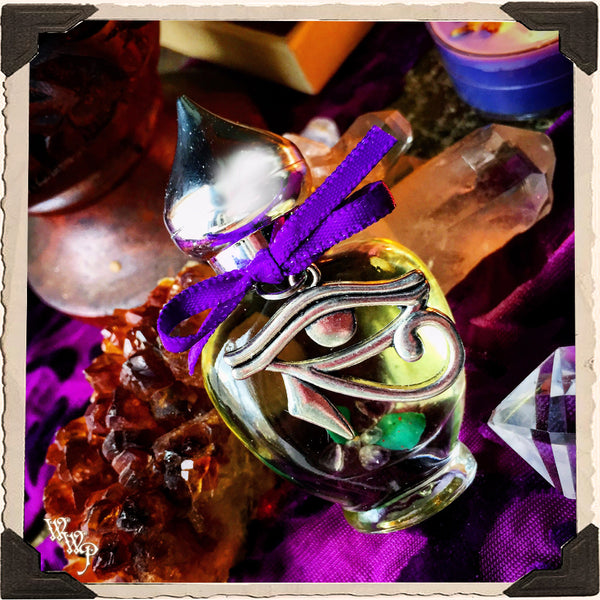 SACRED SPIRIT All Natural Alchemy Oil Potion 1/3oz. For Intuitive Guidance & Connection to Spirit.
It is often said that we loose faith in ourselves when we loose faith in spirit. When we learn to trust in Spirit, we tend to find more synchronicities guiding us along our way. All which are gifts from our guides and angels, pointing our souls in the life path we had originally came back for. Spirit lives within us all, it is a force unseen to our three dimensional minds, but trust that it is always present, surrounding us with love & protection as long as we allow it to.  

The Eye of Horus is an ancient Egyptian symbol of protection, royal power and good health. It is also a mixture of many different symbols, which each hold great significance. It represents the sun & illumination, power & clarity, fairness & balance. It is also the reflection of a Falcon's eye, a sacred animal to Horus, holding great Egyptian wisdom as this bird see's all from above.

This oil blend serves as a reminder of all the powerful qualities we hold within, it is great for ritual & meditative work as it strengthens intuitive guidance & the connection to spirit. Blessed by the energies of Amethyst, Turquoise & Prehnite crystals, this oil aids in purification, spiritual growth & psychic protection for the mind & body. Mixed with the powerful properties of Lavender, Rosemary, Lemongrass, Frankincense, Blood Orange & Vanilla your spirit will rise up to your higher calling. Once this crisp, yet sweet aroma helps you to become aware of your unique connection to Spirit, the communication will strengthen tenfold. 
This enchanting alchemy oil comes in a 1/3 oz. pear shaped glass bottle with silver decorative, Victorian style screw-on cap & Eye of Horus charm. The all natural essential oil blend is diluted with natural Sweet Almond Oil, and is ready to wear as a body oil or use in a magickal bath, aroma lamp or anointing ritual work. The associated crystal chip stones are left in each bottle to keep the magickal workings strong. Each bottle comes in a decorative gift box on a bed of Spanish moss. 
Sacred Blessings,
~ Jenna
 *All sales are final.

More oils & accessories available in my shop!