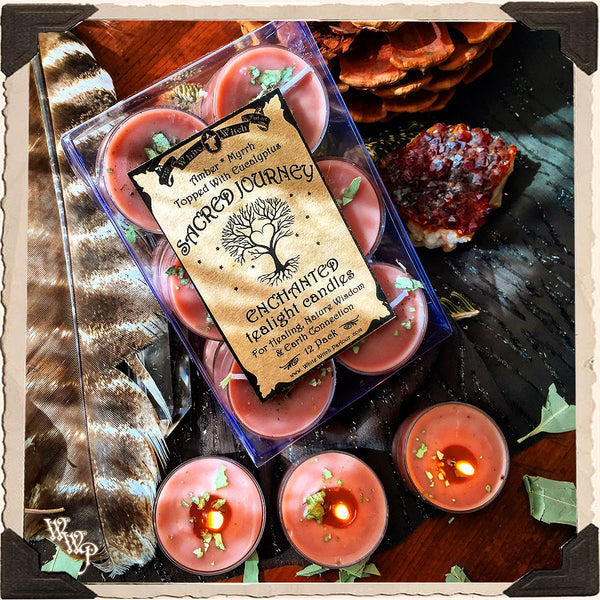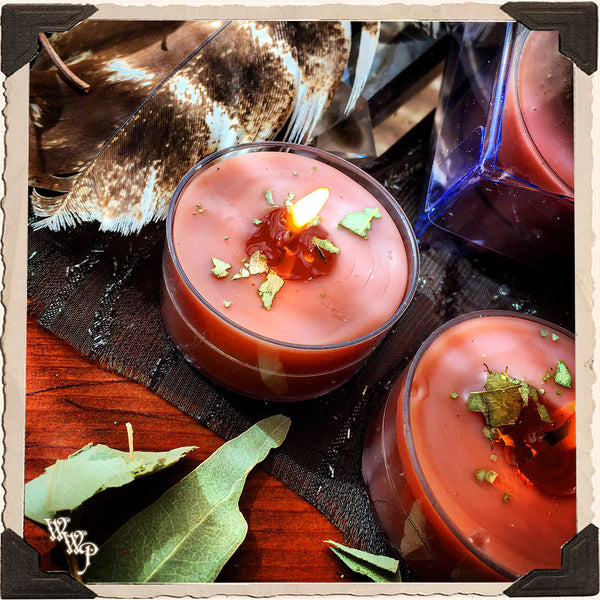 SACRED JOURNEY TEALIGHT CANDLES. 12 Pack. For Healing, Nature Wisdom & Earth Connection.
After a day of burying one's feet in the earth, working in a garden, or just sitting under a tree, you'll find an great refreshing surge of healthy energy. It is because even in the smallest doses, nature can heal us. As we place ourselves into the wilderness, we ground that unhealthy energy, and recharge our soul's batteries. We connect to something greater than ourselves, our senses are touched by the elements & suddenly we can become reminded of what it means to be human. We respect the cycle of life, as with death, we witness in nature how it will once again turn to new growth. Everything has purpose, & when we grasp this lesson from nature, we begin to heal ourselves on many levels. We become a student of Mother Nature, and begin to grasp the meaning of our own lives. This is what inspired this enchanting & earthly blend. 
Myrrh ties us to the subconscious, lifting a cloudy veil that blinds us from the 'unknown.' Feminine in nature, Myrrh, works with the energies of Goddess Isis & Mother Moon, aiding us in seeking deeper through the mysteries of the Universe. It raises the vibrations to illuminate our soul & reflects any negative energy that might create doubt or fear, so that one may better connect to their higher purpose. 
Eucalyptus carries strong healing vibration with it & it is said it you light a blue or white candle in the middle of a ring of Eucalyptus leaves, while focusing your 'trouble spot' healing, the Universe will hear your prayers & send forth powerful healing energy. Amber is a carrier of intense healing, brought forth from the grounding energies of mother earth. It heals the physical, spiritual & emotional, bringing courage to difficult times & reminding one of the importance of a spiritual bond to the soul that one must have, to make this existence well balanced. 
A magickal blend of hand-poured 1/2 oz. Tealight candles with an approx. burn time of 4 hours each. With 12 candles per pack in a clear gift box, you are sure to get a of magickal use out of this special candle set, find way into a hand poured batch of Soy wax, leaving each candle to ignite new magick & beautiful scent.  Arrives ready to use or gift!
 May you heal & become reborn,
~ Jenna
*All sales are final.
Store in cool dry place, keep from heat or direct sunlight. Never leave a lit candle unattended or near flammable items such as curtains. Always think of safety when using open flame *
*Free of Harsh Chemicals & Animal Testing.
Check out more candles & accessories in my shop!