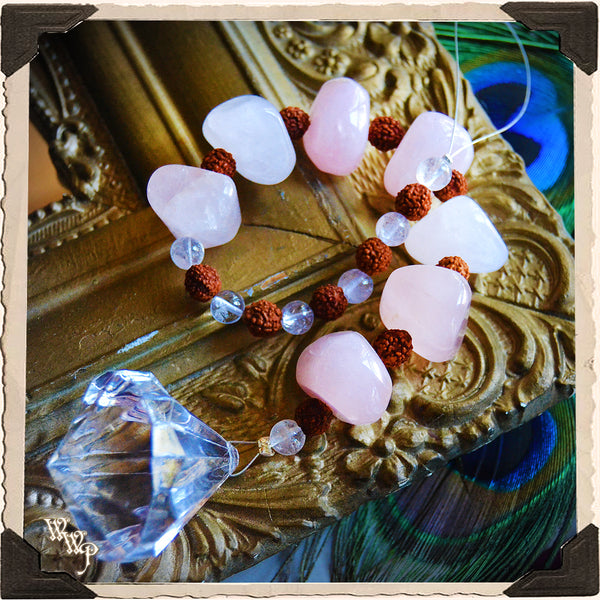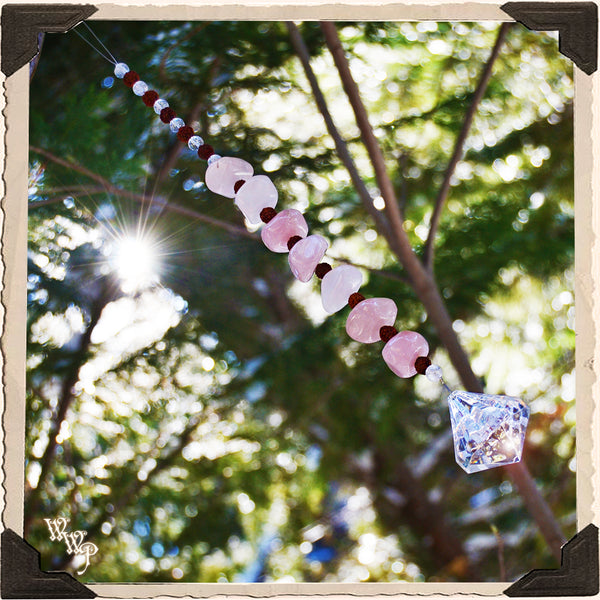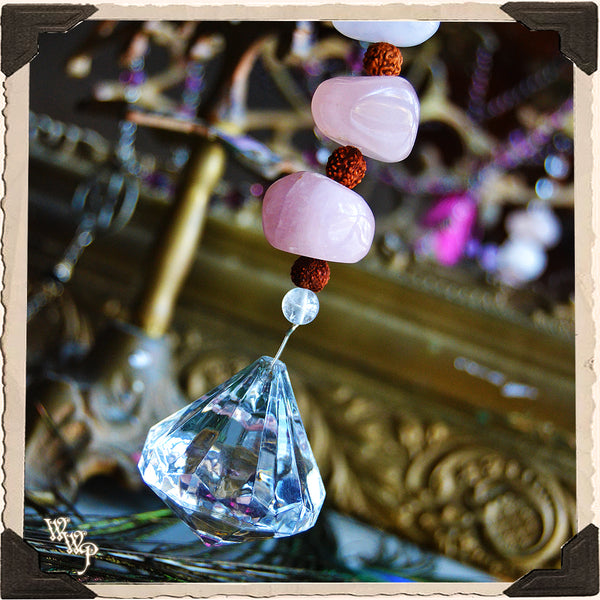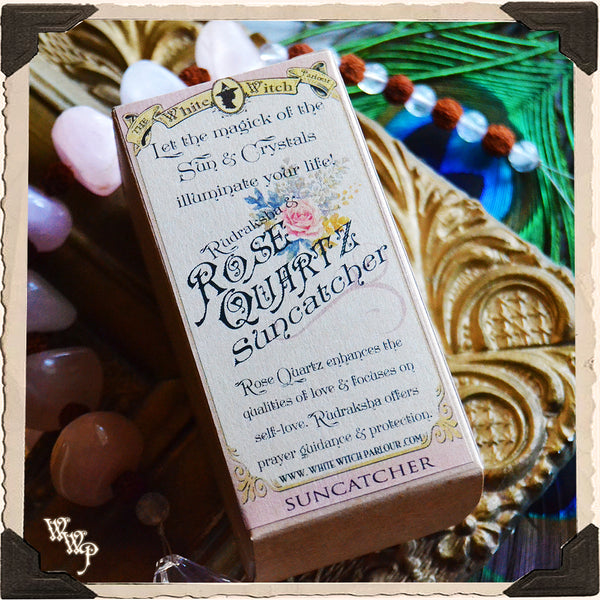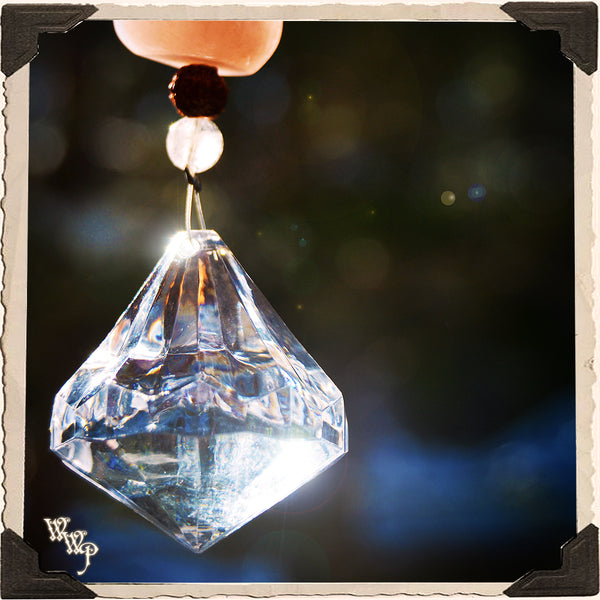 ROSE QUARTZ CRYSTAL SUN CATCHER. For Universal Love, Happiness & Friendship.
Enchant your sacred space with an energy of love, peace & Light! Watch how even the smallest amount of light can filter through the Sun Catcher's prism, creating a array of rainbows dancing all around the room, offering an angelic energy of peace, healing, abundance & prosperity. Channeling the light from that of Rudraksha Beads, Rose & Clear Quartz, it is as if this Sun Catcher opens a portal of light enhanced spiritual awareness. Whether placed in a high stress workspace, disrupted home or just within your sacred corner, you will find a shift of grace and love. 
Rose Quartz purifies and opens the heart at all levels to promote love, self-love, friendship, deep inner healing and feelings of peace. Calming and reassuring, it helps to comfort in times of grief, as it dispels negativity and protects against environmental pollution, replacing it with loving vibes. It encourages self-forgiveness and acceptance invoking self-trust and self-worth.
Clear Quartz
aids those in searching, to gain self awareness and an understanding of our earthly experience. They bring balance & healing to the soul; freeing it to enter the psychic realms. Quartz is a master generator & enhances clarity, protection, intuition, ancient wisdom & harmony. It helps with concentration, and increases awareness, inspiration, and creativity. It purifies the spiritual, mental, and physical planes & can also bring an aura of protection. Known as the master healer, it has the power to regulate energy.
Rudraksha Beads offer prayer guidance & protection from unwanted energies. Rudraksha beads, also called blueberry beads, aid in controlling stressful environments, hypertension & lower blood pressure.  It is said that Rudraksha beads can greatly enhance one's life, if in constant contact with or worn regularly, as these seeds carry a very unique vibration.
Chakras: Heart ( 4th )
Each tumbled Rose Quartz stone measures approx. 1.5" & hangs evenly separated by Rudraksha & Clear Quartz Beads on a 12" wire, with a large 2" diamond cut Sun Catcher stone at the bottom. Each crystal Sun Catcher comes in a handy storage box with informational label, ready to gift to yourself or a loved one.
Before use of your new crystal Sun Catcher, it is always a good idea to consecrate each stone for it's intended purpose. You can do so, by smudging (with sage) each stone to clear any energies it has absorbed and putting your intention forth on each stone, resetting & programming it for how it will help you.
Blessings of Love & Light,
~ Jenna 
More crystals available in my shop!
Shapes, sizes & color will vary, as this is a natural gift from Mother Earth.
*All Sales Final