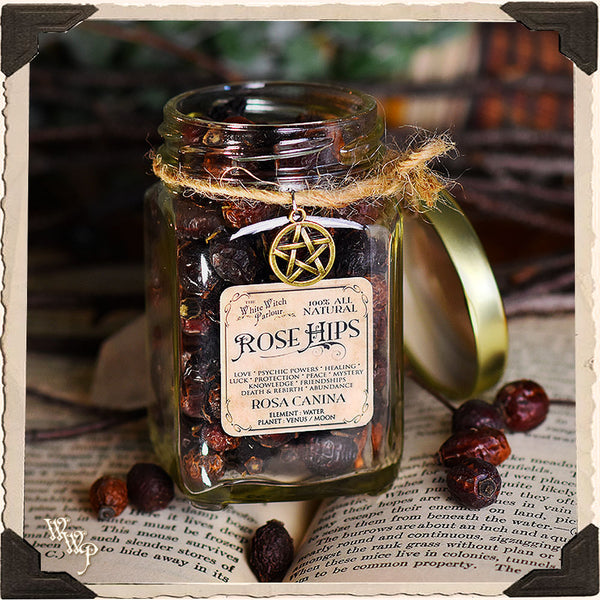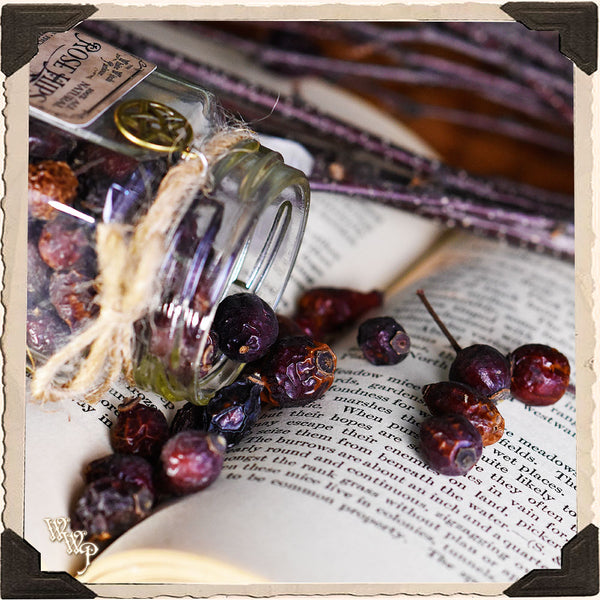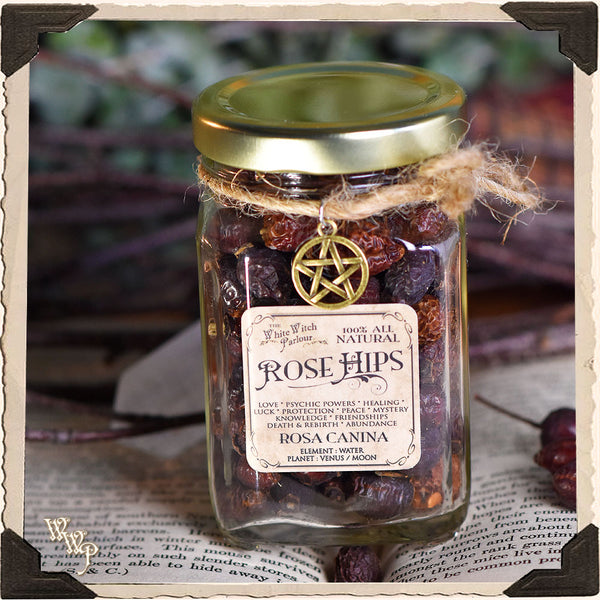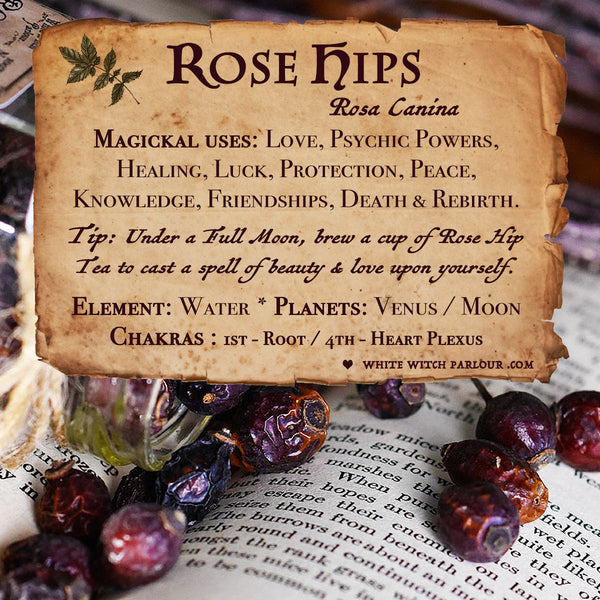 ROSE HIPS APOTHECARY. Dried Herbs. For Love, Friendships & Psychic Powers.
With so many uses & rich in Vitamin C, Rose hip is the fruit of wild roses, which is often a rich food for the birds & critters, that is formed after successful pollination. Popular during WWII & Decades before, it was often harvested to create herbal syrups, teas & other remedies. It has been used for all kinds of ailments & holds an important place in the natural medicine cabinets of many. Magickally, it's color revamps & recharges our Root chakra, while it's peaceful energies stir up a calming flow within us, so we can carry ourselves with beauty & grace. It is popular to use between the time of Samhain - Yule, as it holds the vibration of death & rebirth. This theme is great to welcome into your seasonal rituals as you emerge from a season of shadows & into the season of light. A Sacred Space Potpourri blend can be made with these dried whole Rose Hips by placing a handful in a glass jar with lid. Add other dried ingredients or crystals if you wish, then drop a few drops of essential oil. Close the lid & gently shake. Let it sit for 1 hr & 11 min. before opening it. 
Botanical Name: Rosa Canina
Element Correspondences: Water 
Planetary Correspondences: Venus /Moon

Zodiac Correspondences: Cancer / Scorpio / Pisces

Magickal Uses: Love, Psychic Powers, Healing, Luck, Protection, Peace, Mystery, Knowledge, Friendships, Death & Rebirth, Abundance

Chakras:   Root (1st) & Heart (4th)
Magickal Tip: Under a Full Moon, brew a cup of Rose Hip Tea to cast a spell of beauty & love upon yourself.

Holistic Uses:  It is said that they reduce the signs of aging, Lower Blood Pressure & beneficial to alleviating other diseases or ailments.


Each glass apothecary herbal jar contains approx. 2.5 oz. of All Natural Dried Rose Hips, topped with a gold screw on lid, informative label & rustic pentacle accents. The pentacle represents the elements ( Earth, Air, Fire, Water & Spirit ) encompassed in a ring of unity, serving as a symbol of protection & connection. There is enough herbs in one jar to last for many uses. Store in cool dry place when not in use. Each square Herbal Jar measures approx. 4" high x 2.5" wide. There are several uses for dried botanical herbs, such as adding to or making magickal sachets or Witch bottles, creating tinctures or perfume oils, creating herbal capsules, tea mixtures, powder incense, bath and body scrubs, soaps & lotions, & so much more!
Magickal Blessings,
~ Jenna 
* All Sales Final.  Herbs & information provided is not meant to treat or diagnose any disease or ailment. Please seek medical attention if needed & always do research before consuming herbs or resins. Many contain natural high medicinal properties, which may be toxic to pets, small children & Women who are nursing or pregnant.
More Apothecary Jars, Burners & Accessories available in my shop!