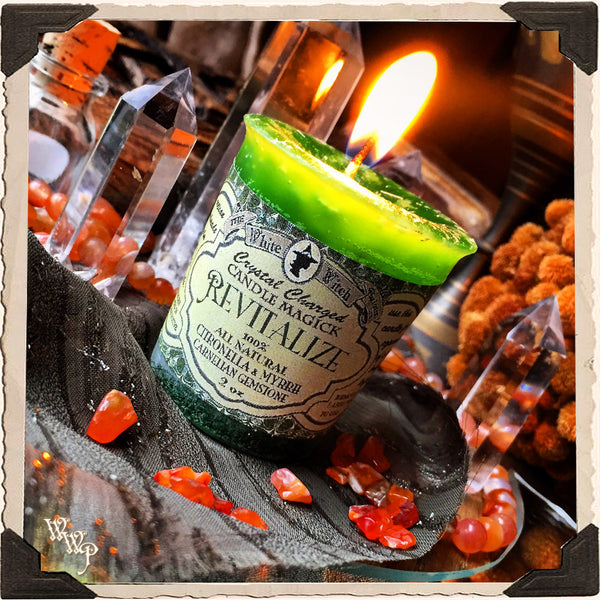 REVITALIZE VOTIVE CANDLE. All Natural Myrrh Resin, Citronella Essential Oil & Carnelian Crystal
A magickal candle created for the intent of revitalizing a tired body, mind & spirit. Whether, you need a general energy boost or you've been going through some turmoil, it's nice to have a little 'pick me up' now & then. An energy shifting spell awaits to be ignited in this enchanted votive candle. A refreshing blend of Citronella, Myrrh & Carnelian Crystals work together to welcome positive energy flow. 
Carnelian shines with a joyous & cheerful energy. It manifests positive energy all around & works with nurturing the Sacral Chakra, thus healing 'the womb' of our soul & aiding in abundant fertility on all paths of one's life. Tied to the Sun's energy, it creates warmth, life & Illumination. Helping to gently expands upon our inner wisdom, Myrrh ties us to the subconscious, lifting a cloudy veil that blinds us from the 'unknown.' Feminine in nature, Myrrh, works with the energies of Goddess Isis & Mother Moon, aiding us in seeking deeper through the mysteries of the Universe. It raises the vibrations to illuminate our soul & reflects any negative energy that might create doubt or fear, so that one may better connect to their higher purpose, also making it a powerful source when working through tragedies. Crisp Citronella creates an uplifting & cheerful energy, it's zesty scent, reminds us of a renewed zest for life, as it offers purification & relaxing vibes.
You can use this 2oz. All Natural Votive candle for spells, rituals, meditations or just the aromatherapy that it offers. This Votive is made up of hand ground Resins, scented with essential oil & charged with a crystal chip gemstone, placed in each votive. The magickal aura around each votive is powerful on its own, creating a shift in energy of any room it is left in. If placed in a glass or tin votive holder this candle will burn for about 15 hours or about 5 hours if burned as is. A paper core wick is used, for a clean burn, as oppose to the often used toxic zinc core wicks. Made with organic Palm Wax. :)

In Love & Light,
~ Jenna

**All sales are final. ** 
*Buyers: Store in cool dry place, keep from heat or direct sunlight. Never leave a lit candle unattended or near flammable items such as curtains. Always think of safety when using open flame* 
More Candles & Accessories in my shop!