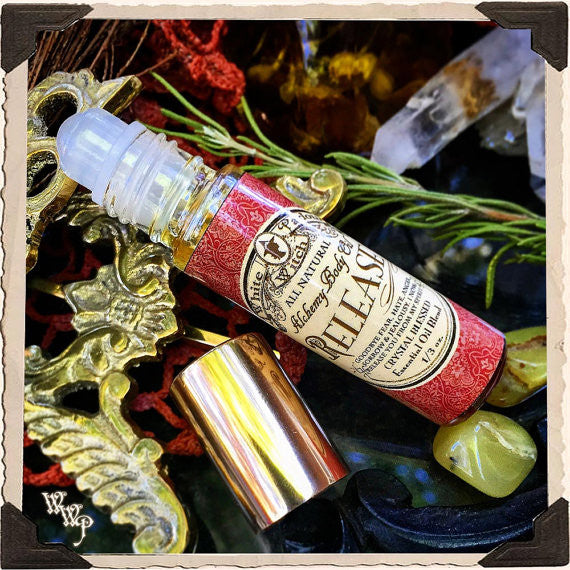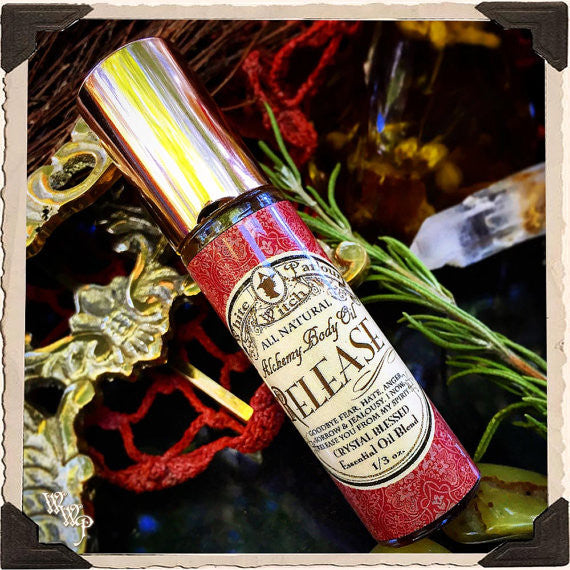 RELEASE 1/3oz. Alchemy Oil. All Natural Potion. Rosemary, Turmeric & Myrrh. Blessed with Green Opal & Rose Quartz.
Why is it important for us to release energy? Well, because we are made of energy, we tend to give & receive energy more often than we think. Over time this can hinder or benefit our personal growth, depending on the kind of vibrations we are emitting & attracting in return. If you often find yourself in the company of 'energy vampires,' or people with a lot of general stress & anger in their lives, you will find that over time you will adapt to this energy as well, causing you to constantly attract similar situations in your life. This is the energy that it would make a good practice to 'Release' at least once a week. This energy can trigger emotions that leave you unbalanced & manifesting more out of fear or jealousy, rather than out of love & respect. Which is why I often say, "Release all that no longer serves you," as hard as it may be, there always comes a time when our intuition tells us, enough is enough, it is time to move on & let the past live behind us, so we may move forward, fresh & renewed to conquer the life we desire.

I have created this crisp & refreshing, powerful blend to help you let go of fear, anger, jealousy, hate, stress & past traumas, so you can be the best version of yourself possible, and share that energy with the world. A complex blend of  Turmeric, Myrrh & Rosemary work together in harmony to renew your mind, body & spirit, as you shed the excess weight of negative energy that may surround you. Myrrh & Rosemary create a protective shield, helping to raise your vibrations & seek your highest good. Traditionally, these two magickal ingredients were used to ward off evil spirits, and attune your energy to a state of holiness. Turmeric offers cleansing of the body & mind, welcoming one's energy to embrace prosperity & good luck. Combined, they bring a deeper awareness & faithfulness to the self, strengthening your practice & communion with the healing elements of nature. As your chakras become cleansed of blockages & released of old, stagnant energies, they become fully activated once again, dawning a new energy of hope & excitement for life & general well-being. Mixed with the energies of Rose Quartz & Green Opal, this 'must-have' potion, enchants the heart & heals all low vibrational energy, turning it into a burst of inspiration & happiness, to jump start your newly found path to positive self awareness.

This potion comes in a 1/3 oz. glass apothecary bottle with roll-on applicator and gold screw top lid. The all natural essential oil blend is diluted with natural Sweet Almond Oil, and is ready to wear as a body oil. The associated crystal chip stones are left in each bottle to keep the magickal workings strong.

May you release all that no longer serves your highest good !
In Love & Light,
~ Jenna

Sample sizes available in my shop!

All Sales Final
Not Meant for consumption.
Keep out of heat and direct sunlight.
Not recommended for women who are pregnant / nursing, small children or animals, due to the natural yet medicinal nature of essential oils.