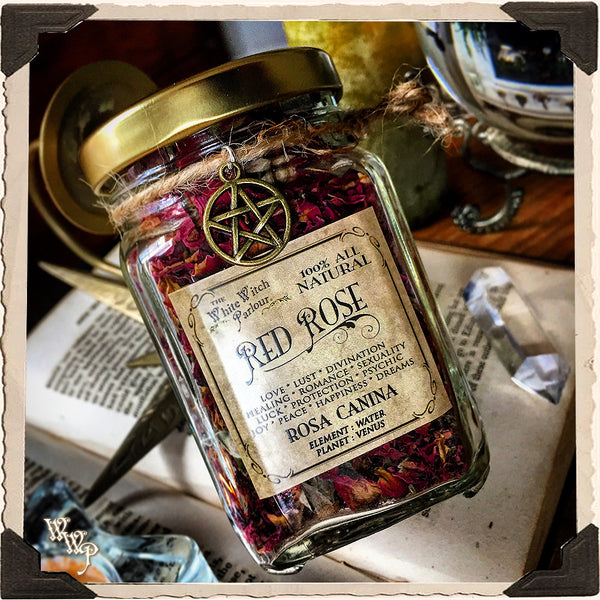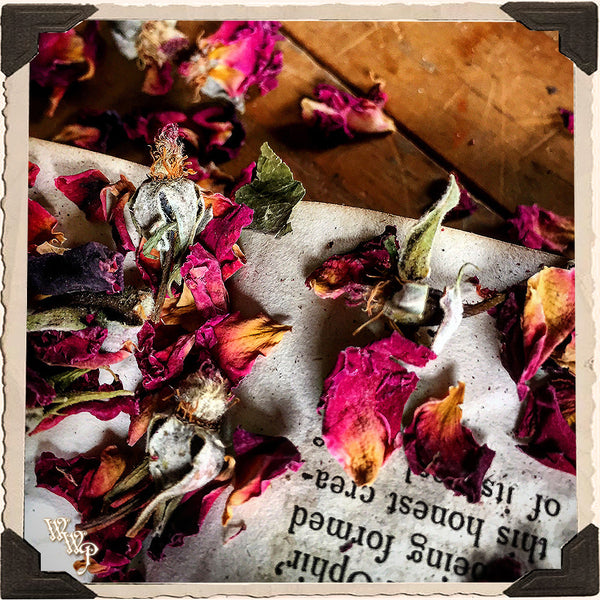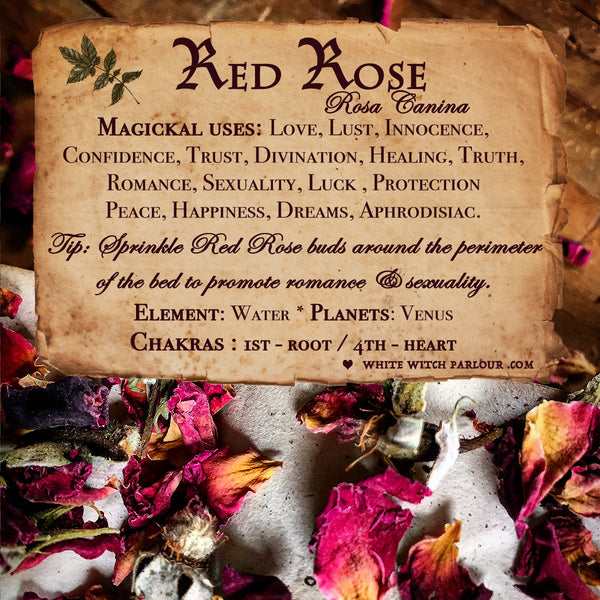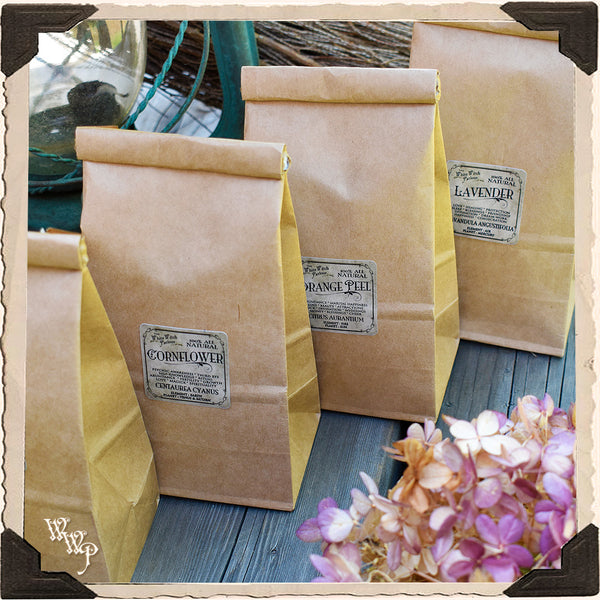 RED ROSE BUDS APOTHECARY. Dried Herbs. For Love, Trust & Innocence.
Love and Roses go together century after century, a well known symbol of Love, Roses help soften our energy and open us up to the energy of love. This beautiful energy can heal us, bring us joy, protection & peace within our hearts. It promotes the joy of giving & gratitude, as when Roses are gifted or received, it pleases both parties. A cup of rose tea, enhances one's magic, with a pure energy, Divination practices become enhanced, as well as prophetic dreams, because Roses allow us to lower our guard & trust. Roses are a symbol of confidence as well, so much so, that a Rose petal medallion was often plastered to the ceilings of law offices or courtrooms, serving as a talisman of trust, truth & confidence of the words spoken within the building. As a symbol of innocence, it reminds us to live from the heart, see the beauty around us & embrace each moment as if it was the first & last. 
Botanical Name: Rosa Canina
Element Correspondences: Water 
Planetary Correspondences: Venus
Zodiac Correspondences: Taurus
Magickal Uses: Love, Lust, Innocence, Confidence, Trust, Divination, Healing, Truth, Romance, Sexuality, Luck , Protection Against the Evil Eye or Jealousy, Psychic Love Matters, Honoring Venus, Joy, Peace, Happiness, Dreams, Aphrodisiac, Healing the Root Chakra. 
Chakras:   Root (1st) & Heart (4th)
Magickal Tip: Sprinkle Red Rose buds around the perimeter of the bed to promote romance & sexuality.
Holistic Uses:   Rose eases headaches, dizziness & menstrual cramps when taken as a tea. It helps with physical issues of the Heart & calms anxiety. Red Rose provides a good source of Vitamin C, when added to drinks, foods, lotions or creams. Rose Water replenishes the skin, leaving a vibrant glow.

Each glass apothecary herbal jar contains approx. .25 oz. of All Natural Red Rose Buds, topped with a gold screw on lid, informative label & rustic pentacle accents. The pentacle represents the elements ( Earth, Air, Fire, Water & Spirit ) encompassed in a ring of unity, serving as a symbol of protection & connection. There is enough herbs in one jar to last for many uses. Store in cool dry place when not in use. Each square Herbal Jar measures approx. 4" high x 2.5" wide.
A second option: Biodegradable bulk refill Tin -Tie bag is available which contains approx. .50 oz all natural Dried Red Rose, enough to refill x2 White Witch Parlour Herbal Jars, or use/store it as is.
There are several uses for dried botanical herbs, such as adding to or making magickal sachets or Witch bottles, creating tinctures or perfume oils, creating herbal capsules, tea mixtures, powder incense, bath and body scrubs, soaps & lotions, & so much more!
Magickal Blessings,
~ Jenna 
* All Sales Final.  Herbs & information provided is not meant to treat or diagnose any disease or ailment. Please seek medical attention if needed & always do research before consuming herbs or resins. Many contain natural high medicinal properties, which may be toxic to pets, small children & Women who are nursing or pregnant.
More Apothecary Jars, Burners & Accessories available in my shop!