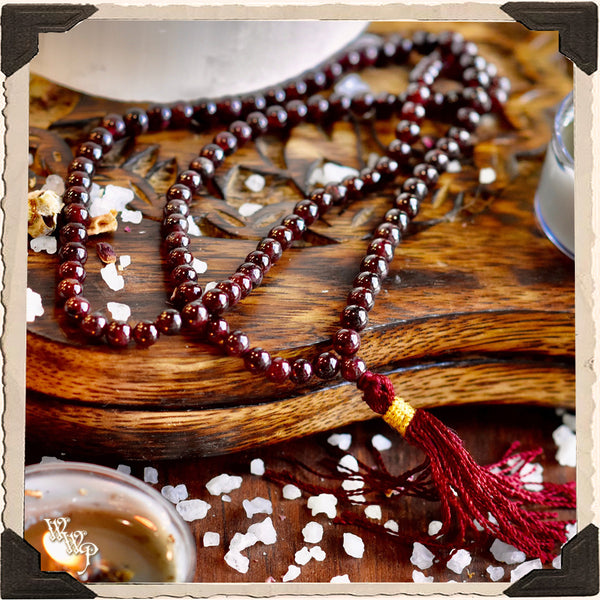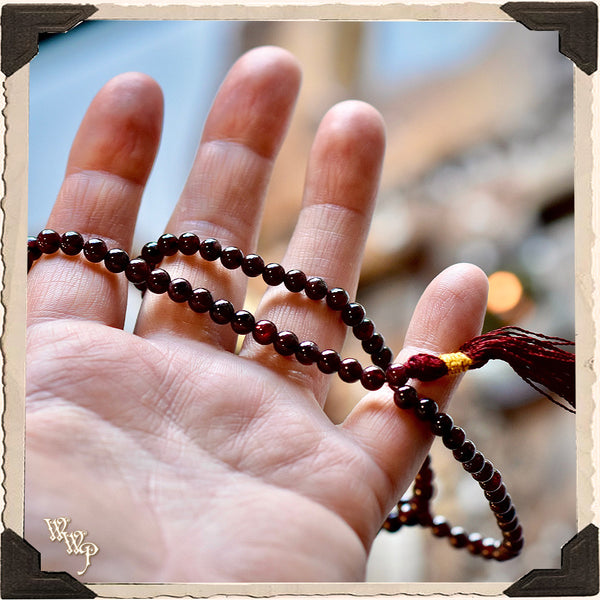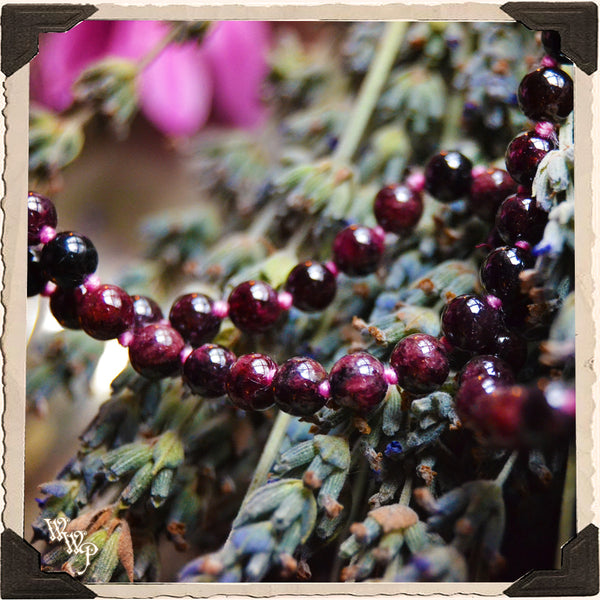 RED GARNET CRYSTAL MALA. 108 Beads. For Sexuality, Root Chakra, Success & Power.
Garnet is a stone that carries wonderful and powerful energy, not only does it work with the Root Chakra to help stimulate security, grounding, sexuality, kundalini energy, stability & livelihood, but it also offers many metaphysical properties as well. Garnet is the stone of passion and courage. Stimulates devotion to your family, your friends, yourself, and your purpose or goals . It stimulate the senses, and increase your vitality and stamina. it is very good for career success, encouraging business relationships by increasing your popularity and stimulating other peoples desire to work with you, especially for women. Garnet helps one to become motivated and productive, and attracts good luck in business ventures. 
Mala's hold many uses, as they encourage a repetition of mantra during prayer, breathing exercises or meditation, this created energy can then be carried & worn at all times on the body, to serve as a powerful reminder to keep your thoughts & words in good order.  
ZODIAC: Aries / Leo / Virgo 
ELEMENT: Fire

CHAKRA: Root & Heart
HOLISTIC: Helps to boost metabolism, energy & immune system.
Each beautiful Garnet Mala measures a total length of approx. 20" strand with 108 stringed beads, each approx. 1/2cm wide, with a 2" tassel, ready to meditate with or say a mantra. Each enchanting mala comes in a gold jewelry box with Garnet information label, on a bed of spanish moss, ready to gift to a friend or yourself. 
** PLEASE NOTE This strand is 20" long, perfect for meditating with or adorning your decor, but not quite long enough for bracelet wraps or necklaces.
Blessings of Love & Light,   
~ Jenna  

All Sales Final *
* Size & shape of stones will vary as these are a natural product of mother earth. You will receive a set similar to the one in the photo
More crystals in my shop!