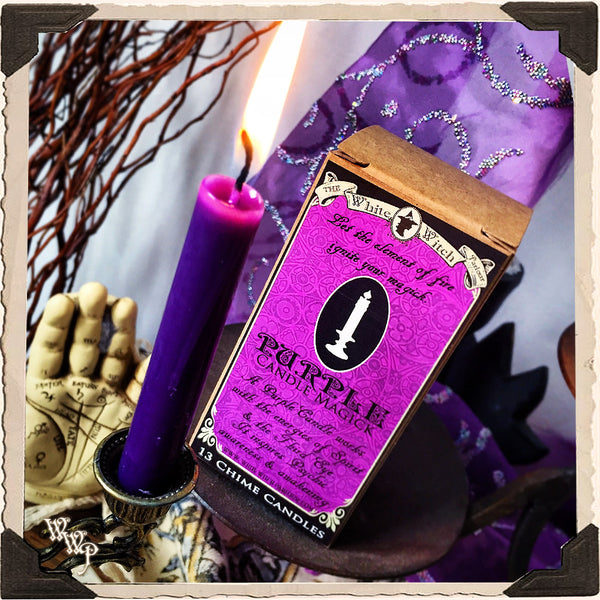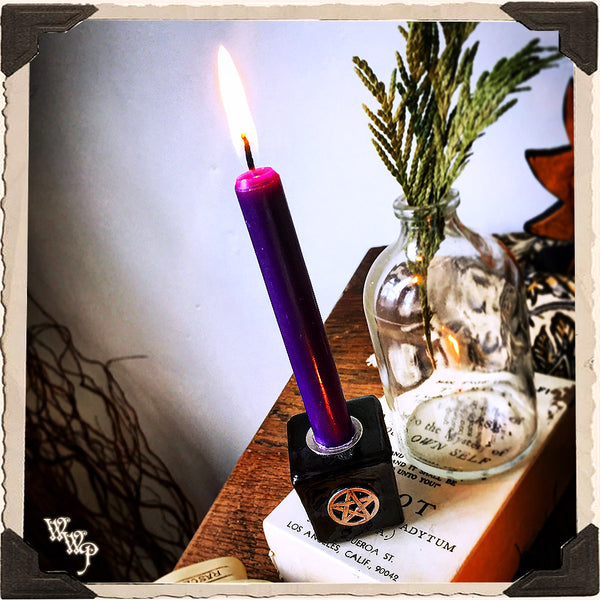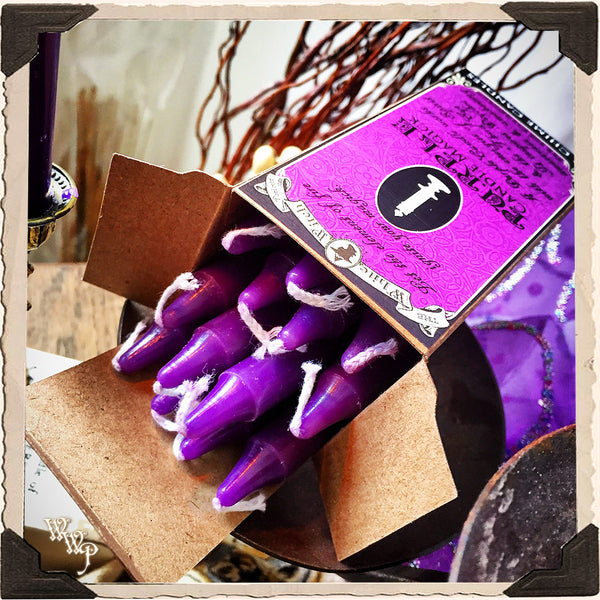 PURPLE SPELL CANDLES. 13 Pack - Unscented. Mini Taper Candle Magick for Spirit Element & Third Eye.
Color is powerful & can creates doorways to heal our own chakras, inspiring new life for each new intent. Purple Vibrates to the energy of the Third Eye Chakra & the Element of Spirit. This vibration is what unties you from the earthly bindings and allows your mind to transcend to a higher consciousness, awakening to new possibilities driven by the understanding of your soul & guidance through the subconscious. Symbolism, sychronicities & Divine guidance begin to become a part of your daily life, as the third eye becomes more & more open & clear to the things that were once hidden in plain sight. Purple activates our psychic awareness and helps us move past the mundane. It enhances meditations & connection to spirit, so we may be better guided on our journey & divination practices.  Keep these keywords in mind when working with this beautiful color energy.
These mini taper candles are perfect for rituals, spells & enchanting decor! Each pack comes with 13 oder-less & smokeless candles. Each individually wrapped candle measures approx. 4" high by 1/2" wide with clean burning wax that can last 1-2 hours. Lead free cotton wicks, help create an atmosphere through the vibration of color. It is popular to inscribe your own blessing on these candles for a spell or anoint / dress the candle with your oil of choice. 
These candles can be used with antique mini candle holders, chime candle holders, or even placed in a bowl of sand.  Spell Candle holders are available in my shop!
Blessings of Love & Light,
~ Jenna   

**All sales are final. ** 
*Buyers: Store in cool dry place, keep from heat or direct sunlight. Never leave a lit candle unattended or near flammable items such as curtains. Always think of safety when using open flame*