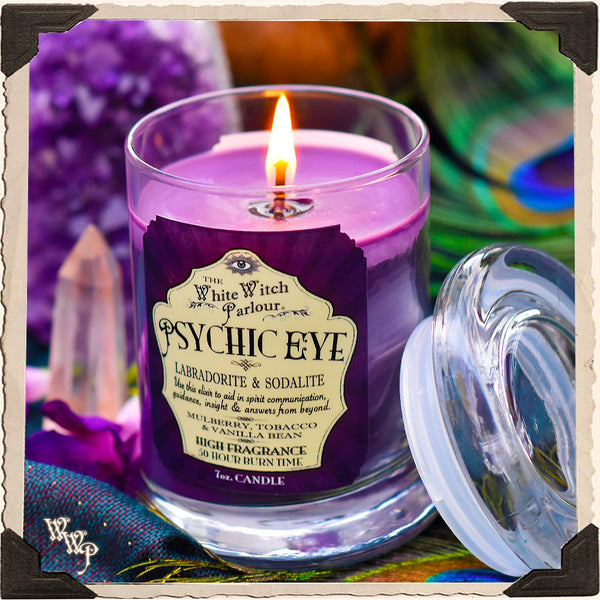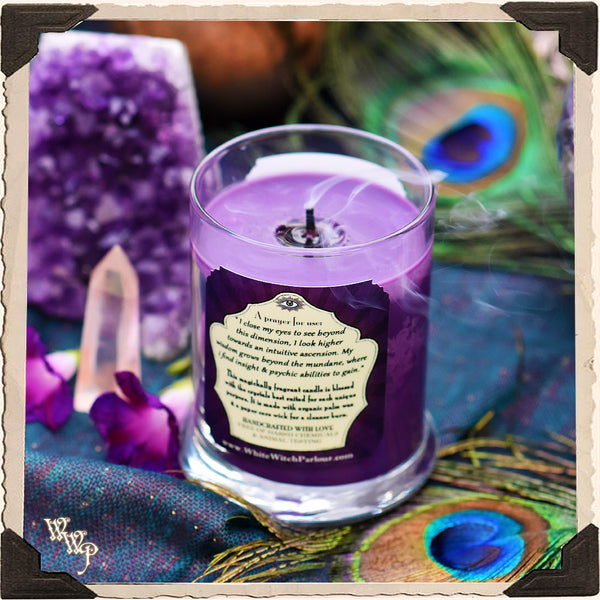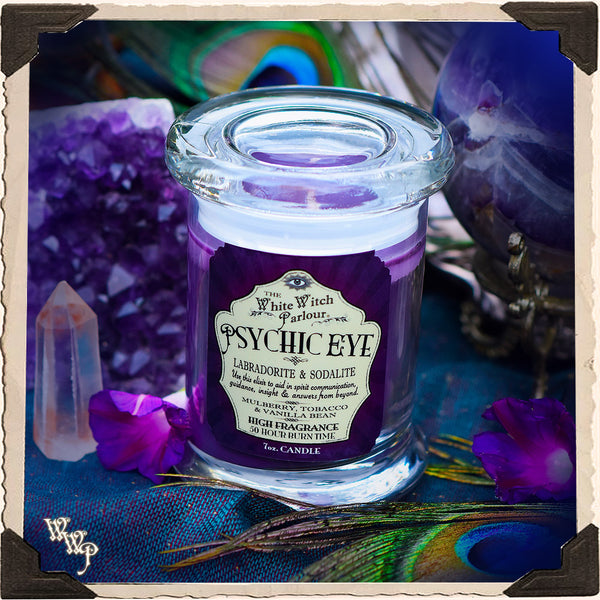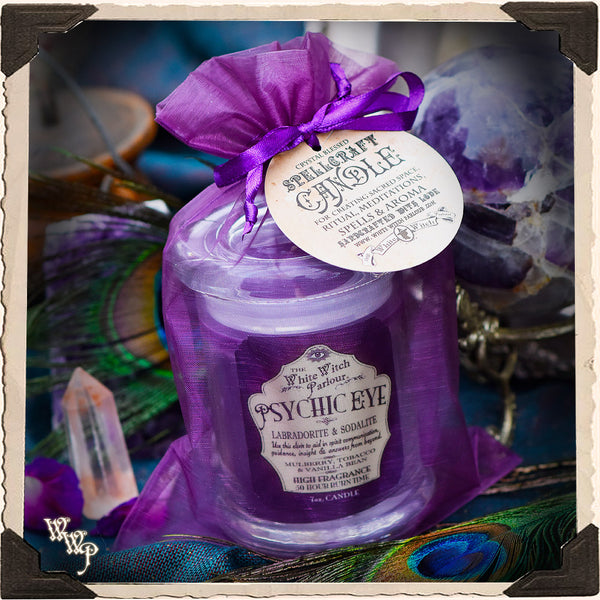 PSYCHIC EYE Elixir Apothecary CANDLE 7oz. For Enhancing Psychic Intuition & Spiritual Energy.
This sweet & mystifying blend of Mulberry, Tobacco & Vanilla bean will awaken the intuitive powers that seek to be expressed. 'Psychic Eye' is a magickal blend that will help to aid you deeper in spirit communication, guidance, insight & answers from beyond. With Mulberry being long associated in magick for it's properties in knowledge, wisdom, divination & will & Tobacco used in many ancient sacred rituals as an offering to spirit, you will be able to easily slip between the worlds. Vanilla helps to calm and soothe the heart and mind, bringing you into a comfortable space, rather than a place of fear. Sodalite offers energy that is particularly helpful to aid the development of psychic abilities, and with developing intuition. It is an excellent aid for communication and may help you if you are doing public speaking or séance work. It may help you to understand the patterns behind such things as astrology, tarot & other divination work. Labradorite is a stone of magic, a crystal of shamans, diviners, healers, and all who travel and embrace the universe seeking knowledge and guidance. For self-discovery, it is excellent for awakening one's own awareness of inner spirit, intuition and psychic abilities. 'Psychic Eye' was created to allow you to see things in a new light, by closing your eyes & seeing beyond.

My prayer for use:
" I close my eyes to see beyond this dimension, I look higher towards an intuitive ascension. My wisdom grows beyond the mundane, where I find insight & psychic abilities to gain. "
A magickal hand-poured 7oz. candle can be used for spells or just the aromatherapy that it offers. This decorative jar candle is made up of organic soy wax, non-toxic paper-core wick, fragrance / essential oil blend & is charged with the associated crystal chip gemstones mixed into the wax. The magickal aura around each candle is powerful on its own, creating a shift in energy of any room it is left in. This beautiful candle offers a high scent throw & many smiles :) It holds an average burn time of 50+ hours. It comes in a reusable glass apothecary jar with lid, packaged in a beautiful color matching organza bag & hangtag ready to gift to a friend or yourself. 
Wishing you an abundance of psychic awareness,
~ Jenna
*All sales are final.
Store in cool dry place, keep from heat or direct sunlight. Never leave a lit candle unattended or near flammable items such as curtains. Always think of safety when using open flame * 
Check out more candles & accessories in my shop!
Vegan Friendly! Free of Harsh Chemicals & Animal Testing.