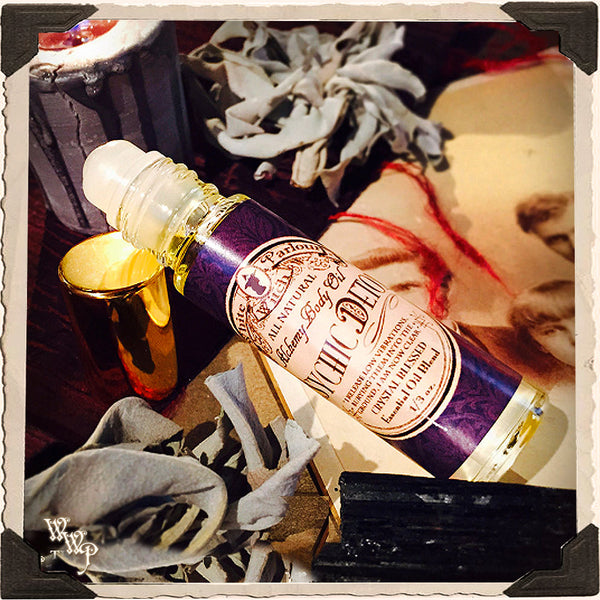 PSYCHIC DETOX 1/3oz. Alchemy Oil. All Natural Potion. Anise, Sage & Lemon. Blessed with Howlite & Tourmaline.
If you have been offering a lot of emotional help to someone or even a group, It is important to give yourself a detox after each sitting. We are made of energy and it is important to remember that we can absorb others energy just as easy, especially when there are emotional bonds. This is a blend created to wash away negative vibrations that can drain your spiritual advancement and unsettle your own emotions. It can also be used as a shield during turbulent times, that may create uneasiness amongst your energy field. In some cases you may be feeling mentally drained without knowingly offering someone emotional support, perhaps you are encountering 'energy vampires,' on a frequent basis & they are throwing out all of their issues and 'bad vibes' onto you, while you easily absorb their vibrations through your empathy for them. This is when you must give yourself a psychic detox of everything that is clinging to your conscious & subconscious mind, slowly dragging your vibrations towards a downward spiral as well. Use this blend to keep your mind sharp & aware, pushing away all that no longer serves you, keeping you in good health mentally & spiritually.
Black Tourmaline & Howlite crystals work together to both calm & cleanse the mind & dissolve negativity, leaving a shield of protection. White Sage works to bring purification on all physical & spiritual levels, while Lemon welcomes positivity & cheer. Star Anise adds a layer of psychic protection, allow one to detox from all that may hinder your spiritual advancement. This powerful potion heals the aura and refreshes the mind, leaving all that no longer serves you behind.  

This potion comes in a 1/3 oz. glass apothecary bottle with roll-on applicator and gold screw top lid. The all natural essential oil blend is diluted with natural Sweet Almond Oil, and is ready to wear as a body oil. The associated crystal chip stones are left in each bottle to keep the magickal workings strong.

May your mind & spirit be cleansed of all impurities,
In Love & Light,
~ Jenna

Sample sizes available in my shop!

All Sales Final
Not Meant for consumption.
Keep out of heat and direct sunlight.
Not recommended for women who are pregnant / nursing, small children or animals, due to the natural yet medicinal nature of essential oils.