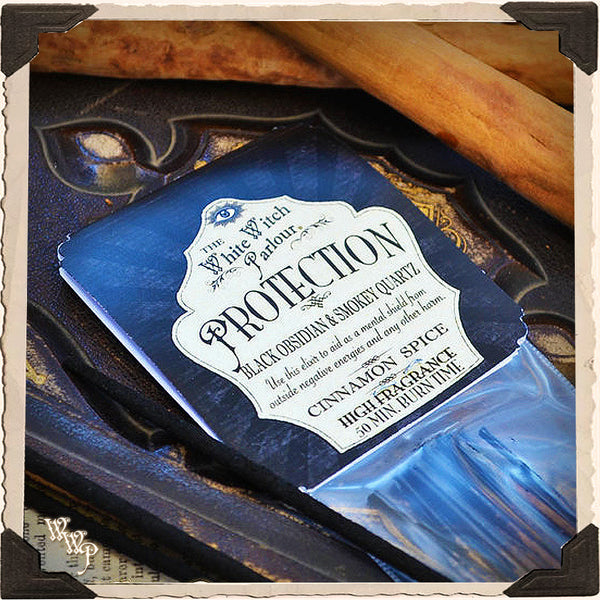 PROTECTION Elixir INCENSE. 20 Stick Pack. Scent of Cinnamon & Spice. Blessed by Smoky Quartz & Obsidian.
My Protection elixir is a spicy blend of Cinnamon to welcome a mental shield from outside negative energies and any other harm that may be weakening your spiritual aura and energy. For centuries, cinnamon has been used in all kinds of spiritually protective rituals, magic spells and potions amongst several cultures, as it is known for stimulating the crown chakra, inspiring spiritual insight, psychic powers, healing and of course protection. Cinnamon oil was commonly used in the mummification process by the Egyptians and was applied as a holy anointing oil in ancient Hebrew rituals. When it is burned as incense or added to foods, cinnamon raises spiritual energy to a higher level, thus pushing away negative or lower vibrational forces. With the added powerful protective energies of Black Obsidian and Smokey Quartz this elixir clears an abundance of blockages and emotions that may have been absorbed by others, while releasing electromagnetic smog that may be clouding the body and mind so that you may find clear insight and balance within.
However you choose to use this blend, you will allow yourself to detox from any stress, anxiety, depression or nightmares, as these are all lower vibrational frequencies, that hinder your spiritual growth and can increase the possibility of a psychic attack. I encourage you to surround yourself with a white light of protection on a daily basis and use this powerful tool to help you along the way.
My prayer for use:
" I trust in the protection of my spirit, body and mind as I now hold a shield unlike any other kind. My aura is strong with white light defined from my divine energy and spirit combined."
These wonderful handmade alchemy incense sticks burn for approximately 50- 60 minutes each and are made up of pressed charcoal sticks, crystal energies, fragrance oils & essential oils. There are 20 magickal sticks in each pack, that yield beautiful and lingering aroma wherever they are burned. These powerful incense can aid wonderful cheer, dispelling any negative energy & allowing for a more connected approach to your practices. They are blessed with chip stones of Obsidian & Smoky Quartz crystals.
Wishing you an abundance of protection,
~ Jenna
Oils & more incense available in my shop!
**All sales are final. **