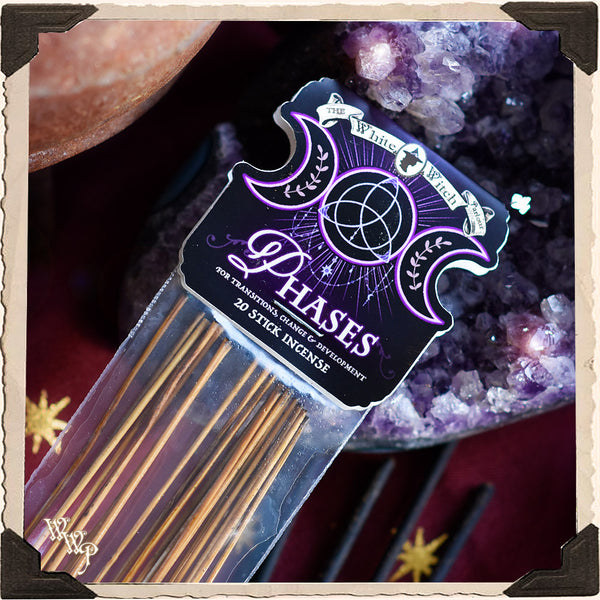 PHASES RITUAL INCENSE. 20 Sticks. For Transitions, Change & Development.
A magickally warm blend of Sandalwood & Amber Musk, blessed by the intuition energizing energy of Amethyst crystal, this enchanted ritual blend works to revitalize the soul, bringing past, present & future into a harmonized balance. 'Phases' works to invoke past healing & future growth, while embracing the present through intuitive guidance to enhance your spiritual journey & transition into your highest self.
Amber works to stimulate healing, abundance, opportunities of fertility ( new growth ) & a calm balance to the spirit. Sandalwood invigorates one's energy to drive passion & purpose, mixed with the potent magick & essence of Amethyst crystal to enhance psychic & spiritual advancements.

These wonderful handmade alchemy incense sticks burn for approximately 50- 60 minutes each and are made up of pressed charcoal sticks, crystal energies, fragrance oils & essential oils. There are 20 magickal sticks in each pack, that yield beautiful and lingering aroma wherever they are burned. These powerful incense can aid wonderful cheer, dispelling any negative energy & allowing for a more connected approach to your practices.

Awaken your soul purpose,
~ Jenna

~~~~~~~~~~~~~~~~~~~~~~~~~~

All Sales Final*
Not Meant for consumption.
Keep out of heat and direct sunlight.

Incense accessories available in my shop!