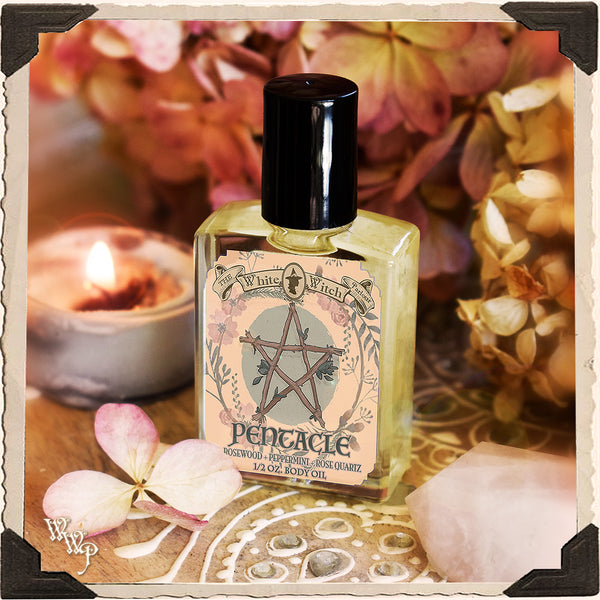 PENTACLE BODY OIL. 1/2 oz. Body Oil For Attuning Back to Self & Elements.
A beautiful Witchy blend to help get you back into alignment with yourself & reconnected with the elements. Rose Quartz enhances the energy of Love, helping to heal & grow, while Rosewood excites a new abundant flow of magick into your life & peppermint cleanses out old stagnant energy, offering a reboot to your chakras & joy of inspiration.
Rose Quartz: purifies and opens the heart at all levels to promote love, self-love, friendship, deep inner healing and feelings of peace. Calming and reassuring, it helps to comfort in times of grief, as it dispels negativity and protects against environmental pollution, replacing it with loving vibes. It encourages self-forgiveness and acceptance invoking self-trust and self-worth. 

Peppermint:
Stimulating the flow of you personal Chi, you will find that Peppermint clears the chakras or blockages, allowing for healing and happiness. This minty plant awakens the senses and brings clarity & purification to the conscious mind, instantly raising one's vibrations and connecting them to a higher frequencies that attracts all things good. Often used in magick for healing it's properties, as it dispels negative emotions that can cause sickness & for it's money drawing properties in spells concerning finances; Peppermint helps us to refresh the atmosphere, opening the heart to attract wealth of all kinds.
Tuberose: As a queen of the night, Tuberose aka "Night Queen" or "Mistress of the Night", commands the title of a true aphrodisiac. The very strong, intense and intoxicating dark floral fragrance fills the atmosphere with romance and builds up the energy of love. Found to be very effective in treating a lack of libido, certain components of this essential oil tend to stimulate the parts of the brain that are responsible for arousal, excitement, desire & sexual feelings. Tuberose increases blood circulation throughout the body, creating a warming effect that can counter the feeling of cold in winters & keep the respiratory system warm. This inner-warmth helps to increase activity and aids to cure sexual disorders, as well as depression, stress, anxiety or anger.
Burning them in a room for the aromatherapy to promote a certain desire is certainly magick all on it's own.

This 1/2oz. Roll-on Body Oil carries with it a magickal aura, powerful on its own, creating a shift in energy of any room it is left in. Made with a blend of fragrance oils, with an Almond Oil Carrier Oil & enchanted with Rose Quartz. Each oil comes ready to wear, shrink wrapped, ready to gift to yourself of a loved one.

In Love & Light,
~ Jenna

A beautiful, hand-crafted Potion blend of both all natural essential oils & high grade fragrance oils, blessed with the energies of the associated crystals in an all natural Sweet Almond Oil Carrier. Free of Harsh Chemicals & Animal Testing. Created for use on Skin, Aroma Lamps, Bath Oil or an Anointing Ritual Oil. Not meant for consumption. Keep away from small children & pets. If irritation on skin occurs, discontinue use immediately.  Keep out of heat or direct sunlight, to prolong the shelf-life of the oil. Not meant to treat or diagnose any ailment or medical issue.

**All sales are final. **

More Accessories in my shop!