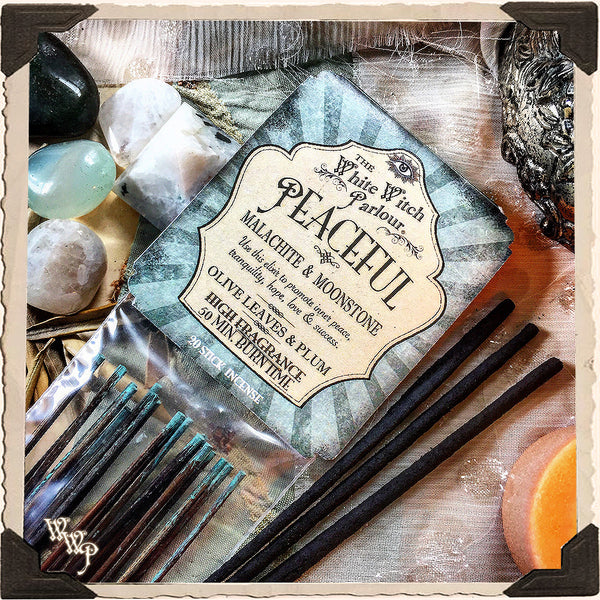 PEACEFUL Elixir INCENSE. 20 Stick Pack. Scent of Olive Leaves & Plum. Blessed by Malachite & Moonstone Crystals.
Soft, clean & reminiscent of a calm day at the beach, detoxing the daily stresses & allowing yourself to let go & take in the fresh air, this 'Peaceful' blend, creates a soothing vibe. It was created to relax one's energy, teaching them to go with the flow of the day, finding moments of peace whenever available, and learning to stay in that vibration as long as possible. This state of peace can inspire happiness from within, lifting the aura out of a dark cloud and into one of light.  Peace is uniting with one's own rhythm, listening & feeling their heartbeat connected with Mother Earth's. It is breathing at a steady pace and focusing energy on stillness, creating a vibration that is gentle, kind & forgiving.  
Olive Leaves in magic have long been associated with peace. They can be used in ritual offerings or teas to relieve anxiety, so that one can improve upon their manifestation skills. It is gentle & healing to the body, mind & spirit, creating a promise of longevity. It works greatly with Heart energy, creating a passionate drive, while simultaneously calming & balancing the emotions, helping one to 'go further.'  Plums in magic inspire love. It is said that if you offer a plum to one that you desire, you will become favorable in return. With this knowledge, ancients planted Plum seeds into the ground as a ritual offering to the Gods & Great Spirit, so they could become favorable, loved & protected by them. Tied to the element of Air, Plums are considered to be calming to the spirit, relieving ailments to the body & mind.  Mixed with the energies of Malachite & Moonstone Crystals, the energy of this blend is gentle, healing, relaxing, & heart driven. Moonstone harmonizes feminine energies, calming the nervous system & creating soft vibrations. Malachite is the stone of transformation, working with the heart, it reminds the user to do what they love. It heals past fears & teaches one the live simply. It is powerful for positive life changes & clearing out old energy.
My prayer for use:
" I pray for peace in heart & mind, may tranquil vibrations within me align. A serenity surrounds me at this time, giving me a gift of beauty sublime."
These wonderful handmade alchemy incense sticks burn for approximately 50- 60 minutes each and are made up of pressed charcoal sticks, crystal energies, fragrance oils & essential oils. There are 20 magickal sticks in each pack, that yield beautiful and lingering aroma wherever they are burned. These powerful incense can aid wonderful cheer, dispelling any negative energy & allowing for a more connected approach to your practices. They are blessed with chip stones of Malachite & Moonstone crystals.
May you find your peace,
~ Jenna
All Sales Final*
Not Meant for consumption.
Keep out of heat and direct sunlight.

Incense accessories available in my shop!