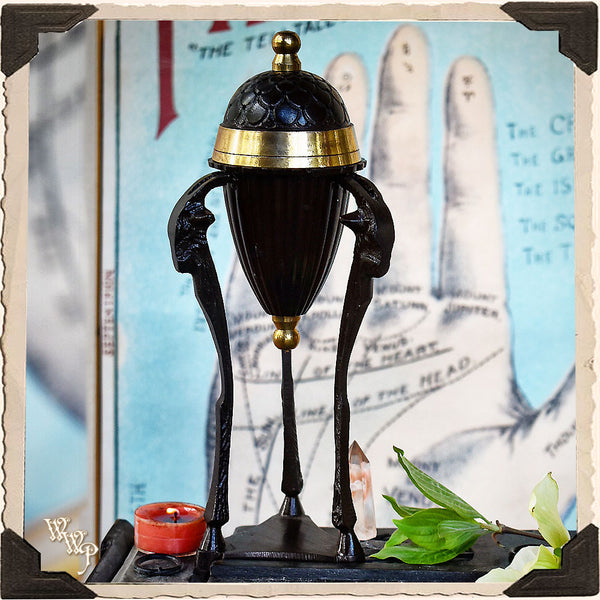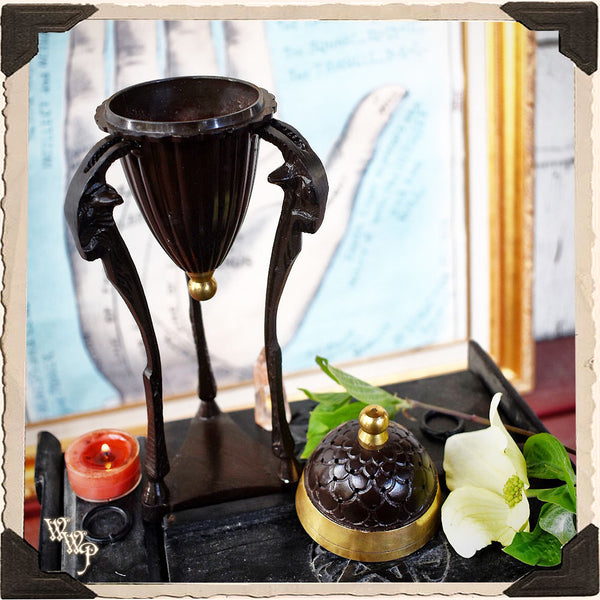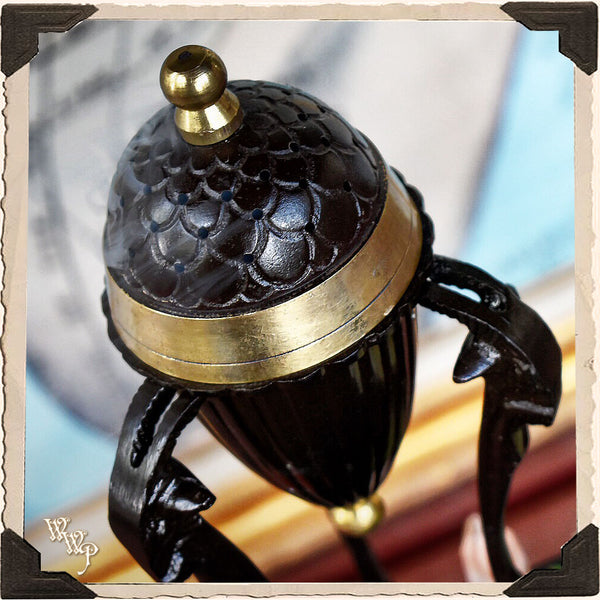 PAN / BAPHOMET ANTIQUE-STYLE CENSER. Metal Altar Decor For Incense & Candles
Pan / Baphomet ( A Pagan Nature God ) as a prefix means "ALL," Which is viewed as the Source, or God. Said to play a Panpipe ( a wind instrument ) symbolizes free flow, freedom & movement. Dance, specifically dancing in nature, reconnects us to our "roots," it creates movement, which alters our realities & raises our vibrations to be able to "see" other dimensions. It shifts our awareness, as music & dance can ultimately raise our vibrations through the joy & laughter we benefit from it. This simple act suddenly becomes so powerful, because it brings awareness to our own freedom and the beauty of LIFE & our connection to ALL. 
This two piece, ornate heavy-duty metal censer, measures approx. 11" high. This unique incense burner, displays on a pedestal style base with goat legs attached to 3 goat heads, encompassing an egg shaped censer, colored in a dark chocolate brown town & Gold embellishments. It has a removable top and easily sits on multiple surfaces. Adorn you altar with this marvelous occult piece, to aid in your magickal practices. Perfect for burning cone incense or charcoal discs for Resins, Herbs, oils & powders. Use it as a tea light candle holder, catch-all dish & more!   

Charcoal disks, herbs, resins & more accessories available in my shop!

Blessings,
~ Jenna       

* Caution: Metal gets hot to touch when used with charcoal incense or candles, it is advised to use sand in the base to absorb heat. Sand not included. * All Sales Final