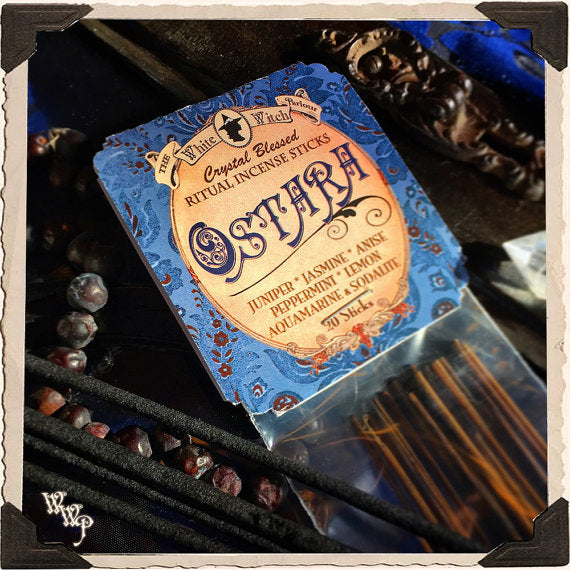 OSTARA INCENSE 20 Stick Pack. Spring Equinox. For New Beginnings & Growth.
The spring equinox falls between March 19- 22, however celebrating the coming of spring does not need to be a one day event. I encourage you to celebrate all month long, as if waiting for a visit from a special friend after a long cold winter. Ostara is a time when all things begin to come back to life, the extra hop in our step and random smiles amongst the faces of many start to become the new normal for us as we step away from the cold grasp of winter. Ostara is a time of new beginnings, new life, rebirth, fertility, balance, communication, growth, agriculture, gardening, new found love & passionate sex. Don't be afraid to flow with the energy of the season. 
This whimsical, fresh & uplifting blend welcomes in so many possibilities. It completely clears away any old or stagnant energy and makes room for the new. A wonderful way to do some spiritual Spring Cleaning. Juniper removes negativity & promotes joy & playfulness, while Peppermint & Lemon raise the vibrations & create a glowing abundant new energy to the mind, body & spirit. Jasmine carries in a frequency of love & passion, filling the air with beauty, grace & innocence, while Anise offers a balance with some spice & protection, as well as help one to manifest their new beginnings. Blessed with Aquamarine & Sodalite crystals, this blend brings in a fresh new energy, stimulating the heart & throat chakra, for universal love, peace, wisdom, intellect & a little more Hop in your step ;)
These wonderful handmade alchemy incense sticks burn for approximately 50 - 60 minutes each and are made up of pressed charcoal sticks, crystal energies, fragrance oils & essential oils. There are 20 magickal sticks in each pack, that yield beautiful and lingering aroma wherever they are burned.
Spring Time Blessings,
~ Jenna
Store in cool dry place, keep from heat or direct sunlight. Always think of safety when using fire.  
*All sales are final. 
More incense & accessories available in my shop!