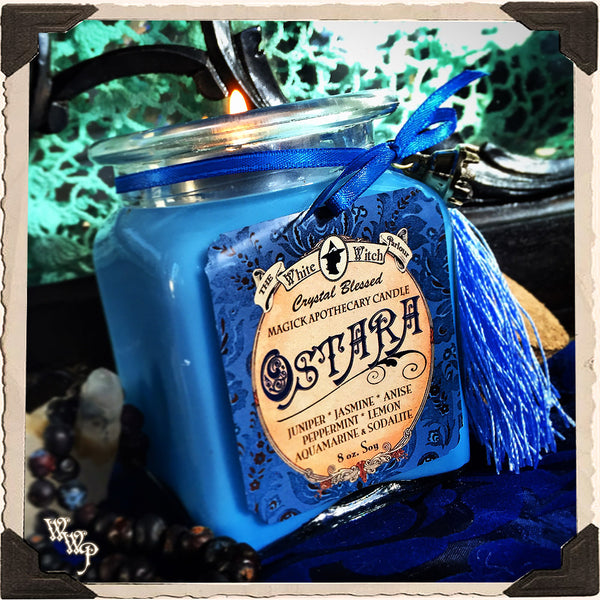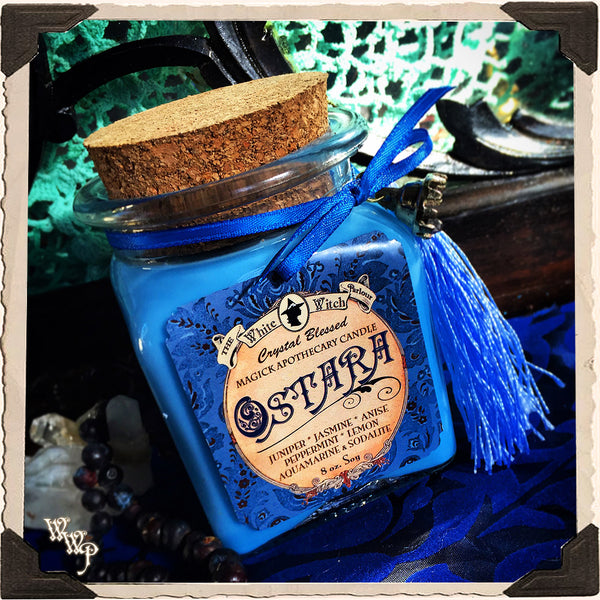 OSTARA APOTHECARY CANDLE 8oz. Spring Equinox. For New Beginnings & Growth.
The spring equinox falls between March 19- 22, however celebrating the coming of spring does not need to be a one day event. I encourage you to celebrate all month long, as if waiting for a visit from a special friend after a long cold winter. Ostara is a time when all things begin to come back to life, the extra hop in our step and random smiles amongst the faces of many start to become the new normal for us as we step away from the cold grasp of winter. Ostara is a time of new beginnings, new life, rebirth, fertility, balance, communication, growth, agriculture, gardening, new found love & passionate sex. Don't be afraid to flow with the energy of the season.  

This whimsical, fresh & uplifting blend welcomes in so many possibilities. It completely clears away any old or stagnant energy and makes room for the new. A wonderful way to do some spiritual Spring Cleaning. Juniper removes negativity & promotes joy & playfulness, while Peppermint & Lemon raise the vibrations & create a glowing abundant new energy to the mind, body & spirit. Jasmine carries in a frequency of love & passion, filling the air with beauty, grace & innocence, while Anise offers a balance with some spice & protection, as well as help one to manifest their new beginnings. Blessed with Aquamarine & Sodalite crystals, this blend brings in a fresh new energy, stimulating the heart & throat chakra, for universal love, peace, wisdom, intellect & a little more Hop in your step ;)  

Candle Apothecary at its finest. In a beautiful 8oz. glass corked jar, bagged in a blue organza bag with hangtag, this candle can burn up to a 60 hours from a paper-core wick; this hand-poured soy Ostara Candle is perfect for any altar, big or small. This powerful candle can aid in welcoming warmth & cheer, dispelling any negative energy & allowing for a beautiful glow from the heart. I have also sprinkled hand-ground blessed chip stone powder of Aquamarine & Sodalite into the wax of each candle to keep the spiritual vibrations high & in good trust, as well as protected by the ringing of the bell charm tied to each one. Whether you decide to use this candle all month long or specifically for a Spring Equinox meditation, it can enhance the magick for whatever ritual or ceremony you may choose to embark on. The brightest of blessings to you and and your loved one's this season of new growth! Each Candle comes in a Navy Blue Organze bag with hangtag ready to Gift!

Springtime Blessings,
~ Jenna 

A beautiful, hand-crafted blend of both all natural essential oils & high grade fragrance oils, blessed with the energies of the associated crystals in an all natural organic soy wax. Free of Harsh Chemicals & Animal Testing. Store in cool dry place, keep from heat or direct sunlight. Never leave a lit candle unattended or near flammable items such as curtains. Always think of safety when using open flame * RECYCLE! when you are finished using this candle, you can remove the label and remaining wax under warm water and reuse the jar for other crafty magickal projects or storing herbs. *All sales final.
More candles & accessories available in my shop!